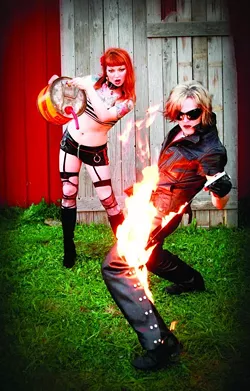 Back in 2010, this writer reviewed the then-new Ruiners album, Happy Birthday Bitch, and basically said that while the band is one of the best live acts in Detroit, they had so far failed to capture that energy on disc, leaving us with some OK-ish sleaze rock anthems, but lacking the fun and spectacle that makes the Ruiners so thrilling.
Fast-forward a couple of years and the Ruiners put out the follow-up Shake, Rattle & Moan, and they seemed to have cracked it. Great tunes, recorded live in the studio, that retain the band's key vibe of spontaneity and unpredictability.
That's the crux of the Ruiners too. Go see them live and you really don't know what will happen. Front man Rick Ruiner might set his pants on fire (probably will, even) or he might ride a motorcycle through the venue, filling it with exhaust smoke. He might get into a fight, or he might smash up a washing machine on stage. All the while, his partner on vocals — and in life — Nina Friday, and new addition back-up vocalist Casey Tek, adds feminine sass and fishnets. Jerry Allen, Rob Moon and Justin Hall are the players. The Ruiners has always been about theater, but an injection of genuine quality tunes completes the package.
They have one hell of a story too; Nina Friday fled Saint Petersburg, Russia in '96, when she was 19 years old. "[Russia] was tough. It was like, every day was about survival, but to us it was normal. [I came here] by myself," she says, explaining how her parents were murdered in Russia. "My father was a businessman, after communism. That's actually the reason he got killed, by the mob. I sold whatever was left, like the cars, and it was enough money to get me here and put me through two semesters of college — Western, in Kalamazoo. I slept on floors and couches, cemeteries and streets, and then I ran out of money. I had been working on my art, and then someone said, 'Hey, how much do you want for that picture?' And, I'm like, 'Really?'"
Meanwhile, Rick Ruiner had put the Ruiners together in '97. "We always wanted to offset the macho identity [with a female]," he says. "I mean, back then, we were a bunch of beer-drinking brawlers. We did have a bunch of fights and stuff. Not that we'd start them, but we did play rougher venues. Nina was there when I got hit in the head with a bottle. She took me to the emergency room and held my head together wearing a G-string and go-go boots, in a hearse, towing a dirt bike on a trailer. There were a lot of shows that were like that. We had one member who smashed his instrument at every show, and then he'd go steal another one. We bailed him out of jail on the way to a show once, to do the show."
Friday had met up with Rick Ruiner when her previous band opened for the Ruiners at the Magic Stick. Ruiner was struck by her stage presence, sure, but also something more. He pursued her for 10 years before getting the magic 'yes' and embarking on a relationship.
The two look great together off stage, and on it they offset each other perfectly. He'll be writhing relentlessly, grinding and pumping the ground, sweat pouring. She will be stood to one side, an icy cool glare and cherry-red pout making way for a beaming smile and cheerleader bounce. You don't know where to point your eyes, because both are so watchable. And then there's the carnage.
"When we started smashing appliances, band members started leaving," says Ruiner. "We'd bring washers and driers — we garbage-picked religiously behind the band house. If we couldn't find anything, we'd just grab garbage bags off people's curbs and smash them all around. I just apologized to a lady who came to see us at Arts, Beats and Eats after she said, 'I cleaned up one terrible mess for you one time with a snow shovel. There were porno magazines and coffee grounds — just the worse stuff.' Once in a while we'll do a big confetti show."
The danger isn't restricted to the stage show though — they've played some unusual venues. "One of my favorite shows was a cave they converted into a club in Oslo, Norway," says Ruiner. "Doors 14-feet-tall, and, as you went in toward the stage, the cave got smaller and smaller. The drummer had a stalactite dangling right above his head. That was the most glorious, sweatiest venue. We played the Cramps after-party once. There were jail cells in the walls. We've had good shows at Theatre Bizarre.
"Actually, the worst show we ever did was at the Old Miami. We did an elaborate sound check, and I was going through a terrible divorce at the time," Ruiner continues, saying how he was bleeding and then, somehow, they started smashing things on stage. "We never did get through one song, never played a whole song. And then the owner of the bar's son got on stage, and this huge fight started. There was a big fire on the lawn, people sitting on lawn chairs that were on fire. And they hosed us all off right into the street."
The wonderful dichotomy of Rick Ruiner is that he might be a hellion on stage, but he's a gentleman off it. A self-confessed "neat freak," he teaches art at Eastern Michigan University and says he's never tried so much as a joint in his entire life.
"I like teaching," he says. "I like when people are enthusiastic about it. I think that energy renews my energy. I'm open to someone else putting their mark on their world. I'm not trying to dominate anything."
And while the Ruiners have a new album, titled Motorcycle Lazarus and the Masters of Fire and Love, ready to drop, we also learned that Friday is quite the fashion designer; this being our fashion issue, we felt obliged to know more. As it turns out, Friday says she started designing clothes and accessories shortly after arriving in the States.
"I didn't have money to buy clothes …" she says. "When I started doing artwork, not everybody can afford an original, so I started thinking about what I enjoyed — clothing. So I started putting everything together and getting a great response."
Friday's work is eye-catching, usually featuring one or two girls with those huge, unmistakable eyes. It's not a completely unique approach at present, but she's stamped her own identity on it; the same can be said of the Ruiners. The band isn't breaking new ground. This is rock 'n' roll. But by stamping these two big personalities all over the music, the sound is fresh and exciting. mt
Motorcycle Lazarus and the Masters of Fire and Loveis released Oct. 25 through New Fortune Records.
Brett Callwood is a staff writer for Metro Times. Send comments to [email protected]