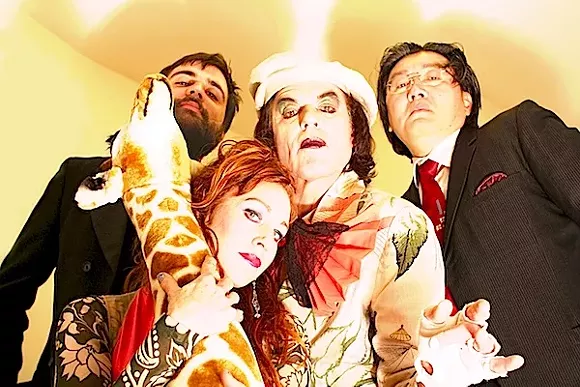 It seems that some musicians (a few, very talented ones, at any rate) reach a stage in their lives when they realize that they'd be better off completing at least some of the projects they've already started, rather than starting any brand-new ones. It is always, of course, a question of the intelligent deployment of available resources. "What should I devote myself to, given the limited amount time that is left to me?"
Meet (or become reacquainted with) Laurence Miller, a very talented Ypsilanti-based musician who has been singing, playing and composing various forms of rock 'n' roll music ever since the early 1970s. Born in Ann Arbor, and the identical twin of Benjamin Miller (who is also a very talented musician, as is their older brother, Roger), Laurence has been in dozens of bands, the most famous of which was Destroy All Monsters.
In the last few years, Laurence has returned to a couple of his old and/or unfinished projects. He helped to resuscitate Sproton Layer, the precocious psychedelic-rock band that all three Miller brothers played in as teenagers; and he and Ben revived Nonfiction, the punk-pop group that they'd formed back in the 1980s.
Successful and very satisfying though they were, these "revivals" were limited in scope and didn't produce any new material. And so it is inevitable that they will be overshadowed by Laurence's current project, which consists of bringing back to life what he calls his "crowning achievement," namely, Larynx Zillion's Novelty Shop, the unique band — really a Bowiesque stage show — that he created in the 1990s.
For the last year or so, Laurence has been busy digitizing, mixing down, and mastering the dozens and dozens of fully completed recordings that the Novelty Shop had made over the course of its seven-year career. (Only a few of its songs were released before the band broke up in 1997, and none of these releases was widely distributed outside of the Ann Arbor-Detroit area.) Now Laurence is ready to start releasing this "new" material through
the Novelty Shop's brand-new website
.
Starting on March 28, 2016, one can special-order a single that includes three songs: two classic compositions by Larynx Zillion ("Queen of Queens," a catchy glam rocker in the style of the Tubes, and "Funny Bone," a razor-sharp and highly syncopated instrumental) and a high-speed, quirky, this-is-where-I'm-coming-from cover of the MC5's proto-punk classic "Human Lawnmower."
Then, on April 30, two compact discs of "new" Novelty Shop material will be released and sold under the title
Hotter Than the Dickens
. The first one will bring together the band's glam rock songs, while the second will focus on its more avant-garde stuff. Wedged in between will be all the other musical styles that this eclectic band could play.
To celebrate the return of Larynx Zillion's Novelty Shop, Laurence Miller hasn't limited himself to shooting brand-new promotional video-clips for three of the songs that will soon be available ("Queen of Queens," "Sea Anemone" and "In Us God Trusts"). Nor has he merely organized a CD release party.
No, the
concert
that he's going to give April 30 at Ann Arbor's Zal Gaz Grotto Club will also include a live performance by a brand-new and never-before-heard incarnation of the Novelty Shop. And not only will this band — Elizabeth Royce (vocals and guitar), William Bennett (keyboards), Tim Nagae (bass guitar and vocals), Andrew Woodcock (drums and vocals) and, of course, Laurence himself (vocals, guitar and electric whole-tone four-string mandolin) — perform all or most or some of the LZNS back catalogue, but it will debut several truly brand-new songs, as well.
As if you might need additional incentive to attend (I doubt it), the opening act will be Laurence and Ben Miller playing together under the name Hoss Ryder & the Farm Boys.
The origins of Larynx Zillion's Novelty Shop go back to 1983, when Laurence became a fan of Adam and the Ants and the way they painted a romantic vision of the past (pirates and swashbucklers). But the Novelty Shop, which was curated by an odd Ziggy Stardust-like character named Larynx Zillion, who was in turn created and played by Laurence in the same way that Stuart Goddard brought "Adam Ant" to life, didn't record relatively simple pop songs. How could it, given that Laurence's own musical influences included Charles Ives, Arthur Brown, Cheap Trick, Killing Joke, Frank Zappa, and Captain Beefheart?
During the late 1980s, Laurence wrote and recorded demo versions of dozens of songs intended for Larynx Zillion's Novelty Shop. On those recordings, he sang all the vocal parts and played all the instruments. In June 1990, shortly after his creator got clean and sober, Larynx Zillion released a song called "Southpaws Unite!" which was a manifesto on a flexi-disk for people who, like Laurence, are left-handed. In February 1992, this song and five others were included on a flexi-desk titled
Southpaws Unite! (The Collection)
.
Not surprisingly, the first public appearance of Larynx Zillion's Novelty Shop was an unusual one. Hosted by Ann Arbor's Performance Network in March 1991, it featured Zillion himself and several other Ann Arbor-based musicians lip-syncing to Laurence's one-man-band recording of "Southpaws Unite!" They dressed in costumes, wore masks and plenty of makeup, and executed choreographed movements on a stage that was lit up with images coming from projectors, movie screens and TV monitors. As you can see for yourself (a video of the performance is on YouTube), the overall effect was powerful.
Encouraged by the response to his debut, Larynx Zillion undertook to turn his Novelty Shop into a real band. By the summer of 1991, he'd recruited Pedro Rodriguez (keyboards), Chip Reed (baritone sax), Scotty Bagpipe (bass guitar), Dr. Generic (percussion) and Ron Woodwork (drums) to accompany him while he sang and played guitar. Later on, he would also play a specially designed electric mandolin called the Mosquito.
As documented by YouTube, the band played a short but excellent set at WCBN's Summer Benefit Bash, held in Ann Arbor's West Park on July 24, 1991: "The Missing Link," a thrilling bit of wild, guitar-driven experimental rock; "Vag the Bond and the Bola Pirates," a cheery pop song in the vein of Adam and the Ants; and a funky, grooving version of "Southpaws Unite!"
In September 1992, the Novelty Shop released "Songs of Recovery," a two-song single impressed into vinyl. Two months later, at a concert held at the Performance Network, the band made its official debut. In an attempt to provide the best of both worlds, Laurence took the videotapes of that performance and dubbed in the audio — not from the show itself — from the band's studio recordings of those same songs. YouTube contains two of these hybrids, one for "The Missing Link" and one for "Funny Bone."
The next year, with the group consisting of Larynx Zillion (guitar and vocals), JFK (keyboards), Chip Reed (bass guitar this time), and Poriah Dog (drums), the Novelty Shop performed several times in the Ann Arbor area, including videotaped performances at the Performance Network on Jan. 9, 1993 and the Blind Pig on May 11 of that year.
At the heart of both performances were boiling, wild versions of "The Missing Link," "Funny Bone," and "Sitting Duck," which was a new, jagged, King Crimson-esque song about the game of baseball. There was also a very funny exercise in conceptual art (a song titled "Encore in E," written by brother Ben, that mimics, extends, and exaggerates to absurdity the final, resounding note that usually ends most rock bands' shows) and a pair of not-so-ironic concessions to the pop mainstream (a straight-ahead version of "Roll Over Beethoven" in the case of the show at the Performance Network and a typically cheery version of "Vag the Bond and the Bola Pirates" in the case of the show at the Blind Pig).
By 1994, the line-up of the band had changed yet again. Old-timers Zillion (vocals and guitar), Reed (bass), and Sy-Fy (drums) were now joined by neophytes Chris Costello (lead guitar) and Gim Flivers (trombone). They played several shows, including a benefit for WCBN-FM at the Blind Pig on March 24, 1994.
Videotaped by the band itself
, which later added the songs' lyrics in the form of subtitles, this performance included several of the old favorites — "Encore in E," "Funny Bone" and "Sitting Duck" — as well as several new songs. There were "Too Many Girlfriends in the World," a Devo-like complaint that kept interrupting itself; "In Us God Trusts," a chant-like rocker about acting ethically all week, not just in church on Sunday; "I Feel Fine," a fast, hard-edged song about struggling with bipolar disorder; and "Queen of Queens," a delightful, half-comic, half-serious song about the perils of a man loving a woman even more than Jesus Christ.
In May 1996, Larynx Zillion's Novelty Shop came out with a four-song collection called
Queen of Queens
. Released as a compact disc, it was intended to herald and generate interest in the band's upcoming double album,
Hotter Than the Dickens
. A lack of financial resources prevented that album from being released, and eventually the band itself broke up. But Laurence Miller kept the tapes, knowing or feeling or simply just hoping that one day he'd be able to return to them, enjoy them and share them with us, knowing or feeling or simply just hoping that we would enjoy and want to share them, too.
Larynx Zillion's Novelty Shop appears from 7 to 9 p.m. April 30, at the Zal Gaz Grotto Club, 2070 W. Stadium Blvd., Ann Arbor; 734-663-1202.