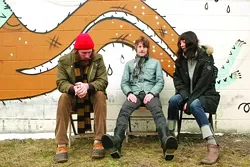 Danny Kroha's work with the Demolition Doll Rods, the Gories and the Readies has earned him a deserved reputation as one of the more fascinating and watchable guitarists in town. The guy's roots might be planted in a classic, bluesy rock 'n' roll style, but he's able to pull and tug at those strings until he's created something that sounds very much like him — and him alone. The Doll Rods and the Readies may be no more, but the Gories still reconvene from time to time. However, it is his new band, Danny & the Darleans, that is playing the Blowout this year, and with the three-piece about to release its debut album, the set could well be one of the festival's best. We spoke to Kroha to get the lowdown.
Metro Times: When did you put the Darleans together?
Danny Kroha: I put the band together I think two years ago last spring. We're in our third year now. I think the Gories reunion got me interested in doing more garage kind of stuff again. My last band, the Readies, had kind of fizzled out. I lost interest in it. I like doing different stuff. I decided to go back to my garage roots.
MT: What happened with the Readies? That was a great band!
DK: I really liked the band. I just got restless, I think. I wasn't totally satisfied with it, and I think I just got restless. The Gories getting back together kind of derailed it too.
MT: But the Gories reunion is only part time, right?
DK: Yeah, we're doing it basically if somebody offers us a deal we can't refuse. It's good; it's been working out well. People will fly us to different places and put us up, so that's nice. We got to play a show with the Sonics recently. That was pretty great.
MT: Who else is in the Darleans?
DK: Richie Wohlfeil plays drums. He also has a record store called Lo & Behold! Records and Books in Hamtramck. Colleen Burke plays bass. She had moved away from Detroit for a long time. She lived in Chicago and New York. She worked for an artist in New York City for a while. She wanted to move back to Detroit and quit the music business, but nobody here would let her do it. She's such an awesome bass player and singer. She also plays bass in Outrageous Cherry. I play guitar and sing.
MT: Do you have any recorded output yet?
DK: Yes, we did record an album last summer and it's coming out this summer. A guy in Minneapolis is putting it out. The album is going to be called Danny & the Darleans Stink. I know the Replacements already did an album called Stink, but we're using for the cover art a mural that a street artist by the name of Stink painted just off Fourth Street near the Ambassador Bridge. I really like it. We took a photograph of it for the front cover, and it says Stink at the bottom. I contacted the artist and said that I really like the artwork and would like to use it for our album cover. He gave us permission. I said that on the picture it looks like the album's called Stink because he signed it, and he said that if we want to call it Stink that's fine with him. I think it might be unofficially called Stink, like it's called Danny & the Darleans but it says "Stink" on the cover.
MT: It sounds kind of like Led Zeppelin IV or the Beatles' White Album — you don't really know what it's called …
DK: It's closer to Led Zeppelin IV because they have symbols. You can't really call it Symbols, but they have symbols. People can choose whether to call this Stink.
MT: What do you think is the best show the Darleans has played so far?
DK: So far we've only really played around Detroit; we played New York City once. My favorite shows are at Richie's store, Lo & Behold! We've done a few shows there. I love playing at Donovan's. We did a really good show in Toledo one time. I love playing little hole-in-the-wall places. My favorite gigs over the years have been old theaters that have been turned into music venues. Even the Majestic Theatre has that beautiful ceiling.
MT: Are there any previous Blowouts that stick out in your mind?
DK: Last year, we played at Skipper's, and I liked that bar a lot. The fellow from Minneapolis who's putting out our album was there. He was in town buying records. He has a store and he knew Richie and he knew of me. He saw us at Skipper's and went nuts over us. That was cool, because we recorded our album ourselves, paid for it ourselves; just figured we'd do it ourselves. I don't like having to shop a record around, send it to labels, unsolicited, and then call them and bug them. That's a painful process. This guy loved us and wanted to put the record out. See — we got signed by the Blowout, man.
MT: Blowout aims to please; no doubt … do you have a favorite set you've seen at one?
DK: I haven't been to a lot of Blowouts. I missed the White Stripes at Paychecks, but I saw them a lot around that time. The Doll Rods never played the Blowout. I don't really know why.
MT: Care to give us a sneak peak at the Darleans' set list?
DK: I don't know … we'll just play all of our big hit songs.
MT: Not to rush it, but what happens after Blowout?
DK: I'm really looking forward to the album coming out. It's really good. I love the recording, I love the record cover. I'm really excited about that. I'm also going to put out an album of my old-timey solo stuff on Third Man Records. I just have to redo a couple of things. We're doing a once-a-month folk-blues night at Lo & Behold!, so we'll continue doing that. Hopefully the Darleans will be able to get out of town and tour Europe this year. That would be cool, once the record gets out. Maybe we can get a promoter over there interested in putting a tour together for us.
Danny & the Darleans play Saturday, April 27, at the New Dodge Lounge.
Brett Callwood is a staff writer for Metro Times. Send comments to [email protected].