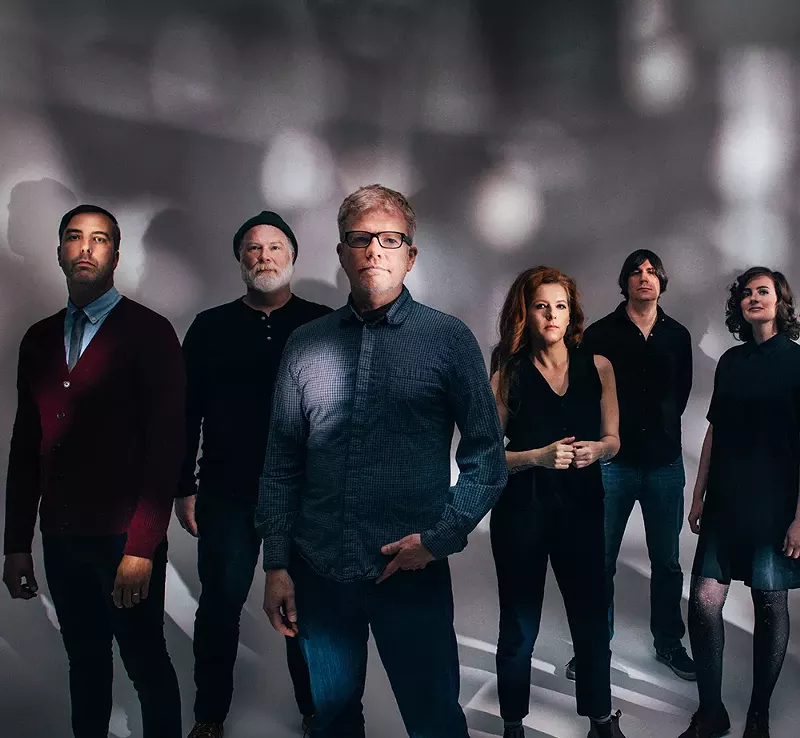 It doesn't take but a question or two for Carl "AC" Newman to open up about his ideas on songwriting. He can wax enthusiastic about previous experiences or future plans, with strong, yet playful, opinions.
As an example of a technique he'd like to try: Newman, in a late-March interview, wondered about a songwriting trick in which he'd take a famous song, using the chorus of which to build verses around. At the time that "song" was finished in that form, he'd take out the known passage, creating a new chorus, and, thus, a whole new song with the ghost of a song as the influence. It'd be completely removed, but still there, still heard in a sense.
Newman's songwriting explorations have continued with the March 31 release of Continue as a Guest, the band's new album on Merge Records.
The 10-track record is produced by Newman and features the New Pornographers core musicians, including Neko Case, Kathryn Calder, John Collins, Todd Fancey, and Joe Seiders. Sax player Zach Djanikian is all over the album, the band's ninth full-length release, and co-writing credits are given to both longtime NP contributor Dan Bejar (frontman and songwriter of Destroyer) and Sadie Dupuis (Speedy Ortiz, Sad13).
Newman remains the songwriting linchpin and the person through which the New Pornographers project flows.
He believes a mix of new and old within his crew is the best way for the band to grow, with members able to peel off for a short hiatus, or to leave entirely for new projects and opportunities.
"It's good to have new blood," he says. "Sometimes it can suck when members are getting to the end. They just don't want to be in the band anymore and sometimes that can come through. You look at a band like U2, together for 40 years. How do you do that? Or the National, when you have the same five people for the duration. Then there are bands like the Shins where it will always be James Mercer and whoever he's playing with and no one will ever question that."
Newman says the New Pornographers have a fan base that's been around awhile. They're loyal, follow both the records released by the band and solo projects of band members, too; included among them are a handful of AC Newman solo releases.
"I think that people find you along the way," he says. "A ton of people found us within the first five years. I haven't taken a poll or anything, but I'd like to think that people are going back and still finding us. Some bands are popular and then they kind of get forgotten. Everybody knows Pavement, but there are a lot of bands from the '90s that've fallen by the wayside."
Because of the duration of the band's fandom, they've got favorite cuts. And with a pretty good base of songs from which to choose — as well as the odd cover or pull-in from solo projects — Newman says the process of choosing what songs to play in a live show can run in multiple ways. Again, the occasional new member can go a long way to re-energizing some buried tracks.
"A few years ago, Joe, our then-new drummer, was in the tour bus playing our old songs," Newman says "He joined in 2014 and was playing songs that he wished that we'd play. 'Jessica Numbers' from Twin Cinema was one that we'd stop playing, but that I was legitimately a fan of. But I'd forgotten it. We learned it the next day and we opened our sets with it for about a year. It was rescued from obscurity to become one of our fan favorites. 'It's Only Diving Right' from Electric Version hadn't been played in years. And it's a big crowd-pleaser. We should've played it all along! On this year's touring, we plan to resurrect a few songs, too."
Then there's a series of songs of which he says, "We might get sick of them, but people want to hear them. If people are excited about hearing a song, it doesn't matter if you've heard it 1,000 times."
New songs will be a part of the mix, too, and they're pretty fantastic, tracks that easily fit into the band's extensive canon.
"Because of the pandemic, we had to transform a little bit," Newman says. "We were all in different places. I didn't have other people with me to record. John had a baby, a daughter. So not only was there a pandemic happening, he had this little daughter now. So it's not that I could say, 'Hey, John, come live in my cottage while we make this record.' It all changed. I had to find people around Woodstock to play and so I thought, 'Maybe I've got to embrace this.' The New Pornographers felt like they were evolving into something else."
He adds, "Maybe someone in the band would say 'I don't like what this is evolving into,' but I like pushing the band into another era. We've already made Mass Romantic and Twin Cinema and Brill Bruisers. Those albums are always there and we made them. We don't have to keep making them. You want to move forward."
The New Pornographers perform on Thursday, May 11 at El Club; 4144 Vernor Hwy., Detroit; elclubdetroit.com. Doors at 7 p.m. Tickets are $54.27.
Coming soon: Metro Times Daily newsletter. We'll send you a handful of interesting Detroit stories every morning. Subscribe now to not miss a thing.

Follow us: Google News | NewsBreak | Reddit | Instagram | Facebook | Twitter