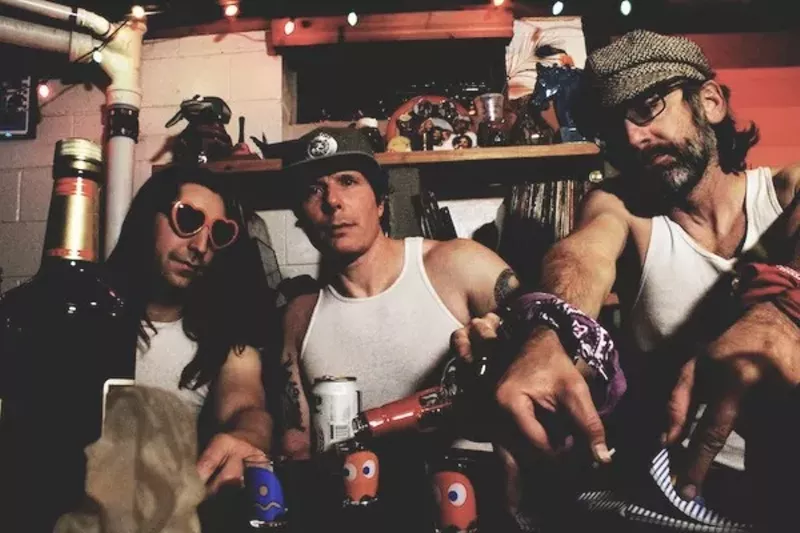 The story of the Muggs is a tale spanning 18 years. That's a lot of history for any band, from shows at the Gold Dollar to the debilitating stroke that almost killed bassist Tony DeNardo to the recovery that brought him back as a keyboardist. The band went on to be featured on national television, perform in Europe on five different tours, and release a single, four studio LPs and a live double album.
This weekend, the Muggs will celebrate the release of a "Spanish import," a vinyl reissue of the group's first LP, with a record release party at the Outer Limits Bar in Detroit. It's the power trio's first performance at the shit-kicking rock 'n' roll bar that straddles the Hamtramck-Detroit border, and it comes before the group's departure for yet another tour of Spain.
We spoke to bassist-keyboardist Tony DeNardo for a bit, about his close bond with guitarist Danny Methric, the smoke and mirrors of national television, why the group is sometimes called "The Ugliest Band in the World," as well as many of his favorite groups from the Detroit area. This is an edited version of that conversation.
Metro Times:
So this is the sixth time in Europe, but really the third time touring Spain. Why Spain in particular?
Tony DeNardo:
We went to Spain in 2007 and 2010, but then in '12, '13, and '15, we got together with a different promoter. By that time, we were pretty well recognized in Spain, and they gave us the option, in the interest of spreading our wings, to do Germany, France, Holland, Switzerland, and Italy. I said absolutely, and so we toured all of Europe. Being on tour that long — maybe a month and a week — it's really long, and the morale starts dipping after, like, three weeks. When we got invited back to Spain, we could have pushed it to Europe again, but we decided to just do Spain. It's three weeks. We have 16 shows in 20 days, so when you're there, it's work, work, work, and it's awesome. Spain is so much like Detroit. They're just blue-collar. They love rock 'n' roll. Everything that embodies Detroit also embodies Spain, down to the way they'll go out of their way to be friendly.
MT:
I've heard about this from other Detroit musicians, but, it must be so weird to go overseas and be this exotic Detroit musician and then come back and you're just "Tony" again.
DeNardo:
That's basically it — and I understand that it's going to be just "Tony" back home. I wouldn't want that recognition or adulation all the time, because then it wouldn't mean anything. So it is a dichotomy, of course, but you know, you have to understand that, especially in countries like Spain and France and Germany, it's a real treat for them to have American bands over. In the UK, not so much. The UK and the United States are similar in that most venues in the United States and UK could give a shit about the bands. The venues consider the bands to be lucky to play their place sometimes. So we can go on tour in Spain where we have a great following and get paid what we're worth, or come back to metro Detroit, which is been so good to us, or a couple cities in the Midwest. Other than that, we're just window dressing. America could care less about the Muggs, and that's pervasive throughout America. I'm not angry. I'm just stating some of the facts.
MT:
How can American audiences not like you? You were on TV, right? [The Muggs were finalists on
The Next Great American Band
in 2007.] Or once you found out what that entailed, were you were eager to leave that behind?
DeNardo:
Well, you know Laith Al-Saadi was on one of those shows similar to us last year and he did very well. But, again, you have to realize that we were on in 2007, and at the time we were in a position where we said, "Hell, yeah!" But TV is just this made-up bullshit. It's true. All they're interested in is selling commercials. The point is to get the old fatass American off his couch and calling for you. It's all smoke and mirrors. And give America two weeks and they're on to the next television love affair. It's not that America hates us so much as the industry is so saturated. I mean, there are so many great bands even in metro Detroit. All I do is go out and see amazing local music.
MT:
What are some of those bands you enjoy seeing right now?
DeNardo:
The High-Strung, the Erers, Kommander, the Beggars, Duende!, Heartthrob Chassis, the Prude Boys, Virginia Violet & the Rays, Five Pound Snap, Remnose, Tin Foil. Or the Moonwalks — they're young cats, and they've already been to Europe twice and are going on a tour of the United States for the second time and they've only been a band for, like, three years. Or the band we'll be playing with at Outer Limits, the Cheetahs. They're one of my favorite bands, kind of like a good, dirty three-piece rock 'n' roll band, more garage, but they have some elegant riffs. Forgive me if I've forgotten any. There are so many that are incredible.
MT:
The Muggs have had two drummers, right?
DeNardo:
Yeah, I like to point out we've been very lucky having two great drummers. Matt Rost had decided to step down as the drummer. He wanted to. He was and he is a great friend, but he's kind of heir to the throne of the family business. His family owns three funeral homes and he was in line for that and—
MT:
Wait, how many
Detroit musicians are connected to the undertaking business
?
DeNardo:
[laughs] He couldn't get away. He couldn't be a road dog. And we had been jamming with Todd Glass. Todd is just one of the best drummers in Detroit for the last 25 years. He's an amazing drummer and an even better human being. So when we went back to Europe in 2010 and 2012 and 2013 and 2015, we needed a drummer who, when we wanted to go, wasn't going to be like, "Well, I have to work."
MT:
But then you're not going to Spain with Todd this time.
DeNardo:
Yeah, fast-forward to this tour, Todd could not make it. He's dealing with family matters. He made the decision to not go back in September 2017. I manage the band and make decisions for the band, and I feel that when the Muggs get invited to Spain, it's our duty to go. I'm in several bands, and my original band is called Dude, and my band's drummer is Zach Pliska, and so we invited Zach. Zach is such a professional, he learned our entire discography. In January, he and I just started getting together, and then we brought Danny in, and we've been rehearsing ever since.
MT:
Will that still mean you're "The Ugliest Band in the World"? What's up with that tagline anyway? You guys aren't that ugly.
DeNardo:
It's an inside joke. It also gets people talking, just like that, saying,"Hey, they're not that ugly!" It started with the owner of the Cadieux Cafe, where Danny and I have basically worked half our lives. They have two owners, Paul Misuraca and Ron Devos. Ron and Danny share a passion for Kiss, and you know their tag: "
You wanted the best, you got the best: the hottest band in the world … Kiss!
" When we were playing the Cadieux Cafe, Ron would announce the Muggs, and Danny thought it would be hilarious if they'd introduce us like Kiss but instead of "the hottest band in the world" just "the ugliest band in the world." And that's basically it, and it's stuck.
MT:
Further proof you guys don't take yourselves too seriously.
DeNardo:
Yeah, we're not too cool for school. We like a good joke, and we can be self-deprecating. We do just fine laughing at ourselves. If you see us live, there are always smiles exchanged onstage.
MT:
What's in store for the Muggs when you guys get back from Spain?
DeNardo:
When we get back from Spain we'll probably go back in the studio and cut our fifth studio album, tentatively titled Slave to Sound, and we'll just go from there. At this point, it's sort of midway through our careers. I like the challenge of getting into different markets that we still haven't played. We still haven't played Japan or South America. We're "big" in Spain or big in Germany, but when I say that I mean more "underground sensation" than Queens of the Stone Age or anything like that.
MT:
Like playing 20,000-seat arenas?
DeNardo:
We've talked about this before: Our goal for this band would be the play Royal Oak Music Theatre-sized venues or even Magic Bag-sized venues all across the nation, 400 seats up to, at max, 1,700 seats. We like the intimate shows. Spain is awesome, because we'll play 400-seaters in Spain all the way down to a little dive bar in the middle of nowhere, in the middle of a town that loves rock 'n' roll, and everyone's crowded around us so much so that I can feel the breath of somebody standing on top of me, and at any time they could just fall onto me and ruin the whole thing. I love that. I would rather play those shows, where we can get paid what we're worth, than some of these festivals where you're so distant from the crowd and the intimacy of playing for people.
MT:
And you can actually trace your band's ancestry to those kinds of ramshackle pubs. Like, it means something more and more to have been one of the bands that played the Gold Dollar.
DeNardo:
And that history's fading, because, you know, ask some kid that's twentysomething in Detroit what the Gold Dollar was and they might not even know it anymore.
MT:
I really wasn't sure if you want to be asked about the whole stroke thing again, but I was reading some back issues of
Metro Times
and our music editor Bill Holdship wrote, "
no musical Detroit tale is more inspiring than the story of the Muggs.
" He says he stands by that, although he says others may be just as inspiring. But if Bill says it, it really means something.
DeNardo:
I would have to agree with him — but I'm inside that story looking out. It's become my life. What can I say? I had this fucking stroke that almost ended my life. And my position has always been to live outrageously, to live with courage and bravery and see where it takes me. And it has taken me all around the world. I've always tried to be the best human being I can, I guess.
MT:
But it wouldn't have been possible without your unique relationship with Danny. The way Danny put everything on hold while you recovered was a sort of promise and a bit of a challenge to you, wasn't it?
DeNardo:
Absolutely. I owe him so much. We are brothers, spiritual brothers. We genuinely care about each other and we wanted to make our mark in music — and then this stroke happened. It was devastating to Danny, and he made sacrifices at a time when we were making a name for ourselves. He could have easily replaced me and went on tour, but he put it down and said that if and when the Muggs come back, it'll be with "Tone," so I can't say enough good things about what he did for me. In a way, he saved my life. He gave it purpose again.
The Muggs play with the Cheetahs on Saturday, April 28, at the Outer Limits Lounge, 5507 Caniff St., Detroit; 313-204-8044.
Get our top picks for the best events in Detroit every Thursday morning. Sign up for our events newsletter.