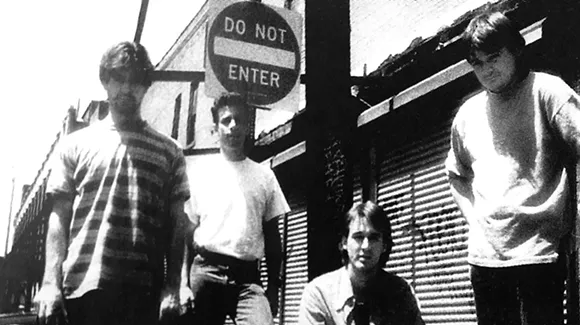 This Saturday, October 22,
the Moles perform at Third Man Records Cass Corridor
.
Thanks to his work over the last three decades with Cardinal, Cosmos, as a solo artist, and his long-running combo the Moles, Australian psychedelic pop singer-songwriter Richard Davies has become a cult favorite for his literate and strange songs. After reviving the Moles name for an exciting new record on Fire Records, Davies has lately been visiting various cities on weekend holidays (he's a lawyer in Fall River, Mass. these days) where local pickup bands back him up.
The "Detroit Moles" are Matt Smith (O.C., Volebeats and let's face it, every other band in Detroit, ever), Scott Michalski (Volebeats, Godzuki), Pete Steffy (Beekeepers, Johnny Ill Band), Alex Glendening (Deadbeat Beat), and Chris McInnis (They Come In Threes). We have glimpsed the setlist, and it looks very, very good; there might be a Sweet cover, and your very favorite song (Wires," of course) is bound to sound amazing tonight.
Oh, and get there on time because
Kathy Leisen
is opening up with her impossible-to-really-describe, confessional, keyboard-driven, post-pop numbers. Seriously excellent stuff.
Starts at 8 p.m.; 441 W. Canfield St., Detroit; thirdmanrecords.com; $12.