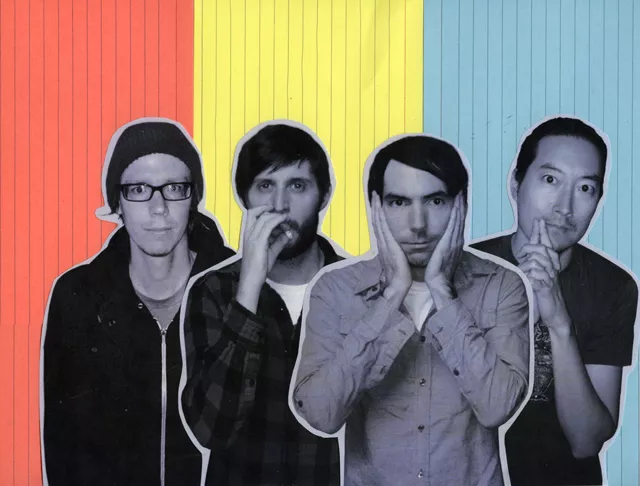 If there was ever an eternal truth that sits comfortably alongside "everybody dies eventually," it's that breaking up is hard to do. Sometimes, it's fucking hard. And if the relationship that no longer exists was in the public eye, as was that of Deleano Acevedo and Marcie Bolen (otherwise known as electro-indie duo Silverghost and both members of F*ke Blood), it is even harder still. 
OK, so Acevedo and Bolen were hardly Brad and Jennifer in terms of People tattle-talk, but still, the Detroit rock 'n' roll world — the hipsters and hang-outers — knew exactly who they were, knew that they were a couple and, for the most part, loved the shit out of Silverghost. The couple is done. Acevedo was obviously feeling it when I spoke to him for this interview, preferring to concentrate on the positives that have risen from the experience.
The main positive, quite frankly, is fairly magnificent. Namely, a new band called K.I.D.S, made up of Acevedo, bassist Nick Jones (Bars of Gold), guitarist Scott Stimic (Bang Bang), and drummer Don Blum (Von Bondies). Quite a lineup: Acevedo has obviously pulled things together very quickly, and now he's up and runnin'. But then, as Rocky Balboa once said, "it's not about how hard you hit, it's about how hard you get hit and keep moving forward." 
Acevedo certainly is moving forward. "I started writing songs for it in February," he says. "I wanted to do something different than Silverghost. I wanted to start a rock band. I wrote a bunch of songs and started talking to the guys. They were all my first choices. We started practicing in early June. Our first show was on the Fourth of July, which is pretty cool. We played a really short set but we had a lot of fun. I had missed playing guitar, because I had grown up playing guitar."
So you have to wonder — take someone known primarily for writing pop-based songs (as Acevedo did with Silverghost) and throw him in a band with members of squint-eyed rocker 'n' roller like Bang Bang (incredible and completely underrated punk band now on hiatus) and Bars of Gold (worthy and very current hoarse-throated rockers), what will it sound like? 
"It's still pop songs," Acevedo says. "I write on the acoustic guitar, so I'm not really thinking about what it's going to sound like with a band yet. When we learn the songs, they come up with their own parts and stuff. I just focus on my part — to try to write a good melody or something. I wanted it to be a little bit more rock 'n' roll/punk rock than the previous bands I was in. I had no idea what it would sound like. It's kind of loud and rock 'n' roll, but the songs are catchy. People compare us to the Buzzcocks and bands like that. Pop-catchy, I guess you'd say. I've been playing live for eight or nine years now. I feel a lot better nowadays. I feel more comfortable with what I'm doing. More confident. The core of what I write is pop songs, but I'm comfortable with that, with bringing songs to the table."
Asking Acevedo about the relationship with Bolen isn't easy. He obviously doesn't want to talk about it and he's entitled to his privacy. He does say that it has been a tough time. "Basically, we broke up as a couple, so it was kinda hard to go on," Acevedo says. "We were a couple before Silverghost started. It was pretty weird because word spread around real fast. Private business became public. As for F*ke Blood, it didn't play out that often so I'm not sure what's going on with them right now."
Different subject. Easy one. What does K.I.D.S stand for? 
"The idea I had behind that was kind of a concept I was thinking about last year," Acevedo says." I wanted letters that don't necessarily stand for anything. My idea is to put out a couple of seven-inches, and the acronym is different. It'll stand for something different each time. When I launched the Facebook page, people gave their own definition of KIDS and that's kind of what I wanted."
Silverghost really hit the ground running back in '08, generating a healthy buzz and an enviable following almost from the get-go. International buzz kicked in soon after. Acevedo doesn't see any problems repeating that feat. 
"I did some sessions right before the band started," he says. "I wanted to get something recorded before we played out live. That really helped out because people already knew a few of the songs. Those songs got picked up by Jon Mosier, and he played them on WDET. People have said they like the music so I guess there's a healthy buzz without being overwhelming or out of proportion. We've played eight shows now. We're playing for Thanksgiving at the Lager House, which should be a great show"
Acevedo keeps himself busy, recording solo acoustic material as well as working with K.I.D.S. "I played a couple of acoustic solo shows over the past few months," he says. "I'm working on an EP of spacey pop music, and I think I'm going to do something electronic-y, more like Silverghost but under my name.
"The music industry is fascinating now, how it's instantaneous," he continues. "You can make a record in your room, design the art yourself and put it on Bandcamp, and it's out there in one day. That's amazing to me. I also really love being outside, as cheesy as that may sound. I hate the cold weather."
But in a world filled of people recording a zillion empty and dumb songs, with their dumb self or with their dumb band — that no one will ever care about — Acevedo is one of the chosen few who's writing pop that has real staying power. Real kids should care, and likely might. That's what lifts him above your average Bandcamp/laptop douche. 
So what's Acevedo hoping?
"I guess there's always that thing at the back of your mind that maybe someday someone will really like your record," he says. "I guess you really are waiting for the one person who could be the right person who could help you out. But I've always played music, I've always recorded music.
"I'm always looking for new music," he continues. "I respect classic music, but there are always new bands out there to get into. I'm really influenced by new sounds and new things that people are doing."
Any plans for a K.I.D.S album?
"We talked about recording a full-length in December or January, so we'll see how things go. K.I.D.S. is still in its early stages," he says, and then he adds, "I like to do things different. I like visual properties on stage. Performance art. That's why Silverghost had the projections. It's fun to do things different. I have some ideas, but for now we're focusing on the sound." 
Despite an in-built hatred of the cold, and that he's feeling real emotional pain, which only helps with the songwriting, Acevedo still believes that the D brings out the best in him. "It's weird," he says. "That's a great thing — to have to struggle for something. It definitely brings more passion to it. A lot of people struggle, have struggled, and that adds to art." Now there's a bit of wisdom from experience, which, of course, always makes for the best pop.
See K.I.D.S at the Lager House on Wednesday, Nov. 23, with Jeecy & the Jungle, Mexican Knives, Gardens and Twine Time, at 1254 Michigan Ave., Detroit; 313-961-4668.