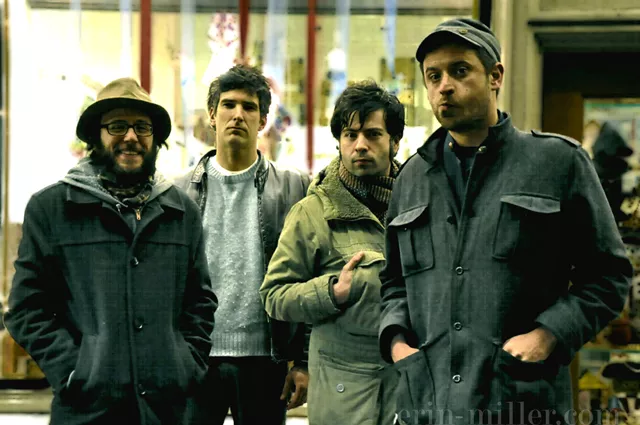 For 11 years, the High Strung have been dragging themselves across the country, performing in libraries to nobody but a few angry seniors, in Southern state country bars to irritated locals, and even on the Guantanamo Bay military base. If they were to write a book, it'd be a road story, and they'd be some kind of spiritual sons to Kerouac ... or something. They've had knives pulled on them, they've flirted with soldiers and one time found themselves central to regrettable domestic dispute after being taken home by a married New Orleans girl.
They've hard-won stories by the tons, and their tales of road-weary stress and debauchery serve more of a purpose than to provide shits and giggles. Eleven years of genuine life experiences have seen the core trio of singer-guitarist Josh Malerman, bassist Chad Stocker and drummer Derek Berk go from their early 20s into their 30s, and in that time grow as close together as three pals and colleagues can possibly get. You don't know anyone until you've toured the country in a cramped van with them. Now multiply that by a couple dozen times or more.
High Strung have recorded five albums in that time, with a sixth on the way, and have evolved together as musicians into a family-ish unit that'll play Hamtown's Blowout next month.
If you've missed the band — including recent addition guitarist Stephen Palmer — in 11 years, their sound is charming in its simplicity. On the surface, there's little that's groundbreaking; they've gone back to the '60s and Brit beat bands such as Manfred Mann, Herman's Hermits and, obviously, the Beatles, filtered through '70s Cheap Trick and Plimsouls and topped it with De-troit grit and paid very close attention to the late '90s, early '00s indie garage boom. However, in Malerman they've a songwriter who's better than most on any retro train, and it's the quality of those songs that makes the High Strung absolutely worthy. Indeed, that's what brought them to the attention of the Shameless TV show creators.
Being a real rock 'n' roll band comes with real rock 'n' roll responsibilities, and the High Strung fulfilled those when, in 2004, they drove their old and overworked tour bus to Cleveland, up the steps of the Rock 'n' Roll Hall of Fame, parked it in front of the door and drove away in their new tour bus. Unfortunately, the suits at the museum didn't see the valor in the donation.
"We traveled over 300,000 miles on it and we thought it was a true relic, a treasure, of what rock 'n' roll is," Berk says. "Also, is it rock 'n' roll to be inducted or asked to donate something, or is it rock 'n' roll to give something without permission? [The Hall of Fame] were like, 'There's a certain protocol involved in making a donation or accepting something'. The curator was really serious about it. Apparently you can't just drive up the steps and park it by the door, and put your own plaque explaining what it is. I made a canister of cement, a pole and a story under Plexiglas, explaining that this is the High Strung van, and it's traveled 318,000 miles to get here, sometimes driving 11 hours to play a show to one person."
As amusing as the story is, the real joy is seeing their joy in retelling it. While Malerman's the frontman, he doesn't appear to be the leader. Both Berk and Stocker contribute to the conversation, and all three are remarkably funny — it's that living-in-a-van-together thing.
If anything, Malerman contributes less than the other two, but that's because he's suffering from a particularly nasty dose of flu tonight (new guy Palmer is missing completely, also due to illness).
Looks-wise, the High Strung are really just dudes. Regular guys that might be leaning against any bar in the country. Jeans, shirts, dirty Converse, that sort of deal. Stocker, though, has an impressively unkempt beard that has actually gotten him into trouble. In the Lone Star State, of course.
"At one bar in Texas, they called us Al Qaeda & the Taliban," Stocker says. "We overheard a customer tell the manager, 'If Al Qaeda & the Tali-Ban are playing here tomorrow, I'm not coming in.' We've played a few inappropriate shows like that."
As tough a gig as a yokel Texas bar might sound, one might think a two-night engagement on Guantanamo Bay would be tougher.
Not so, Malerman says.
"When I first found out that we were going to be playing there, I was really nervous. We took a military flight down there and, because of the flight schedule, we were there for a week even though we were only playing two shows. The experience turned out to be unbelievable. As soon as we arrived, we were asked if we were big drinkers, and it was only 7 a.m. From that moment on, I don't think an hour went by where we didn't have a drink in our hand. We smoked cigars with the head of Guantanamo Bay on the captain's patio while the sun went down. It was incredible. One female soldier had to be removed from the base because she was flirting with me too much."
Ah, yes, the chicks. It's inevitable that if you get a group of boy-men on tour together. ... Oh, you know.
Once when the High Strung's bus broke down in Alabama, on the way to a show in New Orleans, they were rescued by two sisters, one of whom promised the band a place to sleep that night.
"Earlier in the day, she had said, 'You can camp out at my place,' and we thought it was a figure of speech," Berk says.
"Then we got there and it was about a thousand degrees out, a New Orleans summer, and she gave us a tent. The husband locked her out of the house. I could hear him like, 'Your daughter's in here asleep. You should have been back hours ago.' I think we took a walk while the dude cooled off. I never saw him. I heard him though. He was understandably pissed that she'd brought six 25-year-old dudes over."
The band is now off tour for the winter, preparing to go into the studio to record, ?Posible o Imposible?, the group's sixth album. Still, with day jobs proving elusive in Michigan, the guys are visibly itching to get back on the road. The High Strung might well be the hardest-working band in America, and that's some bold claim. They've not had a "regular life" for years, instead playing every dive bar in the land and sometimes, bizarrely, every library. In fact, in three years' time, the High Strung have played 700 of the 14,000 libraries in the United States, and they ain't showing signs of slowing down. There's nowhere that this band won't play.
In music though, justice is elusive. Hard work rarely rewards, and for 10 years the High Strung have been destined for respectable obscurity. That is until somebody at the new William H. Macy Showtime series Shameless heard them and made their song "The Luck You Got" the show's theme song.
"I was at the grocery store," Berk says. "My phone was ringing and it was a California call. I was worried, first of all that it was creditors."
Instead, it was the folks in charge of placing High Strung songs in films and TV. They needed to talk about some high-profile show.
Stocker looks up and grins. "I love the show. It makes me feel justified in how fucked up my life is."
It's true that the guys of High Strung appear to have everything together. That's saying something. See, they've lived hand-to-mouth and in near-poverty to bring their rock 'n' roll to the kids, their lives are very simple.
"I think a lot of musicians struggle with the road and with keeping it together when they have two lives — a life at home and a life away," Berk says. "We were forgoing the life at home. We ditched out of apartments. We went on tour and didn't get off tour for years. We didn't have anything else going on. A lot of people have a hard time when they're at home a lot, or they're taking time off work to go on tour instead of just living the band."
Stocker smiles, his relatively young age belying the years of on-the-road experience that have settled in and around his eyes. "It helps if you're never around anything or anyone besides the band."
The High Strung play Blowout 14 on Thursday, March 3, at Gates of Columbus Hall, 9632 Conant St., Hamtramck; 313-871-8888.
High Strung pick their 10 best albums ever:
Minutemen
Double Nickels on the Dime
(SST, 1984)
Andrew Lloyd Webber with Tim Rice
Jesus Christ Superstar
(Decca/MCA, 1970)
Guided by Voices
Alien Lanes
(Matador, 1995)
Goblin
Suspiria OST
(Cinevox, 2007)
Pink Floyd
Animal
(Columbia, 1977)
Dirty Three
Horse Stories
(Touch and Go, 1996)
Richard Pryor
That Ni**er's Crazy
(Partee/Stax, 1974)
Brian Eno
Another Green World
(Island, 1975)
The Grateful Dead
American Beauty
(Warner Bros., 1970)
Television
Marquee Moon
(Elektra, 1977)