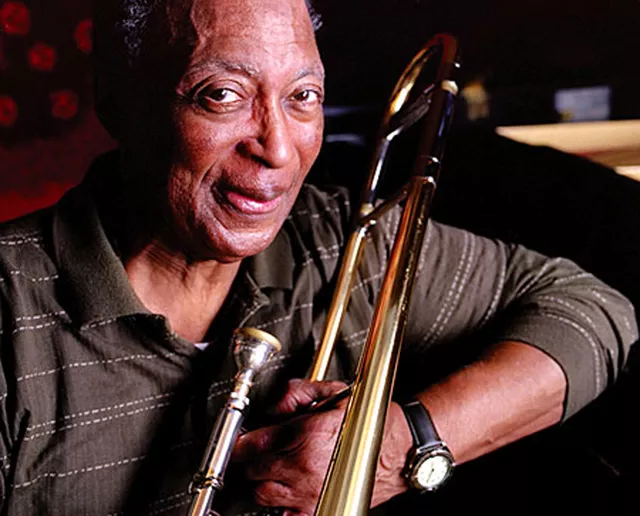 Whether or not you're a jazz aficionado, there are some names that'll almost certainly be familiar to you (unless you absolutely hate music), such as John Coltrane, Miles Davis and Dizzy Gillespie. These are cats who stretched the boundaries of jazz, sort of like how Bob Marley did with reggae or Bob Dylan did with folk. These men are giants, and mythical to many, and Detroit trombonist Curtis Fuller played with them all.
Born to Jamaican parents who died when he was very young, Fuller was raised in Detroit orphanages. Life wasn't so easy, and he was separated from his sister much of the time. But the 76-year-old musician doesn't complain. He talks of his early years with fondness, with the knowledge that he is who he is because of his experiences, not in spite of them. He's an incredibly warm gent, like a cool grandpa who tosses smoky chuckles out after sentences. He's a compelling conversationalist who sometimes has trouble with details — well, mostly those that happened more than 50 years ago. 
Music has informed Fuller's entire life, starting with classical music and the lessons he snuck off his big sister. "The guy would come to give her lessons. What he was telling her to do, I would try to do as soon as she turned her back."
He became fascinated with music and listened to the radio a lot, and the music in his neighborhood. 
"We had so many great players in Detroit," Fuller says. "Just hearing those people around. Hearing that on the radio. You just got used to hearing music in the supermarket. ... Hearing the sounds around Detroit, even though I was a kid, it was inevitable I'd hear somebody playing someplace around our neighborhood. 
"When I saw J.J. Johnson," he continues, I knew that was what I wanted to do in my heart and mind." 
It wasn't just Johnson, the Charlie Parker of the trombone, who captivated Fuller — he got a taste for all kinds of music. 
"They sent us from the orphanages all over the townships to people who wanted boys to work," Fuller explains. "And, that way, you got a chance to see lots of music too. Music is like the plague. It's the sound of jazz that attracted me. Rock 'n' roll was was rhythm and blues, and neighborhood stuff. I was in it, in Detroit. I'd play with those bands around Detroit. That's how we all got our feet wet. You'd also play with a spiritual band in the church and stuff like that."
Fuller was enlisted in the Army between 1953 and '55 where he met fellow musicians Paul Chambers, and Cannonball and Nat Adderley. Naturally, they formed a band. 
"It was after high school," he says. "It was the last few months of the Korean War and my worst nightmare at first. I was shipped overseas. It ended four or five months later. But everything [musically] fell into place. America has so many different [musical] cultures within a culture, all fused into one — European and African rhythms. As a result of that, groups formed. That's where you get your Motown. That's what young people did. You didn't have the drive-by shootings or any of that. People were playing music, or they were at least trying to learn. They didn't necessarily know how to write it or harmonize, but neither did the Beatles but, you know, you learn to function together. That's the same story if you're in England or Australia."
Back home after his military stint, Fuller began playing with renowned Detroit jazz musician Yusef Lateef, and really started to hone his craft. Together with Lateef's quintet, Fuller moved to New York City because, he says, that's what everybody did.
When talking about New York City, Fuller remembers how it "had so many outdated laws that you couldn't do this or that. There's still a law that you can't play drums in certain clubs in New York on the east side. You couldn't use cymbals — they would 'stir people up' they said. That's where the piano bars come from. That stuff's still on the books. 
"We had a chance to move [to New York], and I'm glad to have been part of the movement. It's like being passed the baton to move for a little bit. You pass it on and pass it on. That's the way it is."
From there Fuller went on to play with anyone worth his jazz salt. "The giants of jazz." See, the man is not only a local treasure but an international one. His "up close and personal" perspective of the genre and its players is at times mind-boggling, peppered with accomplishments that he brushes off with enviable humility. 
On playing with Miles Davis, Fuller says, "I owe that to the great Yusef Lateef who was prepping me for what was to come. Jazz involved strict adherence to what was on the paper so you could all be in synch, but it also allowed freedom. It became a wonderful art form as it progressed and evolved. It went places and it's still going places. I found Miles very private and very different. I had seen him in Detroit and he was an easy guy. He was one of the prime leaders. He was a great gift, like Dizzy and Charlie Parker, all of them I got to play with in time. I played with the giants of jazz. I've been fortunate, but the fortune comes from prepping yourself."
Fuller has the most fun recalling his time performing with Dizzy Gillespie. "I did a tour with Dizzy's small band. I was also in the big band. I did a record with him in East Germany, which somebody recently sent me a CD of, when they still had the wall up, so it was the '80s or something like that. We travelled for six weeks or something. It was just two horns, Dizzy and myself, plus Ed Cherry on guitar, and a bass and drums. Dizzy was very political and at one point he had buttons that said 'Vote for Dizzy for President.' He was like an institution ... that was an epic time in my life."
Inarguably, Fuller's best-known recorded work is on John Coltrane's Blue Train (which also featured his old school friend Paul Chambers on double bass). The 1957 record is one of Coltrane's most popular, and it earned Fuller a gold record. "People start announcing how many records something has sold — a million copies or a million singles? That's a whole different thing," he says. Blue Train is one of the most popular I've been on. I even have a gold record they sent me, but I guess everybody's gone except me; I sit here looking around; I have no idea when the Grim Reaper's gonna tap me on the shoulder."
Hopefully, not for a good long time. Fuller now lives near Boston, though he's returning home for this weekend's Detroit Jazz Festival. He's relishing the trip. "That's home," he says. "The downside is everything has changed so much. When I do come home, I'm just there for a short time. I have fond memories of the Detroit Music Hall when the Detroit Symphony used to rehearse there. Detroit was a good breeding ground for music. Really complete because everybody from around the country used to try to get to Detroit to see and play. There was a lot of things to do then. I'm looking forward to seeing a lot of friends, and hopefully there will be some new people that have followed my career. As for the show, it will be the group that I use a lot when I play in New York. I live near Boston, so when I'm in the New York area, I use this band and they're all good musicians. I play my repertoire, all things that I arranged and am associated with — I've always liked the free horn sound."
Jazz fan or not, there aren't many folks like Curtis Fuller around anymore. The festival set will be a treasurable experience that all Detroit music fans should embrace. 
The Detroit Jazz Festival runs from Sept. 2-5. The Curtis Fuller Sextet performs Saturday, Sept. 3, on the Mack Avenue Waterfront Stage at 3:15 p.m