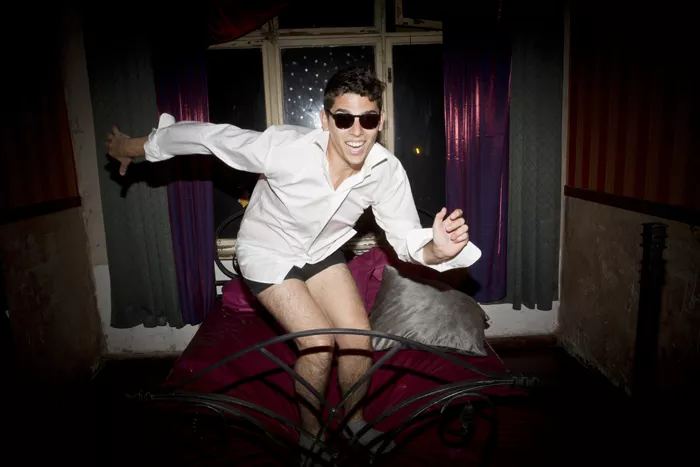 Nick Monaco wants to give his fans an intergalactic pajama party experience, complete with footed onesies, bathrobes, or lingerie (if you're feeling daring). He wants to take you on a musical journey to the cosmos, before being grounded back on Earth by his stellar live set. And he wants to do all this without actually leaving Grasshopper Underground in Ferndale.
Only in his early 20s, Monaco hails from the Bay Area of northern California, where he grew up on '90s hip-hop and turntable scratching. The young producer jump-started his career at 13 and has already worked with famed labels Dirtybird, Wolf + Lamb, and Soul Clap Records. He has a new funk-reggae album in the works (on top of Mating Call, the album he's releasing in September), and he's been remixed by Claude VonStroke. Still, the success seems surreal to Monaco.
"I've been DJing and making music for a long time, but the touring and the recognition for my work is a very new thing to me," he says. "It's a dream come true. I'm definitely grateful and stoked about everything. I'm doing what I'm destined to do, so at the same time, it feels natural and right."
A '90s baby, Monaco was heavily influenced by the decade. "We were on the edge of the digital analog culture," he says. "I'm really glad I got to grow up in the hip-hop and R&B [culture] of the '90s. I was really into N.W.A., Tony! Toni! Toné!, and Wu-Tang Clan. But I do remember hearing stuff like Louie Vega back in the day and listening to 94.9, a station in the Bay Area. They used to have this Latin-house mix show and I was diggin' that for a little too."
Monaco believes all human beings are born with feminine and masculine energy, a yin and yang philosophy, and that it's important for everyone to recognize both parallels. He describes his own sound as "feminine, sexual, and intimate."
"As a DJ, I think it's important to express your feminine side — because as a DJ, the golden rule is to always have girls on the dance floor," he says. "So how do you manipulate girls on the dance floor? You relate to them. You emphasize with them. I feel like DJing is a very sensitive thing — there's this wave you have to ride, which for me, is a very feminine thing. And there's also this masculine thing about Djing — you're dominating and controlling [the dance floor]."
Monaco is a great believer that artists can incorporate cold, hard technology into their work without compromising the warmth. "I like stuff that's warm and smooth and deep," says Monaco. "That's the stuff I think really attracts people to the disco and the funk and the boogie. The early '90s house — all that stuff had warmth and tone to it, and everything now has this digital, polished sound. Especially with the advent of music software, it [music] has gotten a lot more rigid and sterile. I like this idea of warmth and fuck-ups in music. It was never intended to be perfect, in my opinion."
Naturally, the electronic music that metro Detroit has birthed has had a huge impact on Monaco. "The first time I played [Detroit] was at The Works," he says. "I was definitely really nervous to play Detroit because of its reputation, you know? People really know their shit out there. After that, I just really clicked with everyone — they were so down to earth. People will talk shit, but it's actually nice and it's endearing. The last few times at the Grasshopper have been really, really special … and it's actually one of my favorite places to play now. It's really important for me to play there. The community there is just so rich.
"Everyone's pushing the scene forward, and I'm really inspired by that hunger and that drive."
Nick Monaco plays at 9 p.m. on Friday, May 16, at the Grasshopper Underground; 22757 Woodward Ave., Ferndale; 248-298-0330; free before 10 p.m. with RSVP.Nick Monaco plays at 9 p.m. on Friday, May 16, at the Grasshopper Underground; 22757 Woodward Ave., Ferndale; 248-298-0330; free before 10 p.m. with RSVP.