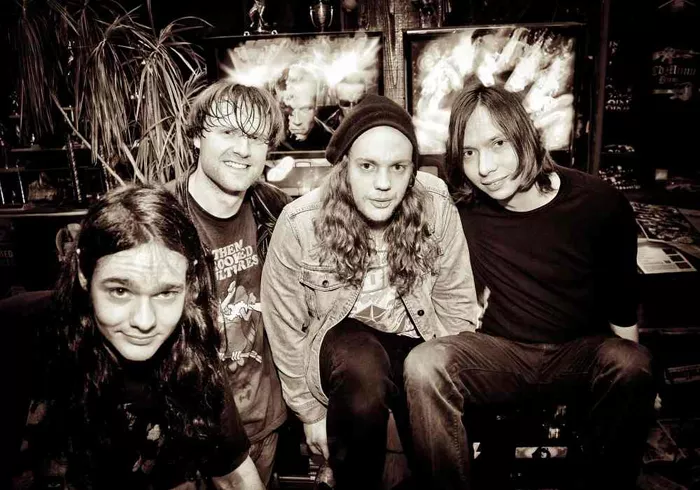 It's not that the Ill Itches can't write soft, slow and pretty pop songs. It's just that theirs is the realm of the raw, the fast and the loud. Stephen Schmidt (vocals, guitar) says he's not sure he could write any other way. Completed by Joshua Woodcock (guitar), Matt Mruzek (bass) and Matt Livengood (drums), the Ill Itches like to blow off substantial steam, following in the well-stomped footsteps of the Stooges and the MC5.
After playing in Japan for five years, Woodcock knew he wanted to do something noisier when he came home. He called up Livengood (the two played together in an earlier band) and started hashing it out with vocalist Schmidt, who had never performed onstage regularly despite having played and written music all his life. Smoothing out the grit of the Ill Itches is Mruzek, who sneaks in subtle hints of psychedelic soul, (if he gets his way, they'll cover Gladys Knight). No, this isn't your typical angry punk band, not at all.
Metro Times: Stephen, anyone at an Ill Itches show might doubt that you were ever hesitant to perform. What kept you from coming around and getting into the scene?
Stephen Schmidt: It's still really new to me. I've been harboring this inside for 19 years, so it's like every little thing is huge to me and that keeps my feet grounded. My mom was influential in giving me good music: Alice Cooper, MC5, Patti Smith, and of course Iggy's on everybody's list. All of them, just so in-your-face. But I was this close-minded musician, I was afraid to show my music to anyone so I locked myself away, recording hundreds of different songs. I was so deep in my shell that I couldn't just jump out so instantly, like that.
Metro Times: What was the key to getting past that? Was it these guys, personally, or the music, or a show?
Matt Livengood: (Schmidt) played at the Lager House, once, solo acoustic, and ripped into this awesome cover of 'The Lengths' by the Black Keys. I remember just hearing that, thinking it sounded nothing like the original but still really cool. It was awesome. So, later, when (Woodcock) and I were starting the band, I said, "OK, this is the guy."
Joshua Woodcock: I saw his transition, over the last two years. He started doing solo acoustic shows …
Schmidt: … and I fucking hated them!
Woodcock: … and those were his first experiences playing. That's so different than when you're in a loud rock band and you're just screaming, cuz that way it can get drowned out. He wanted to be in a loud rock band but he came at it through these stripped-down solo shows, first, in front of people like that, where you really gotta listen to your own voice.
Schmidt: I needed to sit up there alone and play and face the biggest fear and get it right the fuck out of the way.
Metro Times: So, louder, energetic rock music can help channel those nerves and reach catharsis?
Schmidt: It's my therapy. I play music because it keeps me sane. I'm not an angry person, but this is the music I'm comfortable with.
Woodcock: Talking about nerves, we did the Blowout Pre-Party last year. It was fun, but a bit sloppy; we played really late. But then the next week we played at One Eyed Betty's [for the Ferndale portion of Blowout] and felt more comfort. We'd been writing for a long time together, but we didn't hit a comfort point until that show. It was really the "fuck it" moment. Like, "Let's go up and play and not care what anybody thinks." That's where that switched off and we progressively got better after that through the year because we didn't care so much about that.
Metro Times: So, Josh and Matt [Livengood], you guys played in Hit Society together and saw Stephen at the Lager House opening for one of your shows. Matt [Mruzek], where do you come in?
Mruzek: My band the Bad Mics was going through a slow period when I got a job working nights. So, I'd recorded and posted a lot of my songs online but nobody seemed to pay attention to it. But Josh somehow found them. He sent me videos [of Schmidt, Livengood and Woodcock practicing] and I drove out.
Metro Times: And those rehearsal videos were enough to entice you?
Mruzek: Well, it was kinda like peer pressure. It was more that I was working nights, and I didn't know if I could handle it. But it was fun. These guys were booking shows already. This is a fun band to play in; they have a lot of fun when they play, they drink a lot more.
Livengood: It's cool, actually, because [Woodcock] and I [on guitar/drums] are more like the rhythm section, the way [Mruzek] plays.
Mruzek: I like driving, funky bass lines. I like Morris Day & the Time, but I also like Larry Graham, with that distorted bass and wah pedal.
Livengood: I won't say [Woodcock] and I completely 'anchor' the band, but [Mruzek and Schmidt] are our up-front guys.
Woodcock: The raw energy …
Metro Times: Talking about raw energy, what attracts you to the wild, wailing rock sound?
Woodcock: Early on it was Stooges-style loudness. There wasn't any plan besides just playing loud and keeping arrangements simple so everyone can throw their own voices on top of it. The Stooges were a link, but now we don't really have any guiding influences.
Livengood: I still like those early songs where everything was just right up in your face. Now, songs may take a little bit to build more into the catharsis, but it's still there and if it wasn't it wouldn't feel right for us.

The Ill Itches play the Metro Times Blowout, April 30-May 3; mtblowout.com.