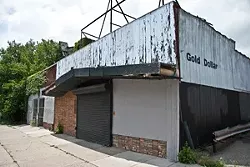 It looks like the Gold Dollar — the long-vacant bar that once hosted early gigs by bands like the White Stripes during Detroit's garage rock boom — may have a new lease on life.
But don't expect to catch a rock show there anytime soon.
The Detroit News
reports
that according to recently released documents, the dilapidated building was purchased in 2015 by an entity named Urban Horticulture, LLC as part of a $2.2 million sale that included another nearby building as well as empty lots.
Last year, the entity then transferred the properties for $1 to another entity called Cass Revival LLC, which used the Ilitch family-owned Fox Theatre as its address.
No plans have publicly been announced for the former bar, which closed in 2001. It seems unlikely that it would come back as a rock venue, considering the White Stripes' Jack White opened his own Third Man Records Cass Corridor, which includes a performance space, just a few blocks away. More than likely it will be included in "The District Detroit" developments surrounding the Ilitches' Little Caesars Arena.