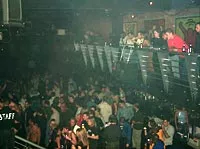 First off,
Space
is about as big a nightclub as you are going to see in Detroit – let alone Chicago, New York or even Europe. A lot of money went into renovating what used to be Legends (even though that name is still on the outside of the building): four levels, three bars, one giant dance floor, catwalks everywhere, lifts for gyrating dancers, the ubiquitous "chill room," huge fog machines, 21
st
century lighting, etc., etc., etc. It reminded me, in appearance only, of Manchester's now-defunct Hacienda. Just plain excessive.
Space's backstory is interesting, because from the club's advertising you would think that Space is so exclusive that it's only open on the weekends. To give the clubowners credit, it seems they are placing more importance on the idea of "a night" – an event – rather than the physical, er, space itself. This might be the future of Detroit nightlife, and frankly wouldn't be such a bad thing. What makes going out worthwhile is the feeling that you're taking part in something exciting and even unique.
So, how exciting and unique is Space? Well, opening night is one way to gauge things. The experience began with huge bouncers making my party wait outside until "the crowd at the coat-check let up." Of course, the artificially created queue is an old ploy to make a club seem exclusive to passers-by, and is a real pain when it's cold out. Once we made it inside and got past the $2 mandatory coat-check (so maybe there was a wait), the main room opens up into an overwhelming Fellini-esque dream. Space even hired dancers – everyone from dwarves to booty-bass girls to a guy on stilts. To quote the Beatles, "It's all too much for me to take."
The music is – and will surely always be – trance, the kind with beats that even the most soulless white boy could never lose. The crowd is almost exclusively suburbanites, which is interesting because one has to wonder if that same crowd would be coming downtown otherwise. In that sense, Space knows its customers, knows how to cater to them, and actually stands a chance to be filled to capacity.
And that's the most deceptive thing about the building. It's just so huge that, even though there were at least a few hundred inside, it didn't seem all that packed. Whether or not Detroit can support a nightclub this big will be an interesting test.
Space doesn't exist for people into electronic or dance music (when the glow-sticks made their appearance, the crowd reacted as though it were a wonderful novelty). Space will be no threat to Motor, a more intimate club that are geared towards actual techno-philes.