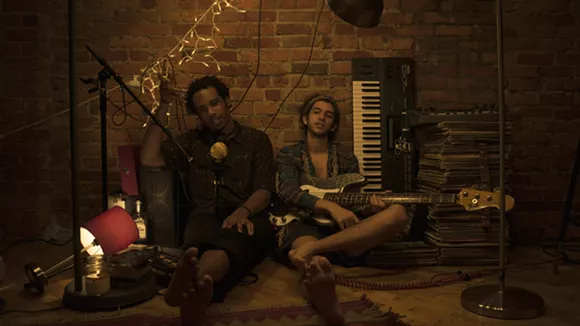 We were sent a preview of the debut offering by a Detroit neo-soul duo called the Ethnics. The sound on their debut is gritty, sensual, and really makes us excited to hear whatever they come up with next. That online release,
Recently
, just came out today. So
Metro Times
sent off a series of questions to both members, which were then returned in this format below. It's not our usual way of presenting stuff, but we went with it; why not?
1. Introductions
Dimes A/V and TIMO 1 2 are the Ethnics. Dimes grew up in and around the city of Detroit. Timo was born and raised in Cairo, Egypt before travelling to the United States for university.
2. Previous music projects?
Both of us have had our own projects before joining forces.
3. How we got started…
In our final semester of university, a mutual friend brought us together in a class we all had together. Dimes was trying to wrap up the mix on a bedroom project and our friend introduced us to each other knowing that Timo could help. The mix surpassed all expectations and new original tracks began to surface naturally. When Timo moved to Detroit, we decided to focus on a goal for a release. We spent the following few months putting together a batch of fresh, new tracks.
4. Who does what on the record?
Timo plays all the instruments and presses the buttons. Dimes speaks his mind in lines and layers.
5. "Shea Butter"
"Shea Butter" is about good girls; Somebody who brings you gifts just because she wants you know that she was thinking about you. And all you gotta do to be happy with her is to spend a little time and share a some love. It's also about milkshakes and summer time by the water. Timo says shouts out to Bill Withers.
6. Physical release?
One day. Any friends with a vinyl press, please hook us up. Although, we do got some empty CDRs lying around.
7. Performing live
Coming very soon. We'll play your momma's basement, your birthday, your
clubs, or your stages. Hit us up at
[email protected]
; it's all love.
8. Future plans?
Timo is in the studio everyday, on the five-beat-a-day plan. Jonah immerses in the sounds and writes off the cuff. We'll definitely be through with more soon, live and direct. Thank you for listening.