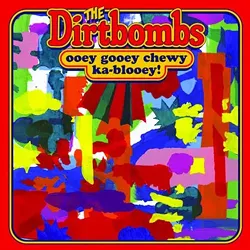 The Dirtbombs are back! Well, they never really went away, but it's been five years since the last album of originals from this Detroit outfit, which is a long time in the Internet music world. Led by dynamic guitarist and crooner Mick Collins, Dirtbombs lineups have shifted as much as the stylistic tract over the past 15 years, and they've changed direction again here.
The Ooey in the title harks back to early '60s bubblegum pop, with wholesome bursts of sweet sunshine and sugary shimmies, sing-along choruses and that unabashed good-time glee of boogieing beats.
The constant element snaking through is Collins' soulful singing and his rusty, purring guitar; from there, they kaleidoscope from '60s British Invasion-style call-and-response choruses, twangy slow-dancers for the heavy-hearted, to a brass-bolstered reworking of "Good Vibrations"; all by way of some reimagined Saturday morning cartoon theme songs, triumphantly strutting to riffy guitars and anthemic harmonies ("We Come In The Sunshine"). The Dirtbombs are back and they're as impressively inconsistent as ever!