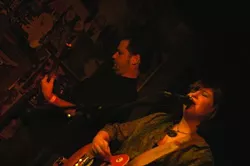 Years ago, this writer thought it would be funny to set up fake dating profiles with descriptions ripped from coffee shop menus. "A rich Ethiopian with a distinct aftertaste," one would read. "A nutty Brazilian," said another. The Whiskey Charmers, an indie-folky band led by the bubbly Carrie Shepard, took that idea to another level when they used a whiskey description on their Facebook profile.
"The Whiskey Charmers originated in 1608," it reads. "They have been triple-distilled and aged in bourbon casks. Consisting of Mike Shellabarger (bass), Carrie Shepard (guitar, vocals), Brian Ferriby (drums) and Lawrence Daversa (lead guitar), they have a sweet spicy aroma and a deep smooth character."
You have to love that.
The most incredible thing about this band is that they formed this year, as in January 2013. At the time of writing, they have been together only a month, and yet they create some very sweet sounds, tracing a slender axis that aligns Americana, alt-country and contemporary folk. Previously, this bunch of mid-thirtysomethings played in other local and national bands, including Dale Watson & his Lone Stars, Jimmie Dale Gilmore, Some Velvet Evening, the Starlight Drifters and the Twistin' Tarantulas. According to them, their music sounds like Electric Heartbreak on the Rocks.
That's no mere sound bite. The Whiskey Charmers truly create the aural equivalent of crying into a tumbler filled with bourbon, bemoaning a lost love. There's no ice added. "I really love whiskey," Shepard says. "I don't drink a ton of it, but I don't really drink anything else. I don't like to put ice in it though. What's the point?"
As of right now, the band has only played two shows, but they have many more planned. This is an opportunity to get in on the ground floor. "We played Jan. 25 at PJ's Lager House, and then we just had our second show on Friday night at Kelly's Bar in Hamtramck," Shepard says. "For me, the second show was more fun, even though I don't think we sounded as good as the first show."
"The second was the best, aside from the electrocution," Daversa adds. "Carrie was getting electric shocks from the mics."
So what drives a group of musicians who have been around the block a few times to ditch it all and start again from scratch with an all-new project? After all, a new band involves no small amount of work. "I think it's fun for all of us," Daversa says. "That's why we're back at it again. We've all been in bands before. Our first show was less than a month after we all played together for the first time. We tried to strike while it's hot and still fresh and new."
"The first time we had a rehearsal and played these songs, at the end of the night I asked when they wanted to start playing gigs and stuff, and Mike said, 'Tonight — let's go to PJ's,'" Shepard adds.
Like many other players, guitarist Daversa learned his chops at an early age from Angus Young of AC/DC, buying Highway to Hell from a local pharmacy with money he received for his sixth birthday. According to Daversa, the cashier was shocked at the sight of a tiny child carrying that album, partly because it was as big as he was. After picking up a guitar when he was 9 and dropping out of school to hit the road when he was 16, Daversa played with various bands in the South before moving back to Detroit, and playing around in blues bands. He left again for a short stint in New Mexico, then he returned yet again (he couldn't stay away) and began playing guitar for local rockabilly band the Twistin' Tarantulas. Then he met Shepard, a self-proclaimed graduate of the Honky-Tonk School of Hard Knocks and former member of traditional country duo Some Velvet Evening. The rest is history.
Bassist Mike Shellabarger is the other attendee at this interview, though he's the quietest. Like his musical brethren, Shellabarger started playing live music at a young age and never looked back. He also, rather oddly, claims to find cookies offensive. Who the fuck finds cookies offensive?
The Whiskey Charmers is completed by Brian Ferriby, who is unable to attend the interview. Still, his bandmates say, "He is really solid and in the pocket — as long as you aren't a stickler for beginnings and endings." His past projects include Spank and Bongo Hate.
The members of the Whiskey Charmers are blessed with a dry wit and are instantly likable during conversation. What they are not, despite their many previous musical endeavors, is helpful, engaging or indeed impressive on any level during interview. Any information has to be pulled out of them with the precision of a brain surgeon and the force of a construction worker. They seem mildly shy and preoccupied.
But that's OK. That's what they are like, that's the personality within the person and we wouldn't want to change that at all. There's a charm attached to the dishevelment that isn't unattractive.
On Friday, the Whiskey Charmers play on a bill with Doop & the Inside Outlaws and the Blueflowers. That's a wonderful lineup, not least because the bands are all different enough to keep the evening interesting without jarring. The Blueflowers, in particular, could be a Bizarro-world version of the Whiskey Charmers, or vice-versa. Both share a love for poetic lyrics, and a musical mix of the traditional and contemporary. "We have a set of nine originals and one cover that we'll be playing," says Shepard. "That's what we've done at the previous two shows. We mix up the cover, so that's a surprise. After that, we're doing a Woodruff's show March 15, then we're playing a show in the summer. I think we're playing the Honky Honk Throwdown [at PJ's Lager House] on May 12. As for festivals, nothing is confirmed yet. Hopefully, though. That's the plan."
The guys also have time for a spin-off traditional acoustic country band called Drunken Tornado, a group that has popped up playing Johnny Cash covers around town, and there's nothing wrong with that. However, it's when these four musicians put their heads together and attempt to create something new and unusual that the sparks really fly.
This is a band at the beginning of its life, and there are flaws that will want ironing out. However, the music that these guys are already creating is special enough to suggest that this project might just have legs. Whether the Whiskey Charmers goes the distance or lasts as long as Bongo Hate remains to be seen, but you can bet these folks will have fun in the process.
The Whiskey Charmers play on Friday, March 1, at the Magic Stick Lounge (4120 Woodward Ave., Detroit; 313-833-9700) with Doop & the Inside Outlaws and the Blueflowers.
Brett Callwood is a staff writer at Metro Times. Send comments to [email protected]