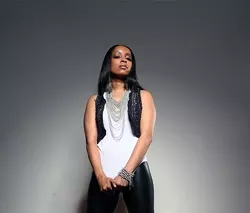 In 2009, the focus of the Detroit Music Awards was the one-off reunion of the Amboy Dukes, featuring Ted Nugent, and justifiably so. That band hadn't played together in decades — Nugent making one ridiculous political and social statement after another in the meantime. The idea of seeing him playing with his '60s garage band was more than a little appealing because we were able to forget about the buffoonery and remember that, at one time, he was just a great guitarist from Detroit. Much of what else went on that night went forgotten, which is a shame, because rapper Mae Day was incredible.
Day stood in front of an incredibly mixed crowd that night — industry pros in the front, hoi polloi tucked away in back — and she successfully placed them all in the palm of her hand. With a swagger and style, but no superficiality, she rhymed the place into submission. Maybe she didn't steal the night from the Dukes, but she certainly shared it when they wanted it for themselves.
Perhaps it shouldn't be so surprising though; it was the sort of evening she had been dreaming about since she was a child. "Music has been around [me] forever, as a child and as far back as I remember," she says. "It's always been something I was drawn to and I did leisurely. Nine years ago, I was playing sports. I had an epiphany where I realized that it wasn't what I wanted to do with the rest of my life. Then I had to figure out what I did want to do. Where can I make an impact, and what would I be happy doing 10 years from now? I knew it wasn't sports. Music was something I had always been around, and it had always been a passion of mine. I always used to say that I would be an artist. I just got distracted by other things. I knew I'd be happy if I was doing something music-related."
Day says her dad played a big part in introducing her to the world of rap. "As far as hip hop and rap, my father was always bumping MC Lyte's 'Poor Georgie,'" she says. "He was always playing that CD, and I was listening to a lot of that '90s hip hop back then. I listened to a lot of Tupac. I remember a lot of West Coast hip hop, then Outkast and stuff like that."
Day knows she is trying to ascend in what is still very much a man's world. While she isn't afraid of her sexuality, she doesn't let it all out as overtly as somebody like Lil' Kim. Rather, she wants her rhymes to speak for themselves.
"In this day and age, it's not just music — there are a lot of things that it's hard for a woman to be taken seriously in, which is sad because we've come so far but at the same time, you're still looked at as like a novelty act," she says.
"You're sometimes better than your male competitors, but it doesn't matter because some people can't see past the surface," Day continues. "It's so ingrained in society that women equal lesser-than or some submissive thing … if you couldn't hear my sex in my voice on the radio, it'd even out the playing field. The first thing that they identify is not the music or the art, but your gender; it can have a stigma attached to it. We still haven't shaken that and it does make things harder."
Frankly, it's ridiculous her gender is even an issue in 2013, but Day insists that many execs wants their female rappers to "flaunt it" a la the aforementioned Lil' Kim.
"I don't think that Lil' Kim was a bad thing," Day says. "She did a lot of dope stuff with music. She was overly sexualized and that was her thing. That's just her. I think where it hurt was, from a business aspect, the people behind the scenes didn't take Lil' Kim as an example of a unique artist, they looked at her more as a blueprint or a cookie cutter. Everybody has to fit the Lil' Kim mold. That goes back to the society thing. It's easier to put a woman in this sexualized box than it is to let her have free rein and accepting what she brings to the table. They want her to take her clothes off, and that's absurd. Lil' Kim helped insofar as showing that women can do it, but the people making the decisions after her hurt the next women coming up."
Mae Day has the talent to transcend that sort of nonsense. Now she just needs a bit of luck, and some attention turned toward Detroit. "There's so much talent in Detroit right now," she says. "Sadly, there's not enough exposure. We just don't have a platform. We have all of this talent, and it's like a secret. The world doesn't realize how much talent is in Detroit. Eminem, Kid Rock — Big Sean is coming up. You can look at a superstar like Beyoncé, and her music director is from Detroit. So much talent comes out of Detroit, and so much of that is still here. It's not like we're in New York or Cali where the links are here and we can make things happen from where we are — it's much harder. It's more of a struggle.'
At the end of 2012, Day dropped her Love and War: All Ain't Fair album, and it has been available at her website, maedaymaeday.com, ever since. She's still looking to drum up momentum. To that end, she'll be performing at the Tangent Gallery on Tuesday for Detroit's "The Foundation/5e Gallery Anniversary" event.
"The month of May is coming up and we wanted to do the 'Mae Day' play on words," Day says. "I wanted to play off that vibe. I had done some shows for the gallery in the past and I wasn't really doing any shows right now but with this album being out and people constantly enquiring about shows, I felt like I had to do something to give people what they want. I wanted to give this album the necessary push. It'll give the album a second wind, and it's a good cause. They support women in hip hop and Detroit in general."
When the gallery show's over, Day is looking to get seriously creative during the remainder of 2013. "I want to keep growing, building on what we have and keep people interested," she says. "Let people know we have a lot of talent here. I'll be trying to surprise some people with some great projects."
We'll be ready.
Mae Day plays the Foundation/5e Gallery Anniversary event at the Tangent Gallery on Tuesday, May 14 with Lola Valley, Monica Blaire, DJ XO, and Jessica Care More. 715 E. Milwaukee St., Detroit; 313-355-2572.
Brett Callwood writes City Slang. Send comments to him at [email protected]