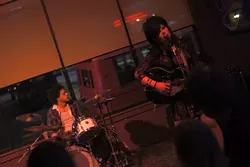 Ever since the birth of rock 'n' roll music, there has been a great tradition of blurring the boundaries that separate gender. Whether it's Little Richard basically risking his life in 1950s Southern America by being black and wearing makeup, David Bowie hunting down androgyny like Nugent hunts elk, the New York Dolls appearing to buy clothes at a hooker's yard sale, Jayne County, Warhol's Factory scene in New York, the entire '80s L.A. hair metal scene, The Rocky Horror Show, Hedwig & the Angry Inch and so on, rock 'n' roll has managed to retain a level of masculinity while also remaining unafraid to fuck around with accepted fashion and cookie-cutter gender image.
Here in Detroit, the land of the car industry and home of a "where the strongest survive" attitude, one might make the mistake of thinking that we're devoid of that sort of perceived tomfoolery. In fact, we're blessed with a few artists who smash social barriers with one kick from a stiletto boot. The sleazy punks of Glitter Trash, led by the inimitable Jenna Talia, are one such band. Anastasia Gold, the most stylish drag queen in the city, is another.
Mind you, the disregard for social convention is where the similarity ends. Glitter Trash is a Stooges-esque punk rock extravaganza, while Anastasia Gold has a Berlin cabaret vibe — part Hedwig and part Liza Minnelli. Maybe a little Edith Piaf too. Certainly, it's a lot of fun.
Anastasia Gold, who won't reveal her real name (and we don't want her to drop the curtain anyway), started playing guitar when she was a teenager. "I started taking music a little more seriously about seven years ago," Gold says. "I joined a band, then another band, then I was alone for a while, then I was an organist, then I started this thing. [We make] Jangly rock, punk rock … everybody says punk rock and I don't really know where that comes from, but I like punk rock."
Despite a healthy respect for classic Detroit music, Gold is determined to keep her finger on the pulse and remain fresh and current. "I'm influenced musically by a lot of garage music from the '60s," she says. "A lot of music in Detroit, current music. If you listen to old music all of the time, then you're not going to be current yourself."
That's fair enough, although nobody is likely to consider Anastasia Gold stale or tired any time soon. Perhaps the act isn't completely original, but Gold adds plenty of contemporary twists to the dark cabaret, resulting in something that more than tickles the senses. Anastasia Gold is a character, make no mistake about that. But there lies the glorious dichotomy. Anastasia Gold is a show, theater, but the lyrical matter is very real. Gold sings of love and drugs (but mainly love). Put it all in the blender, and we have one hell of an artist on our hands. Just don't call her a cross-dresser. "Cross-dressing is really a pejorative," she says. "I've always fucked around with makeup since high school. I started doing cabaret performances since high school. I put on shows in Detroit in places like Gigi's, the Rainbow Room, Stiletto's, and other bars around the state. I took a break from music and just wanted to focus on that. I'm a drag queen. It's where my training is. There's a world of difference between what I do and what a transvestite does. But then again, whatever. I think it's a lot of fun. I guess I don't take it that seriously. It's just a word."
As much as Gold loves Detroit music, she believes that the scene has its problems. "Detroit is an established market," she says. "I did a show with a band from New York last weekend and they were cool, and we were talking after and they had played Detroit 10 times at least. They were saying that Detroit's a very established market with very established personalities. It's difficult and easy, depending on who you know, to get a pinch here. Some of the venues work with outside promoters a bit too much for my tastes, and I feel that some of the bands take a back seat at that point. I meant that, but I guess I'm a huge fan of the music in this city. I get disappointed when I hear a band that's trying to rehash the Stripes or trying to rehash, whatever, electro Chicago music from five years ago. Now you get dubstep rock. Two guys and a laptop — that's tired and we've seen that. I'm not saying that I've reinvented the wheel, but I'm at least trying to keep it fresh."
Gold says that some people view her as a jester or an evil clown, as hard as that is to believe. "I know there are some people who don't like it one bit," she says. "I think people realize that I really do care about the music I make. It's the first thing people know about us. The funny thing is, as we play more shows and make more recordings, it's really not the first thing people think about. One of the great qualities about the history of music in this city is that it is theatrical. Whether you're talking about the Stooges, Alice Cooper or what the fuck ever — a lot of the current bands are theatrical to me. I think the Jamaican Queens have a similar vibe in the sense that they don't take it that seriously. ICP too, totally. The Stripes too. That totally turned me onto them as much as their music did at first. 'Are they siblings? Are they husband and wife?' All that kind of shit. It made the show more fun. Not to say that I don't like listening to bands who just play good music, but if I had the option of hearing good music played by people trying to create a narrative with it, then I think that's even more fun."
This weekend, Gold is celebrating her birthday at the No Wave Rave at the New Dodge in Hamtramck. "I like working with No Wave Promotions," she says. "I'm playing the No Wave Rave with about 10 bands — Lord Scrummage and Electric Corpse are both on that bill. I have a standard set that I kind of work with and then I throw in other things. I might do some covers. I don't usually play covers — when I'm at home with friends, I love playing Beatles songs. There's a Jamaican Queens song I might do. I want to put out a 7-inch of our song 'Dr. Strangelove.' It's recorded, but it needs to be mixed. Then I want to do a full-length. I think we will. We have the material — I've written 20 new songs in the past month or two."
Latch onto Anastasia Gold now, because it's going to be a fascinating journey. There will be some makeup and frocks involved, sure. But it's the music — the gorgeous love songs and odes to decadence, that will really grab your ass.
Anastasia Gold plays the No Wave Rave on Saturday, July 13, with Electric Corpse, Lord Scrummage, Hotel Motel, the Bobby Electric, Pool, the Sound Logic, Caveman Woodman, the Future Babies and the Loveseats, at the New Dodge Lounge, 8850 Joseph Campau St., Hamtramck; 313-874-5963.
Brett Callwood is a staff writer at Metro Times. Send comments to [email protected].