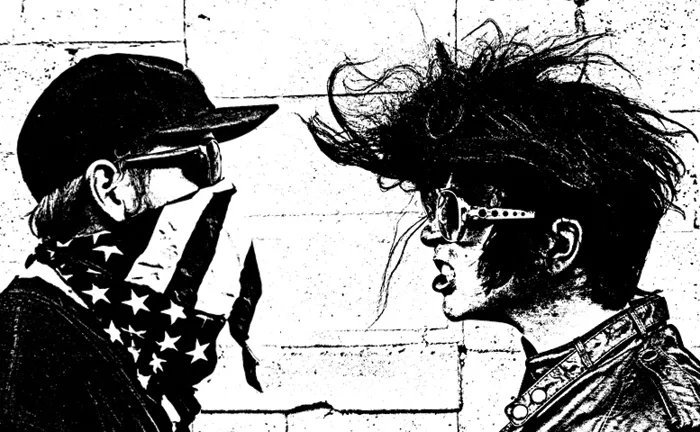 When the Counter Elites took to the stage at the Rust Belt Market last May, on the opening day of the first-ever Ferndale leg of our Blowout festival, few people knew what to expect. Paul Clos from the band All the Wild Children told this writer that the show was worth sticking around for: They play shouty punk and the singer wears a shaggy Elvis wig.
In fact, there was a respectable collection of festival attendees gathered around the stage — some in on the secret and others looking on curiously. And by the end of that quick-fire set at Blowout, the Counter Elites ensured they wouldn't be forgotten in a hurry.
This is a band that has taken the aggression, overt political posturing, nihilism and overall aesthetic of punk bands like the Dead Kennedys, Black Flag and the Germs, and turned it all into a parody, a theatrical performance.
There are only two of them: Jonny Genocide (real name Jonathan Berz, bass and vocals) and SW Semiautomatic (Shaun Wisniewski, drums). Wisniewski stays silent unless Berz swears onstage and then he'll berate his front man, all part of their well-rehearsed shtick.
When the two men arrive at MT for this interview, they in no way resemble the characters we saw on stage at Blowout: no sign of the punk rock hell-raisers, the noisy mooks that seem intent on hammering their message into the crowd. They're unassuming and very open about the fact the band is essentially an exercise in musical satire.
Berz and Wisniewski started working together in 2009 as a band called Songs from the Moon. "It's a four-piece band actually," says Berz. "It's not punk at all. The band's still together, but we get together so infrequently that in the last three years we've only played eight or 10 shows. So Shaun and I were trying to think of the best thing that we can do, just the two of us, because we were hanging around together all of the time. I had written a bunch of short, politically charged poems and it was going to be a joke band."
The band put out a full-length album in 2013 called Are You a Counter Elite? Included were 26 songs that nearly all clocked in at around 30 seconds. Berz wrote 25 songs in one day, coming up with the name of the record first. Deciding to go with the bass-and-drums approach, Berz bought an acoustic bass.
"We started writing riffs to go along with these shouty poem things that we were thinking about putting together," he says. The first time we practiced, it was with an acoustic bass, and he just played on a chair. We worked out the first batch of songs that way. I think that was last summer, six months before we started playing live."
This is a band that cares as much about presentation — whether it's costumes onstage or the posters and album art — as it does about the music. It's definitely satire, and it's definitely humorous. Instead of motherf'n, they'll say "table-flippin'," or "mother-huggin'." The guys are playing roles.
"That's another thing that bands don't really do so much anymore," says Berz. "We wear costumes. It's all a show. The imagery that goes along with it — the posters I make by hand and Shaun makes the videos with stolen footage from YouTube, so it looks like grainy footage from VHS tapes."
A Counter Elites show will always be an unpredictable affair, looking to capture the dangerous edginess and haphazardness of early punk. That's the satire — these are accomplished musicians trying their hand at this punk game and having a laugh doing it. If they do have a bad show, they shrug it off and put it down to experience.
"A basement show in Hamtramck was not so good," Berz says. "I broke a string and I play leftie, so I can't just pick up someone else's bass. I didn't have a backup or any strings with me. We only made it through a third of the set, and it was a bummer because we'd waited all night to play."
Like the Dead Kennedys, the Counter Elites yell and preach political slogans, yet it isn't particularly clear what they're yelling and preaching about. Ask Berz about his politics and it doesn't become any clearer. He defines himself as a "staunch individualist," a top vs. bottom guy rather than left vs. right. He believes the majority of the disagreements between parties are manufactured and, as a result, more serious issues are ignored — and he has a point.
"Any kind of anti-democratic concentration of power is dangerous," says Berz. "I don't claim to know anything. What we'd rather do with this group is get people curious, asking questions. In our lyrics, we ask more questions than we proclaim answers. It's like the Socratic [method]: 'All I know is that I don't know nothing.'"
After listening to the debut Are You a Counter Elite? album, you might think you've got this band's number. You might also think you know what these two guys are all about; and you'd be wrong. The first album was recorded quickly with one microphone, but the forthcoming second record will likely be more polished.
"We might actually mic the drums," says Berz. "We're going to demo the whole record. The main reason we're taking a break after this Lager House show is because Shaun's having a baby in February. He's going to figure out how to be a dad. At the same time, I'm going to demo the next record and then when we're ready, we'll just start chipping away at it. I want the second album to be a significant step up."
The band had a bunch of newer songs written when they recorded the first record, but they decided to use the Ramones model. The Ramones wrote their first two records at once and then, for the first record, they put out the first songs they wrote, so the second record would see that significant jump in quality.
"We really did save all of the second batch for the second record," says Berz. "It's going to be different and there's a lot more going on. We have a surf rock song, blues, all over the place. We're going to take our time. Maybe it'll be out by summer."
This weekend, the Counter Elites play PJ's Lager House with Almost Free, among others. Asked what we can expect from the show, even the guys don't really know how to answer.
"We're going to play a lot of new songs," says Berz. "After that, we're going to take over the world. We're making bumper stickers. I have one that says 'Genocide for Emperor' and one that says 'Semiautomatic for Dictator.' Our platform is going to be as ridiculous as we can be."
Sounds about right.
The Counter Elites play with Almost Free, Inflatable Best Friend and High Arrow at 9 p.m. on Sat., Jan. 11, at PJ's Lager House; 1254 Michigan Ave., Detroit; 313-961-4668; $5.