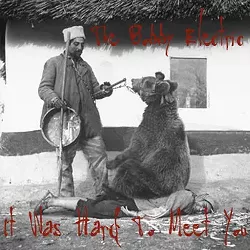 MATHIAS ADUKE AND the Bobby Electric have been waiting to play Blowout since the band formed in 2010. This year, Aduke is playing twice. By the time you read this, he will have already performed during the Hamtramck portion of the festival with All the Wild Children. In Ferndale, he'll be playing with the Bobby Electric, an alt-rock band that is destined to creep out of the shadows — and be ignored no longer.
The roots of the Bobby Electric can be found in a band called Slow Dance, which featured vocalist-guitarist Aduke and bassist Ryan Roy. When the duo hooked up with drummer Bill (who, like Cher or Madonna, only uses his first name), Bobby was born.
"I was waiting tables and this guy had been talking to me about music a few times," Aduke says. "I passed him a demo of my old band, Slow Dance, and he took it home, listened to it, loved it and said, 'Let's start a band.' That was Bill. The last band was pretty much what we are still trying to do. It's been Ryan and me and a rotating cast of drummers since 2006. We're trying to make no-nonsense, no-excuses, not-falling-for-any-tricks rock 'n' roll. We didn't want to compromise our sound by trends. Just because everyone else is doing dance rock now, we're not really ever going to do that. We just want to 'keep it real,' as they say."
Instead, the Bobby Electric draws influence from alt- and art-rock royalty. "Last night we played at Smalls," Aduke says. "It was crazy, and somebody came up to me after the show and said, 'The best way I would describe your sound is the Minutemen mixed with the Afghan Whigs.' I had never come close to thinking something like that before. That is quite interesting. My whole thing, from the beginning, was to somehow mix Queens of the Stone Age, Sonic Youth, and Pink Floyd together — in one band. I don't know if I pulled that off. I really doubt it. We're all over the place."
It's one hell of a mishmash — making a glorious cacophony of experimental indie and, yes, garage rock. Eclecticism is key, but, with so much going on, does Aduke feel the Bobby Electric fits in with the current Detroit rock scene, itself a varied beast?
"I go back and forth with that," he says. "There are some shows I go to that I really feel strongly about, I'm excited and ready to go. I think that I can do anything and I'm invincible. Then there are other days where I'm really down on myself, I feel like we're black sheep. I think about some of my Detroit friends, and none of them have even seen my band yet. We've been around for two or three years now, and we somehow missed out on a lot of great shows and a lot of great festivals. It's all coming down to networking. I've tried to get myself out there and meet as many people as I can and I still feel lost and on my own. So it really goes back and forth."
During a lull from the uncertainty, Aduke says the best Bobby set so far saw them performing as another band: "Last year, we played the Creepy Cheapy Halloween show at the Crofoot in Pontiac, and we did "Queens of the Stone Age" as our cover set," he says.
"It was more people than we'd ever played to — it was totally packed, shoulder to shoulder, and we killed it," Aduke adds. "We spent so much time on it, put so much effort into it, it was the best feeling in the world."
And, the worst?
"There was one show that Ryan couldn't make it to, and we brought in our buddy Dan to play bass for one day; that was weird," Aduke says, before adding, "He actually did quite well.
"I think the very first Bobby Electric show [performed], I played with a CD player and drum beats that I had recorded, and nobody was there except for one band. It was at the Northern Lights Lounge. Some punk band from Alabama was there; and I came up to the stage with my old black box CD player, pressed play and waited for the drums to start. I played guitar and sang. That was technically the very first Bobby Electric show — and it was miserable."
THE BAND PUT out the It Was Hard to Meet You album last January, though they haven't stopped working on new material since then. "I'm a recording freak," says Aduke. "I have my little studio set up in my basement. I just record all day every day when I'm not working. We played all new songs last night, and these are songs for the next, next record.
"We skipped ahead playing the next record, and now we're playing the next, next record. I'm a writing machine some days. We've been trying to get out this next record for 14 months. I go crazy with myself sometimes and can't make up my mind. We've got stuff pretty much done for the next record. We're just trying to play some shows and get some money together and get it out there. We sold out of the first record, and I realized the other day that I don't even have a copy. We're getting there," he explains.
Committed to both the Bobby Electric and All the Wild Children, Aduke admits that balancing the two bands, as well as maintaining his day job, a venue soundman, can be challenging. "It gets tough," he says. "Now I'm writing for both bands. I use multiple tunings with my guitars, and I keep one tuned for ATWC and two or three for Bobby. I try not to switch them up."
Continuing on, Aduke explains the difference in how he tunes his guitars: "ATWC is really simple. Bobby, I like to complicate the shit out of things. Honestly, it's sometimes hard to draw the line," he says. "I'm jam something with Scottie (Stone, drums), Pauly (Clos, vocals) and Liz (Clos, bass), and I think that it'd sound good with Bill on the drums and Ryan on the bass, and then I regret playing it at band practice. The lines blur every once in a while, but I use the tunings to differentiate."
After waiting for several years, Aduke gets to showcase both bands at this year's Blowout. His only other Blowout experience, however, was with yet another band entirely. "In 2006 or 2007, I played bass in a band called Felix Wright's Low End Takeover," he says. "We played at Paycheck's and it was great, but it feels like it was forever ago now. Bobby has applied every year and somehow we never got in it. I decided that this was the last time we were going to apply. We were bummed about it. That goes back to feeling like black sheep. It's partly my fault — I live 45 minutes away from the city. I'm more than ecstatic to be playing twice this year."
No doubt he and his boys will be practicing themselves into the ground before the festival. "I want to play all new material," he says. "We've been working on all this new stuff that nobody's heard. I've been concocting plans for having tracks with a second guitar to thicken things up. I'm still making up my mind about that. It looks like this summer is going to be filled with shows as well as recordings. I'm going to try to have a new record out by fall, and then we'll save our money to put it out."
The Bobby Electric goes on stage at 11 p.m., Thursday, May 2 at the New Way Bar, 23130 Woodward Ave., Ferndale.
Brett Callwood writes City Slang. Send comments to him at [email protected]