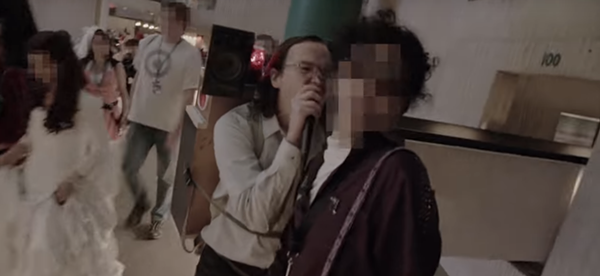 Earlier this year, we sent a brave Metro Times writer out into the world to figure out once and for all if Detroit's best-kept secret, the Armed, is even a band or just a revolving door of stand-ins that have cemented themselves in hardcore lore. What we found was blood-dripping actors baring the name of someone who is likely a real member of the band.

Confused? So are we. Which is why the Armed's latest visuals for "Heavily Lined", which premiered on NME last week, has nothing to do with anything. But it will wake you the fuck up.

Facebook
reads.
The video, which clocks in at just under seven minutes, follows the mundane happenings of one man, not unlike Joaquin Phoenix's character in the A.I. love story,
Her
, who rummages through a Home Depot to create a robot which may or may not be a metaphor for inner demons or mental illness. What follows is a shrill, fast-paced throwback to the guerilla-style comedy à
la Tom Green and
Jackass
, as he barges through the door of many recognizable Detroit bars, restaurants, and even Youmacon, the Detroit-based anime convention.


The real action doesn't start until four minutes in but the transition from the lead dude's basement crafting to the pure public mayhem is what makes the slightly schizophrenic glitch-frenzy that is
"Heavily Lined" so totally the Armed.
Watch the latest from the Armed below.
Get our top picks for the best events in Detroit every Thursday morning. Sign up for our events
newsletter
.