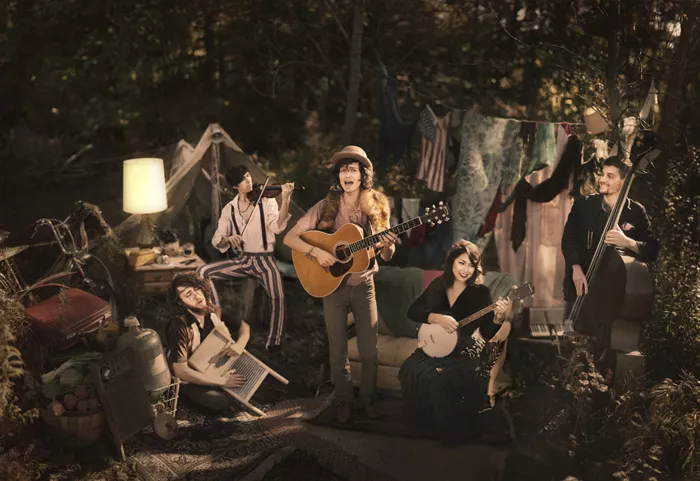 Ahhh, the life of a traveling folk band. Ann Arbor group the Appleseed Collective is no stranger to the road. In fact, these guys have logged an impressive amount of miles on the odometer, rolling into oddball towns and the occasional big city and doing their best to turn barroom crowds onto their brand of Dixie-bluegrass folk.
One such evening saw them at a small-town Florida bar. According to violin and mandolin man Brandon Smith, the patrons were behaving like people you read about. "I'll withhold the name of the venue, but I'll tell you a little vignette," Smith says. "The amount of pure crazy that was happening at this venue was off the chart. There was one guy who was literally throwing chairs and knocking into people. He was the only guy doing this, just one guy, in the bar. We saw a woman who was having an affair with this guy right in front of her boyfriend. Literally, her boyfriend was pulling her off of him. It was the kind of place where you wish you were famous enough to have a bodyguard."
Of course, every band that has toured extensively will have similar stories about off-the-beaten-path shitholes, the kind of venues that you get thrown into. Where other bands might have power chords and amps turned up to 11 to help them battle the violent apathy, however, the Appleseed Collective, completed by guitarist Andrew Brown, banjo player Katie Lee, percussionist Vince Russo and upright bass player Ben Rolson, have just their acoustic songs and sweet voices. Still, much of the time they win over the rabble.
The band formed in 2012, when Smith and Brown were both out busking in the streets of Ann Arbor. "Andrew just walked out of this café," Smith says. "My friend who was playing guitar went in to use the bathroom, and Andrew walked out and said, 'Hey, can I pick up that guitar?' I said yes. He had just come back from New Orleans and he had learned a bunch of Dixieland stuff down there and got really into that. He had been more into garage rock before that. He played a Dixieland tune and I played along with him, and we just hit it off right there."
The band's first show was equally unusual; the Appleseed Collective cut its teeth at, believe it or not, a speakeasy party following the removal of kombucha from store shelves. "Back in 2010, somebody got drunk off of kombucha and the manufacturers pulled it all off the shelf," Smith says. "The government said that you can't have alcohol in that. During that period of time, a lot of the people in the DIY scene in Ann Arbor, where we live, started making their own kombucha, so our first show was this kombucha speakeasy. You went into this house and it was like a fish market set up. There were actual fish and stuff. You had to have a password, and you went into the freezer. At the back of the freezer was this party, and we were the band for the party. It was a good way to start our musical careers together."
Folk bands aren't supposed to be this dramatic (or this much fun), playing illegal speakeasies (even if it was for a hippie tea drink) and watching Floridians fuck on pool tables. But the Appleseed Collective is no ordinary folk band. Indeed, immediately before this interview, Katie Lee had to bow out because she lost her voice and she and some bandmates were involved in a minor car accident. Nobody was hurt, but it's another strange and twisted chapter in their career thus far. Plus, just to confuse matters, the guys don't really consider themselves folk musicians anyway.
"I like to call it a little bit gypsy, a little bit Dixie," Smith says. "It's kind of evolving as well. We have a lot of influences. We're very influenced by old music, ragtime and stuff like that, but we're starting to bring an edge to it. There's the influence of people like Michael Jackson and stuff that has that really tight, hooky quality to it. A lot of people call us bluegrass but I think that's a misnomer because we don't play a lot of bluegrass, but they see the instruments and assume it's got to be bluegrass."
That's good, because the genre tag "folk" has lost most of its meaning nowadays anyway. Any acoustic singer-songwriter with a dab of the traditional about him will be labeled folk, whether it's accurate or not. Does "folk" even mean anything anymore?
"It means something to someone," Smith says. "I honestly don't think of our music as folk. When I think of folk, it's lyrically driven and instrumentally light. Also a big thing about folk music is that it tended to be tied into political movements. A populist, Pete Seeger kind of vibe. That's not exactly what we do. Certainly we have some elements of that. Genre is such a hard thing to talk about now. It used to be clearer, back in the day. Now, you've got things like swamp punk and crust metal — the words don't really give you an idea of what you're going to listen to. I think the term folk helps people understand in some ways, just puts a word on what we do. They call it folk and that's OK."
The band is certainly located in the right place; while Detroit is known for an eclectic music scene, the slightly more bohemian vibe of Ann Arbor suits the Appleseed Collective perfectly. "There's a really good folk scene — Ann Arbor especially, mostly because the Ark has kind of created this scene," Smith says. "They have so many folk acts in, and there are so many people that come to see it. Not just folk acts but acoustic of all sorts. Jazz and stuff like that. They have a fantastic scene going. Detroit, we've had a little harder time finding our niche there. There's obviously a very strong jazz scene in Detroit, and I think we fit with that because we have jazz in our sound. But yeah, Michigan has a great folk scene overall."
This weekend, the Appleseed Collective plays the very first night of the Ann Arbor Folk Festival. While they only get a 15-minute set, Smith believes that it represents a great opportunity. "We get to open up for Iron & Wine, and some really big names," he says. "I think Neko Case and Patty Griffin are playing the night that we play. It's going to be really cool to meet some of those people. It's cool to have been picked. It's essentially a vote of confidence from the Ark, saying that they think we have a future with them as a band. I'm really excited about it. I think it's going to be the biggest show we've played — 3,500 people. It's a milestone for us in terms of where we're at in our career."
We're certain that there'll be many more.
The Appleseed Collective plays the Ann Arbor Folk Festival on Friday, Jan. 31, at the Ark, 316 S. Main St., Ann Arbor; 734-761-1451; theark.org.