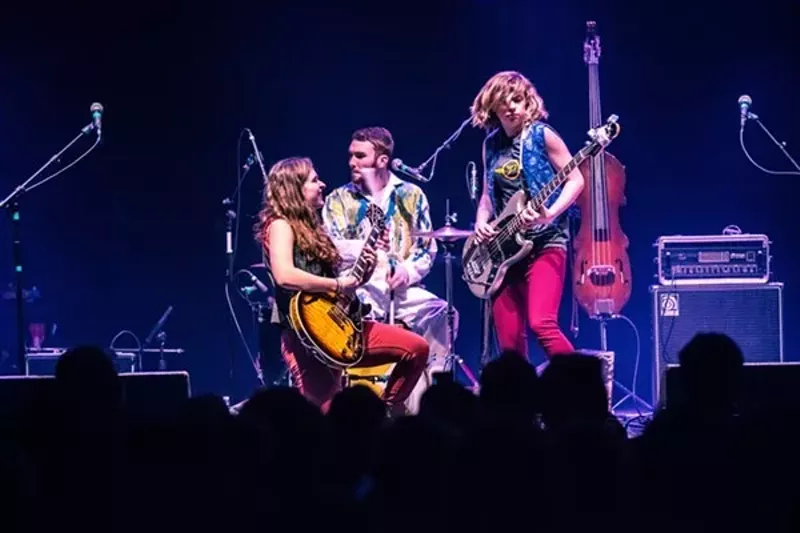 The Accidentals
— violinist-guitarist-bassist Sav Buist, singer-cellist-guitarist Katie Larson, and drummer Michael Dause — all met in a high school orchestra program in Michigan, where the members grew up, so it makes sense that when they had a chance to record with the Cleveland-based Contemporary Youth Orchestra, they would take advantage of it.
This week, the band came into town to cut a version of their track "Requiem for a Lark" with CYO. They recorded at the studio on Tri-C's Metro Campus. Part of the band's live set for the past four years, the song lent itself to orchestration.
"We have done collaborations with ensembles in the past but nothing quite this extensive," says Buist while sitting in the Rock Hall's VIP room with her bandmates. "We had the skeleton rough draft for the song but had never added horns or percussion, so we wanted to do something with this really pro, world-renowned youth orchestra that we've heard so much about."
"The song is the perfect fit for CYO," adds Larson. "It was inspired by a classical piece that Sav and I played together in high school orchestra before we were a band. We were playing Bela Bartok's Romanian folk dances. I wanted to make a piece inspired by it and so we started playing a rock version of one of our original songs."
While in Cleveland, the group met with students from Hawken School and held an informal meet and greet.
"It was kind of a Q&A," says Larson. "It's great to talk to people who are trying to figure out the next chapter and are thinking about music or becoming audio technicians. I think it's great to provide insight
about
those kind
of careers."
The band will release the tune early next year, and after that, the song will be used in the Rock Hall's digital education classroom. The group regularly plays in Cleveland, too and will perform on Feb. 20 at the Beachland Ballroom.
Stay on top of Detroit news and views. Sign up for our weekly issue newsletter delivered each Wednesday.