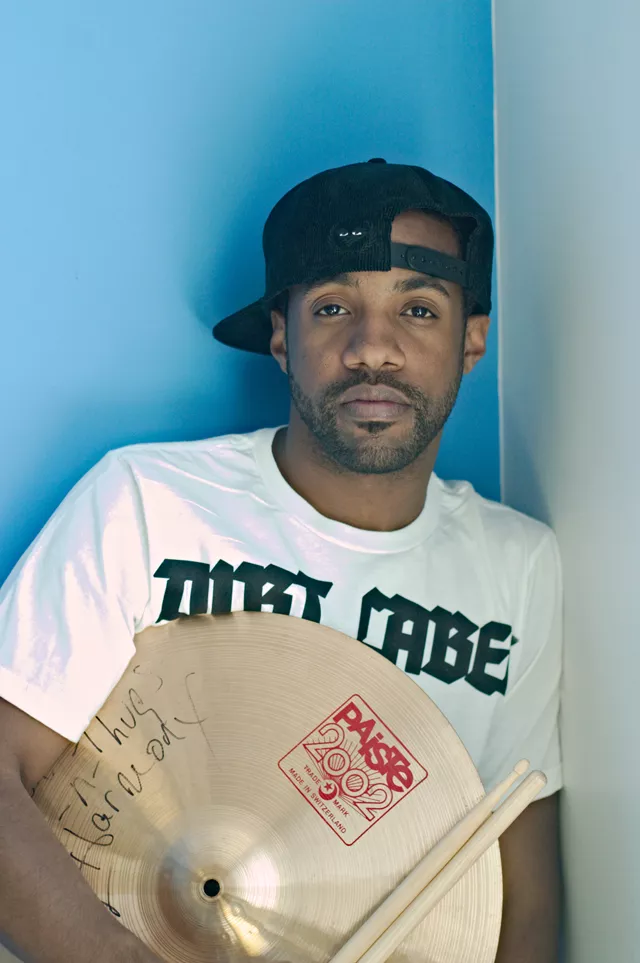 Drummer Thaddeus Dixon is polite, long-winded, and grateful for all the help he's received getting his career rolling. Going back to his toddling years, he gives props to his grandmother, who bought him a set of rummage-sale bongos, which he promptly wore out. He gives props to his parents who found a used semi-pro drum set, which he also wore out in short order, after which they took him to lessons at what was then the Center for Creative Studies.
"I remember it clear as day," he recalls. "I was 5 years old, and I had to audition. They never saw a kid at that age so focused. You know, at that age, your attention span is short, but they took me on. I was the youngest student there, and I took lessons there until I was 12 or 13."
And there are plenty of others he gives props to for helping get him to where he is these days, as a respected up-and-comer in the jazz world and an in-demand sideman in the world of hip hop, with aspirations to go even further in both musical worlds. He speaks to Metro Times while preparing to hit the road yet again in a few days, this time with Bone Thugs-n-Harmony.
But back to his backstory ...
Dixon is the only child of Gus and Denise Dixon of Detroit, and the only musician in a family that went out of its way to support his musical proclivities. "My parents never had to force me to practice. Playing the drums was kind of natural," he says.
From age 11 to 16, he played drums for the Greater Grace Church choir. In 2002, Dixon graduated from the Detroit School of the Arts, and four years later from Michigan State University, whose jazz studies director, Rodney Whitaker, is another one of those to whom he gives profuse props.
Whitaker recruited Dixon when he was a student at Detroit School of the Arts. The school's music director told Whitaker he needed to check out Dixon.
Whitaker — who recorded prolifically during the '90s and the early 2000s before concentrating on the MSU program in more recent years — says Dixon had quite the ego, but the bandstand chops to back it up.
"Thaddeus came to MSU with a lot of natural skills. When my regular drum professor couldn't make a gig, I felt comfortable enough to take Thaddeus on the gig with me. Thaddeus has the stuff you can't teach," Whitaker says.
Another of the other older cats who helped Dixon along was trumpeter Dwight Adams who called an 18-year-old Dixon to sub for him — as a leader — at Baker's on a night he couldn't make a gig.
"At the time, I didn't even want a band, but I got some young cats that I had been playing with. And it felt good being the leader. I was 18 years old. I had to get on the microphone and introduce the band.
"I was nervous because I was in front of people in their 40s and 60s that had been coming to Baker's for years. I thought they were thinking, 'Who is this kid Thaddeus Dixon, and what is he going to do?' It all worked out. Afterward, the owner offered me more dates"
First big break
After graduating from MSU, Dixon's career soared.
Dixon first big-time job was playing with the Spinners, backing them up as they reprised such chart-toppers as "I'll Be Around," "Could It Be I'm Falling in Love" and "Mighty Love." The group's regular drummer quit, and Dixon got the call.
"It was my first time making good money touring with a big-name band. Everybody knows who the Spinners are. It wasn't like I was playing with Jay-Z or some current big name, but the Spinners had the notoriety and they were working.
"When I got the gig, I went over to my parents' house and told them that I would be playing with the Spinners, and they just stood there with their mouths open. Then my mother started yelling and calling her friends," Dixon recalls.
Dixon toured with the Spinners from 2006 to 2008. Then he played with R&B singer and songwriter Ne-Yo. When that gig ended, Dixon worked with the likes of trumpeter Roy Hargrove, pianist Mulgrew Miller and vibraphonist Steve Nelson.
Didn't make diddy cut
In 2009, MTV held nationwide auditions for a new reality show with music and fashion mogul Sean "P. Diddy" Combs. Combs had just released the album Press Play, and the conceit for the program Making His Band was assembling a touring unit. When Dixon arrived at the Music Hall to audition, hundreds of hopefuls were there. Discouraged, Dixon decided to leave.
"That was one of the best experiences of my life," Dixon recalls. "When I got there all my friends were in line: drummers, horn players and singers. Some of everybody was there. I wasn't going to stand in the line. Before I decided to leave, I saw a friend that was way in the front of the line. I went to the front to say what's up and to encourage her."
She encouraged Dixon to stay. Dixon did, and he nailed the audition. The next day, he was headed to California for a second audition, which he also nailed. Dixon made it to the finals, and he was sure he'd win.
"I was supposed to make it. I will leave it at that. I felt at the end it got political. It was a reality show, so you automatically think of people acting wild, drinking and having sex, but I was focused. It was about the music. Every night, I was in bed at 9 p.m. For me it was real."
Dixon lost, but got to know some big-name industry folks, such as producer Dallas Austin and Combs' mentor Andre Harrell. "Being on the show I got a stamp of approval. People respect me more as a musician," Dixon says.
Juggling act
Since appearing on Making His Band, Dixon has continued to perform with R&B and hip-hop acts such as Bone Thugs-n-Harmony, and singers Timothy Bloom and Dawn Richards of Diddy's group Dirty Money. On the jazz front, Dixon has a monthly gig with his quartet at the jazz hotspot Cliff Bell's.
Asked if he plans to quit jazz and focus solely on hip hop and R&B, Dixon says absolutely not. But he wants to follow in the footsteps of fellow Detroiters Karriem Riggins and Carlos McKinney. Both are successful in jazz, in hip hop and in R&B. Drummer Riggins has played with Mulgrew Miller, Diana Krall and Oscar Peterson, among others; in hip hop and R&B, Riggins has played with numerous artists and produced Common, Slum Village, the Roots and Erykah Badu.
McKinney — a member of Detroit's extended clan of musical McKinneys — has a production deal with J Records, and he has produced Keyshia Cole and Busta Rhymes. Before he entered hip hop and R&B, McKinney performed eight years with the great jazz drummer Elvin Jones.
Dixon, in comparison, is early in the transition from road work to studio and production work. As to his long-term plan he explains:
"I'm never going to give jazz up. I've played in gospel, R&B, and with top jazz artists. It's hard making a decision to only do one thing because I don't want that. I get in these modes. I get in my pop and R&B mode, and my jazz mode, and my production mode. I have to find time to counterbalance them," Dixon says.
The Thaddeus Dixon Quartet plays at 9:30 p.m. Friday and Saturday at Cliff Bell's, 2030 Park Ave., Detroit; 313-961-2543; $10.
Karriem Riggins returns to Detroit to salute Elvin Jones, Roy Brooks and other drumming greats on Aug. 16 at the Detroit Public Library's Main Branch, 5201 Woodward Ave., Detroit; 313-481-1300.