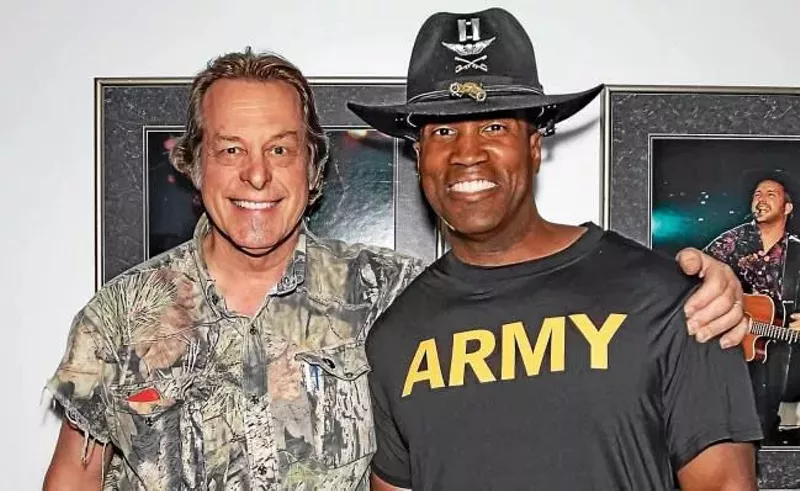 No amount of camouflage can disguise the infinite bullshit of "Motor City Madman" and raging right-wing lunatic Ted Nugent.
Following in the footsteps of
fellow outspoken hometown hypocrite Kid Rock
and
The Detroit News
,
Nugent publicly endorsed Republican Senate hopeful and "conservative warrior" John James during a performance at DTE Energy Music Theatre on Friday night.
As reported by
The Macomb Daily,
Nugent introduced James as a "blood brother." "You need to know this guy," Nugent instructed Friday's crowd. "He defends Michigan!"
James, a combat veteran who describes himself as
"a pro-business, pro-life, pro-Second Amendment conservative,"
was equally enthusiastic as he used his outdoor voice to list off the many things that are currently under attack: namely our Constitution, the First Amendment, Second Amendment, our borders, our sovereignty, our free thought. James also went on to say that we must "defund sanctuary cities" and give that money to
ICE.
"When we get to Washington, we're going to make Michigan great again," James yelled.
Needless to say, James was right at home on Friday night.
In recent months, "The Nuge" has called survivors of the Parkland, Fla., Marjory Stoneman Douglas High School massacre "mushy brained children" who have "no soul."

The "Cat Scratch Fever" rocker has a long history with running his mouth, and by running his mouth we mean sharing deplorable, racist, and tone-deaf remarks. He has called President Barack Obama a racist during a conversation with Joe Pags, adding "No one is oppressed in America unless you choose to be oppressed." During that same conversation, he referred to Colin Kaepernick as a "chimp." And here's a video of Nugent calling former President Barack Obama "a piece of shit" and Hillary Clinton a "worthless bitch," suggesting they both "suck his machine gun."

Meanwhile, in Kid Rock's official endorsement letter, he praises James' "no-nonsense attitude" going on to say, "He's going to make D.C. liberals cry when he starts showing folks in the Senate what real conservative values look like."

You can watch the cowboy hat-wearing U.S. Senate hopeful take the stage with Nugent at DTE Energy Music Theatre on Friday night below.



Stay on top of Detroit news and views. Sign up for our weekly issue newsletter delivered each Wednesday.