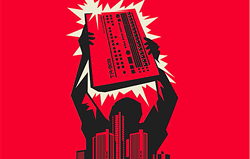 Motown has become a household name and people are familiar with the phrase "Detroit Rock City." But what fewer people know is that
black Detroit artists helped to birth a billion dollar dance music industry
– and yet they see almost none of the income.
The documentary
God Said Give 'Em Drum Machines
hopes to tell the story of Detroit's early techno producers when the film's rough cut screens at the Freep Film Festival next month. Starring a cast of Detroit techno innovators including Juan Atkins, Derrick May, and Kevin Saunderson,
God Said Give 'Em Drum Machines
explores the early days of Detroit techno while navigating the cutthroat world of music business.
"The stars of this film are considered gods overseas, but fail to get the same recognition here at home," says director Kristian Hill in a statement. "They're the 'hidden figures' of the $7.1 billion dollar industry of Electronic Dance Music...Most people nowadays have no idea that Techno has Detroit origins or that black people have anything to do with this music."
Produced by Washington Hill Pictures,
God Said Give 'Em Drum Machines
runs 40 minutes long and will premiere at the Freep Film Festival in the category of 'Works In Progress.'
The screening will be hosted by Planet Ant Theatre in Hamtramck on Saturday, April 13 at 8 p.m. Tickets are rush line only and remaining seats will be made available at the venue on the day of show.
You can watch the trailer for
God Said Give 'Em Drum Machines
below:
Get our top picks for the best events in Detroit every Thursday morning. Sign up for our events newsletter.