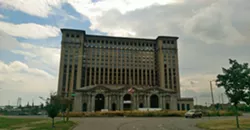 This weekend's free Tec-Troit Electronic Music Festival has moved from Roosevelt Park to lots behind The Works nightclub,
according to the festival's Facebook page
.
"The city of Detroit will no longer let us use Roosevelt Park. We are taking steps to move the entire festival to the back lots behind The Works. Please stay tuned," Nuestro Futuro Records commented on the festival's page on Wednesday.
The city did not veto the event, says Dan Austin, a spokesman for Mayor Mike Duggan.
"We told (the festival's organizer) they had to pay for the same permits that anyone else would need to put on an event," Austin says. "We were willing to work with him, but he said he couldn't afford to pay the fees."
MT
has contacted a festival organizer for comment.
Joseph Hix commented on Facebook that the venue change is "because of Orlando and the
big brawls they had at Chene Park
this past weekend," adding, "I don't think they are trying to ruin it on purpose."
The Detroit Police Department is unaware of any safety concerns related to Tec-Troit, Austin says.
Here's an updated schedule that's been posted by Tec-Troit, with the first performance at 3 p.m. today. The Works is located at 1846 Michigan Ave. in Corktown.
Friday, June 17
Main stage:

3pm- Discreet Disco
4pm- Jeffrey Woodward
5pm- Nano Too Hype
6pm- Malik Alston
730pm- Reference(Luke Hess & Brian Kage)
9pm- Dj Skurge aka Milton Baldwin
Stage 2 patio
3pm- Nick Speed
4pm- Alcides Mav Mavenue
5pm- Jesse James Wood
6pm- Reggie Regg Reginald Darnell Swinton
7pm- Big Joe Hix Joseph Hix
8pm- Joel Oliver b2b Nigel Geiger
9pm- Dru Ruiz b2b John Johr


Saturday, June 18
Main stage:

1pm- Radiohack & Dedroid
2pm- Warren Ross
3pm- Lafleur b2b Todd Weston
4pm- Earl Mixxin McKinney
5pm- Para//ax(Mike Parallax b2b Thread
6pm- Mike Michael Huckaby
7pm- Dj K-1 aka Keith Tucker
8pm- Haz Mat
9pm- Keith Worthy


Stage 2 patio:

1pm- Darryl G
2pm- Larry Vibemaker Miller
3pm- Body & Spade Mollison Folson
4pm- Broley & Dr. Strange Broley Edwards & Ian Strange
5pm- Prophet Ecks aka Danny Villa
6pm- Just Alexander aka Alexander Roelandt
7pm- Marissa Guzman
8pm- Dj Godfather aka Brian Jeffries
9pm- RayBone Jones


Sunday, June 19
Main stage:

1pm- Grant Jackson
2pm- E Dubb Detroit
3pm- Eric Johnson
4pm- Pilar Cote
5pm- Spore Print
6pm- Los Hermanos Detroit aka Gerald Mitchell
7pm- Gary A Martin b2b Rennie Foster
8pm- DTM Dj Seoul & Dj T. Linder
9pm- Woodward & Jefferson aka Jason Garcia & Derrick Thompson


Stage 2 patio:

1pm- Levi Tate
2pm- Salar Ansari
3pm- Dj Stop E David Janos Toth
4pm- Daniel Andres
5pm- Kale & Mike Kale Burton
6pm- Dj Minx Womenonwax
7pm- Reggie Hotmix and DaNeil Mitchell
8pm- Kevin Reynolds
9pm- Terrence Dixon
10pm- David Dalouda Ake
11pm- Percival Live
12am- Sonya Blaze
1am- House Coffee


Inside The Works:

12am- NF-2 Roach n Ray7 b2b Bob Thompson
130am- Get Physical aka Gregory K Merritt & Theresa Chavez