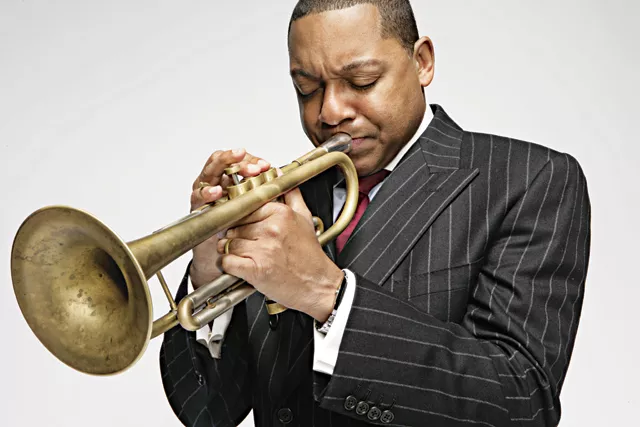 This is the year the Detroit Jazz Festival cuts the jazz about appealing to independents and energizes the base. Yes, this is the festival for the true jazz fan with nary a big-name from blues or R&B — no Aretha or Chaka or Maria Muldaur or Derek Trucks or Allen Toussaint. No world music crossover carnival acts like Beat the Donkey. In fact, the focus is largely on instrumental jazz. The only vocalists on the four-day roster seem to be the up-and-coming Cécile McLorin Salvant (a Thelonious Monk competition winner, no less), Detroit's marvelous Ursula Walker (with her co-leading husband, pianist Buddy Budson), the Bowling Green State University Jazz Singers and the cast of 100-plus voices in the Sacred Music of Duke Ellington. 
But ... there may be something to appeal to the independents here. The instrumental jazz artists here are among the biggest of the big names. If fans beyond the hardcore can name a jazz cat alive, they can't help but know the likes of Sonny Rollins and Wynton Marsalis — or maybe Wayne Shorter, Chick Corea and Pat Metheny, all of whom have had crossover successes. 
Also of note, this lineup gives major play to Detroit musicians as in the tributes to Marcus Belgrave and Charlie Gabriel. In fact, after opening night, there's barely a time slot without one or more Detroiters headlining or featured on a festival stage. 
Some thoughts and tips on enjoying the proceedings:
Roadshow comes to Detroit: For more than 20 years, there was a strange shroud of silence around Sonny Rollins' live performances. With just a couple exceptions, the man hailed as the greatest live improviser alive released only studio discs. That changed beginning in 2002, and, if you have any doubts about his continuing powers, turn to last year's Road Show Vol. 2 for an affirmation of his title: The Saxophone Colossus. As with Wynton Marsalis, this is Rollins' first festival appearance since 1987.
Double-play Shorter: There's a conundrum with Wayne Shorter. He's one of the greatest jazz composers of all time (fans can hum "Footprints" and plenty of the rest of you can hum the Manhattan Transfer version of "Birdland"). But his band of the last 12 years is a wonder of group improvisation that often uses the compositions as abstract signposts. This festival has it both ways, back to back. The Detroit Festival Jazz Orchestra presents commissioned arrangements of Shorter's compositions featuring guest soloists that include Steve Wilson, Jerry Bergonzi, Lew Tabackin and more. Then Shorter does his thing with Danilo Perez, John Patitucci and Brian Blade.
New Orleans Connection II: The roots of jazz get attention in this festival with New Orleans' Preservation Hall Jazz Band and A Night in Treme, which features the Preservation Hall group with other Crescent City luminaries such as Donald Harrison Jr. and Christian Scott. But the commercial and aesthetic rebirth of mainstream jazz in the 1980s was also spearheaded by a latter generation out of the Big Easy. Wynton Marsalis, the original poster boy of the Young Lions, is now a jazz-industrial-complex. This year's artist in residence, trumpeter Terence Blanchard, is from the second wave of the same movement, ditto saxophonist Harrison, both of whom are ubiquitous stage-hoppers as guests and leaders in this year's fest. 
Felicitous pairings: Much of jazz is about chemistry on stage. There are pairings to watch, both time-tested and recent. The new co-led group of saxophonist Joe Lovano and trumpeter Dave Douglas, major voices of two different generations, is one to look forward to. Frequent duet partners Chick Corea and Gary Burton have something new in their mix in the form of Harlem String Quartet. Other meetings that bear attention include former Detroiter Charles McPherson with trumpeter Tom Harrell (in an atypical spot out of the leader's chair for the latter) and trumpeter Randy Brecker joining the group of Lew Tabackin. Other cross-generational pairings of promise: former Miles sideman Rick Margitza featured alongside George "Sax" Benson and early jazz scholar-musician James Dapogny featured with Jon-Erik Kelso & the Ear Regulars Plus. 
Tooting Toot's horn: Jazz harmonica for a couple of generations has meant Toots Thielemans (90 this year) and Stevie Wonder (62). Finally they have an heir in the Swiss-born Gregoire Maret, who's been on dozens of discs in a little more than a decade and just recorded his eponymous debut as a leader. There was no better seal of approval than having both Toots and Stevie show up for guest spots. 
Latinate: The whole world jazz thing was last year's theme, but Latin jazz is still strong in this festival iteration. The ubiquitous Terence Blanchard teams up with Poncho Sanchez for Cubano Be, Cubano Bop, an homage to the Dizzy Gillespie-Chano Pozo recordings of the 1940s that helped fuel the movement and set a high-modernist standard. Also on the Latin tip: pianist Arturo O'Farrill's septet picks up special guest Donald Harrison, and trombonist Papo Vazquez brings his Mighty Pirate Troubadours (and Puerto Rican and Cuban influences). Finally there's Jerry Gonzalez, extraordinary congo player and trumpeter, a veteran of Dizzy Gillespie's band who's delved deeply into Monk and flamenco, performs with El Comando de la Clave.
Get out: This mainly-in-the-mainstream fest has its fringe. Where the fringe begins is a matter of perspective, but arguably it includes the saxophonists and David Binney and Ellery Eskelin. Eskelin performs with his organ trio (Gary Versace on organ, Gerald Cleaver on drums). Cleaver, a former Detroiter now heading multiple groups in New York, also presents his group Uncle June: Craig Taborn (piano), Mat Maneri (violin, viola), Andrew Bishop and Tony Malaby (saxophones), Drew Gress (bass), Carla Rodea (vocals) and Ryan Mackstaller (guitar). 
Get funky: While Eskelin can be expected to salute the organ jazz tradition's funky roots en route to free jazz territories, two other acts are likely to spend more time in the groove. The Trio is the combination of organist Larry Goldings with guitarist Peter Bernstein and drummer Bill Stewart. Then there's the group formerly known as Godfathers of the Groove with guitarist Grant Green Jr. and organist Reuben Rogers. That one's driven by drummer Bernard "Pretty" Purdie, the sticks man for everyone from Albert Ayler to Cat Stevens, but if we have to name one cut, we'll just James Brown's "Cold Sweat." 
Homecomings: Almost too many to keep track of. In addition to the previously mentioned, there are Noah Jackson, Louis Hayes, Rick Margitza. Walter White, and Kenny Garrett as leaders. The homecoming sidemen include Taborn and Mackstaller in Uncle June and Ali Jackson drumming with Wynton Marsalis.
See full schedule on Pages 84-85 or at detroitjazzfest.com. 
W. Kim Heron is editor of Metro Times. Send comments to [email protected]