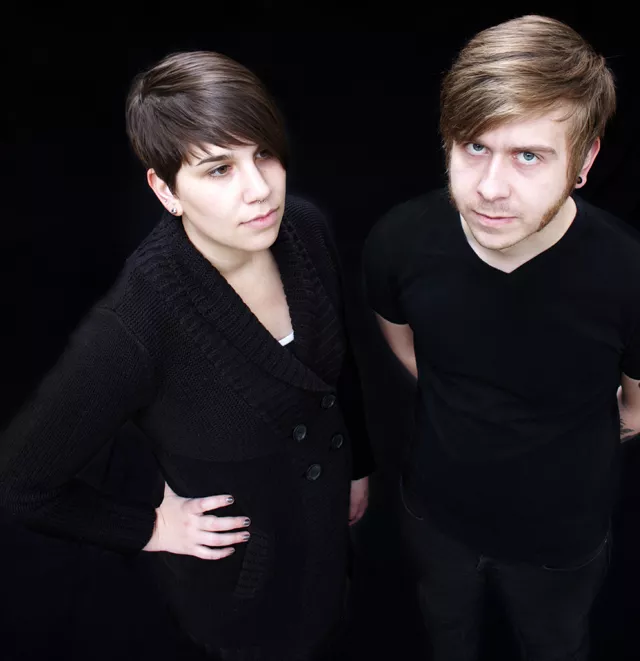 The Philter plays the New Dodge Lounge with Memory Blank and Monsoons on Friday, November 16. 8850 Joseph Campau, Hamtramck. 313-874-5963.
Why would a group of twentysomethings based in the city of Detroit play surf music? There are very few waves in the Detroit River, even while we were feeling the relatively gentle edge of Sandy. Drive a few hours north and it's possible to find some parts of the lakes that are surfable, but still, the image of a board in Michigan doesn't sit altogether comfortably with the very Californian vibe of surf rock.
To the wonderfully named guitarist and vocalist Nik Sureal (real name Burridge), 25, who formed the Philter as a solo project in 2007 before bringing in bassist Kim Lambert, 24, it all makes complete sense. After all, he really just wanted to create some rowdy surf rock. "Most of our influences are old surf rock bands like the Ventures and the Shadows," he says. "I don't know where it comes from, but when I was in high school, all of us got really into the Ventures. I reached out and got into older, different and more obscure surf rock bands. Newer ones as well, like Man or Astroman."
All of which raises the question, what exactly is surf rock? A quick glance at the not-always-reliable Wikipedia only serves to state the obvious: the gods of the genre are the Beach Boys, Dick Dale and the Del-Tones, and the sound was further explored by groups like the Ventures and the Bel-Airs. Usually played in 4/4 time, the basic idea is that the sound of the guitar is supposed to emulate the sound of waves. "It's a certain guitar tone. While we do have vocals, we focus far more on the guitar work," says Burridge, before describing his own band's sound as, "noisy, reverby and surfy."
In a very real sense, the band is aptly named because Burridge, who builds guitars for a living, is guarded to the point of filtering each and every word before allowing it to be uttered. As a result, when asked about the worst show the band has ever played, we get an answer like, "I don't want to name names but recently we've played shows that didn't go too well. I don't want to go into details though because I don't want to come off as a dick."
Oh, now, c'mon. Even when asked about his best show so far, he simply refers to a gig at the Magic Stick as "super fun." It's fair to say that Burridge isn't the chattiest of guys. He certainly doesn't come across as a happy-go-lucky beach hippie. There's nothing SoCal about this band. Rather, this is very much surf rock with a Detroit edge. If these guys are surfing, they're riding their boards through waves of oil, gasoline and grit.
That said, how do they fit in with the current Detroit scene? "At first we didn't, just because when we started there wasn't anything like us in Detroit," Burridge says. "Now, there're a lot more bands popping up that are similar in their tonality. We fit in better now, although a lot of people still think we're too loud and aggressive. We've actually had people walk out. We like blowing people's heads up with our sound. Right now, our two favorite bands that we like playing with are Rogue Satellites, and also Prom."
That makes sense; both of those bands have a sound that is based in the pop world, but that goes off in any number of weird and wonderful directions. Neither can be described as surf by any stretch of the imagination, but both are constantly evolving and looking for new ways to make sounds from any and every musical toy available. 
One clue that the Philter has a very Detroitian (that should be a word if it isn't already) take on surf rock is simply the fact that it's a two-piece. One would think that would make it harder to achieve the tonality and the general feel associated with surf rock. According to Burridge though, that is the least of their worries. "It's harder to play shows with sound guys who aren't necessarily informed when it comes to getting our drum machine to come through," he says. "It was a lot easier when we had real drums."
So far, the Philter has recorded two full-length albums, 2012's Secrets and 2011's Liquid Nitrogen, plus this year's Crushed EP. To Burridge, the growth between records has been notable. "I think the first one, I wrote and recorded when I was still doing it as a solo project," he says. "There was no other input — it was just my straight-up surf and indie influences. The new one, there's a lot more aggression and more experimental things. Different drum sounds."
Despite that pioneering spirit when it comes to music, Burridge has very modest ambitions when it comes to the success of his band. "We're trying to get more people to hear about us, and more distribution so we don't have to do all the production by ourselves," he says.
In other words, he just wants to put out records and have a few people like them without having to do every single little thing himself (or, at best, with the help of Lambert). That doesn't sound too unreasonable, even in these days of DIY, does it?
This Friday, the Philter plays the New Dodge Lounge in Hamtramck, and Burridge is promising a typically exhilarating affair. "We usually try to get a new effect, just so if you've seen us before it's still interesting," he says "At the New Dodge, we're playing with two bands, Memory Blank and Monsoons, that we're never played with before so that'll be fun."
And after that? "We are actually already working on a new batch of recordings," says the singer. "We don't have many shows booked for the rest of the year, but we're playing January at the Ferndale Public Library. I'm excited about that."
And so you should be. Libraries rock. 
To finish, we ask Burridge if his Philter has ever been confused with Cleveland's more successful band Filter.
"Not in my experience. It has been brought to my attention that there are other projects and groups with similar names, but I don't think we ever get confused with them," he says. 
Damn shame. It'd be nice to have some of their crowd.
Brett Callwood writes City Slang. Send comments to him at [email protected]