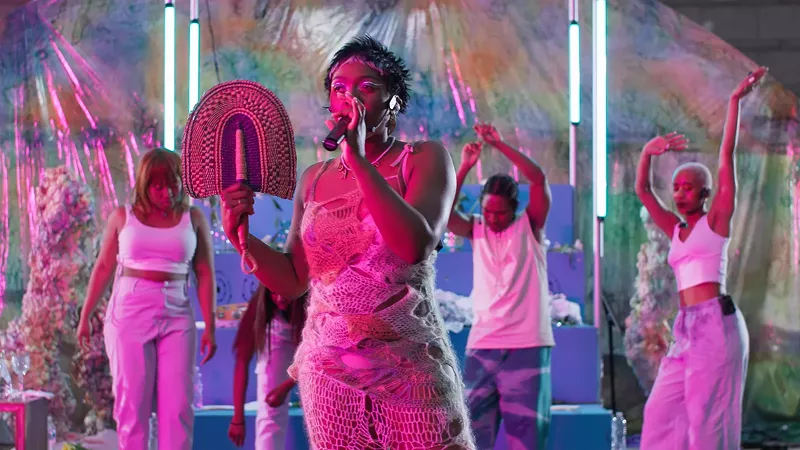 A carpet of fog rolls across Detroit's Charles H. Wright Museum as Supercoolwicked and her praise team take the floor. As their chorus of voices rings in harmony with their dance moves, the R&B singer cocoons herself in a shroud and emerges as if she's just traversed the spirit realm.
The interdisciplinary Detroit artist is about to take us to church with her "Negro, Spiritual" performance on Monday evening. A crowd has gathered inside the museum's rotunda dressed in pastels, earth tones, and white that matches the backing singers' choir robes. Ian Fink plays a church organ melody on his keyboard as Supercoolwicked, her face painted in frosty silver eye makeup, directs the choir in modern-day gospel. A gloomy sky may be looming outside, but inside the museum, the theatrical performance revives the spirits of everyone watching.
Flower vases, tambourines, and maracas sit atop a peculiar set of stairs set like an altar. It's a solar-powered stage made by Detroit artist Ash Arder called the WhoopHouse that the backing band has plugged their instruments into. Arder and Supercoolwicked teamed up for this special performance to kick off the Charles H. Wright Museum of African American History's Earth Month celebrations.
Supercoolwicked's brand of velvety R&B spreads self-love with confidence like fire with the power to both warm and destroy you.
"I wanna be beautiful but deadly like a thunderstorm so people wouldn't fuck with me," she sings in her 2019 track "Beautiful."
The singer, actor, and composer — whose real name is Morgan Hutson — tells Metro Times her spiritual practice and music practice are one and the same.
"When you think of your grandmother in the South, during a thunderstorm she's turning off the lights and just listening because that's God talking," she says. "You can play too much and get struck by lightning and if you play with me too much you will get struck by my lightning. My music is a way to power me up. I'm also always trying to find a collective sort of freedom so anything that I do for myself, I want the audience to experience as well."
Hutson has been crafting "Negro, Spiritual" since 2020 and has previously performed an iteration of the performance at the 2022 Allied Media Conference. The audience claps and stomps their feet as she woos them with her soulful voice.
She treats the performance as a spell, both to help her overcome challenging feelings and an ode to how gospel shaped the future of all music.
"Africans brought the pentatonic scale over to America and when they were given Christianity, they took those hymns and freaked them, started doing call and response and harmonizing on top of them," she says. "Black music has so much progeny and everything can be traced back to gospel."
She continues, "Rock 'n' roll is from the blues. The blues is taking gospel music and putting a blue note in it. All the contemporary music that we have now — rap, pop music from the '70s and '80s — it all takes things we brought over with that pentatonic scale and just freaks it."
Hutson and Arder connected for the Earth Month performance after meeting on the set of Flint performer Tunde Olaniran's Made a Universe project.
WhoopHouse was a 2021 Knight Arts Challenge winner that Arder made in collaboration with designer Kapish Singh. The sculpture uses solar panels to provide a power source for musical instruments and can also record music and play it back. It's made of six solar modules that are stacked together to build a "stage" that looks like a staircase.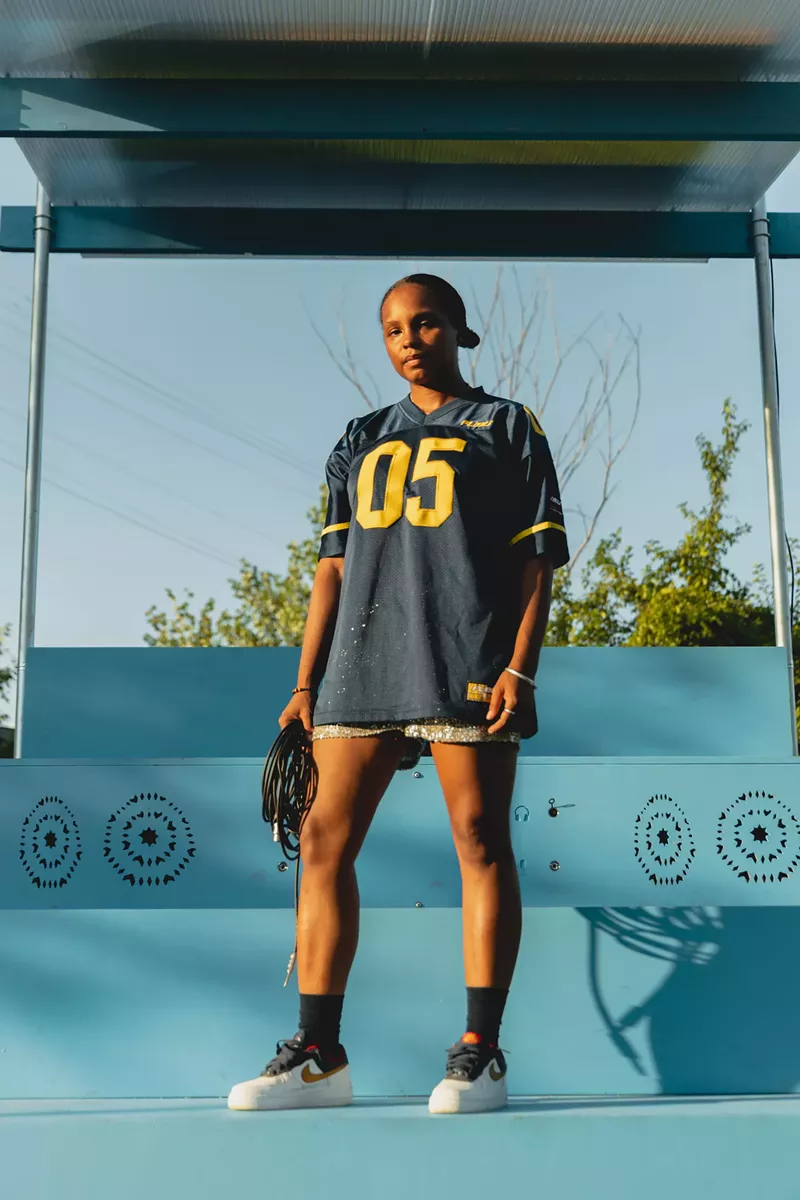 "This project was born out of a thought thread around the relationship between humans and the environment and music, particularly Black music, as an archival source for understanding that relationship," she says. "Essentially, people can show up to WhoopHouse, plug in their keyboard or electric guitar, and initiate a jam session."
Arder is a transdisciplinary artist originally from Flint who works with sound, electronics, and sculpture. She also DJs under the name Mount Mariah and co-owns a solar generator rental company called Solar Party Detroit that hosts an annual off-grid party.
The company has powered weddings and events like the Detroit Zoo's GreenFest and walking tours with Detroit Historian Jamon Jordan via the African World Festival.
"I know the photovoltaics industry… and it can seem overly technical and not very accessible," she says. "So it's hugely important for Solar Party, but also for me as an individual to let people peek behind the curtain a little bit. To see somebody like me showing up with the generator in my truck and running this company makes a difference."
So far, WhoopHouse has been used for a Creative Arts Orchestra concert at the University of Michigan in Ann Arbor and a block party hosted by U of M Flint's Community Design Class and St. John's Historical Committee.
Arder, who lives on the Eastside of Detroit, plans for WhoopHouse to tour different neighborhoods to spark conversations on alternative energy.
"It's important that people — especially on the lower Eastside where I live, where we get a lot of flooding and the power goes out — to know that there's another option," she says. "You and your neighbors can get together and buy these materials to put together a little microgrid. It's not going to power your refrigerator year-round, but when you lose power because of failing infrastructure, you can at least go charge your phone or laptop."
I haven't been to church since I was a child but if every sermon were as uplifting and entertaining as Supercoolwicked's, I could almost ignore the religious dogma and be convinced to go back. That's a big almost.
A recording of Supercoolwicked's "Negro, Spiritual," powered by the WhoopHouse will be played in three Detroit neighborhoods as part of the museum's Earth Month programming. See the full schedule below.
April 20, 5-9 p.m. Third Thursdays at the Wright: Music, poetry, and conversation with Ash Arder and East Side Riders Bike Club founder King Wayne.

April 22, 11 a.m. Manistique Treehouse community cleanup. 259 Manistique, Detroit.

April 29, 10 a.m. to 7 p.m. Bailey Park: Community cleanup, green fair, lunch, and activities like composting, plus a "Negro, Spiritual" broadcast. 2617 Joseph Campau, Detroit.

April 29, 6-8 p.m. Avalon Village: Food trucks, Goddess Marketplace, and Avalon Village STEAM lab plus "Negro, Spiritual" broadcast. 40 Avalon St., Highland Park.

April 30, 4-8 p.m. Manistique Treehouse: Tour the treehouse, community kitchen, and urban solar garden site. Food on-site and "Negro, Spiritual" broadcast. 259 Manistique, Detroit.
For more info, see thewright.org.
Coming soon: Metro Times Daily newsletter. We'll send you a handful of interesting Detroit stories every morning. Subscribe now to not miss a thing.

Follow us: Google News | NewsBreak | Reddit | Instagram | Facebook | Twitter