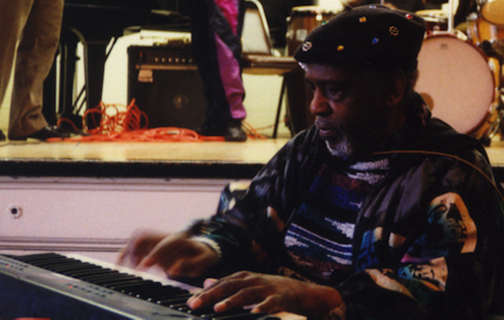 Fans of the eccentric jazz combo known as Sun Ra & His Arkestra have a special treat this weekend: A tribute featuring a host of Afrofuturist musicians, dancers, and spoken-word and sound artists. It's called "Astro Black: A Tribute to Sun Ra and His Solar Arkestra." It sounds like it could be exactly the kind of spectacle one might see at an actual Sun Ra show back in his day.
As one who actually saw a Sun Ra show, I can say I never saw anything like it. I saw him lead the band on the last day in spring 1990 at Frog Island Park in Ypsi. I didn't know anything about Sun Ra — I'd been dragged along by a girlfriend. But when I saw the multiracial crowd decked out in tie-dyes and smelled something fragrant in the breeze, I had an inkling I was in for something freaky. On the stage, percussionists came out, pounding on drums, dancers came out, rushing back and forth. More drummers stepped up onto the stage and began adding to the frenetic rhythms, which built for 10 minutes or more. In the end, the dancers were so amped up they were practically turning handsprings on the stage.
And then, everything got quiet as Sun Ra stepped out onto stage in a long, flowing robe with a hat that featured a golden fish, and sat behind the keyboard. After all that spectacle, I had expected him to pound on the keys like Jerry Lee Lewis, but he began to crisply play some very cool and restrained jazz. I laughed, figuring I got the humor. Maybe I did. When a musical artist claims to have been transported to Saturn and back, and writes songs about traveling the spaceways, it's possible I missed the point.
I saw Sun Ra again two years later on July 4, when they opened at Summer Stage in Manhattan's Central Park for Sonic Youth. I should say I
heard
Sun Ra, because we got there late and had to set up our blanket behind a hill and couldn't see the stage. I just remember drinking a lot of sangria and probably being more excited about hearing songs off
Goo
than I should have been. After all, Sun Ra would be dead within a year.
The Arkestra still plays, and that's probably as close as you can get to one of those shows, but this local tribute sounds exciting. It fittingly takes place as part of the "Cosmic Music Community Concert Series" and will feature "a host of Afro-Futurist musicians and sound artist from Detroit under the direction of Tony Holland, Kenneth Green and Dr. Clifford Sykes." There will also be a special video presentation of Le Sony'r Ra himself, as well as a chance to buy CDs and books related to jazz's great interplanetary traveler.
Astro Black: A Tribute to Sun Ra and His Solar Arkestra takes place at 7-10 p.m. Saturday, Nov. 11, in the General Motors Theater at the Charles H. Wright Museum of African American History, 315 E. Warren Ave., Detroit; 313-494-5800; thewright.org; $20 at the door, tickets available online; children 12 and younger free.