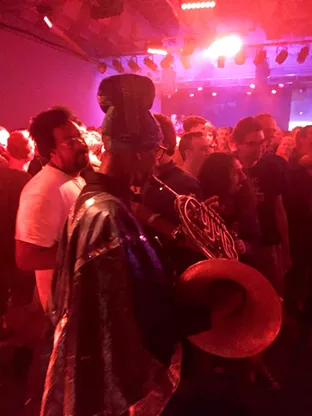 Show review: Sun Ra Arkestra at El Club Mon., July 18
Interplanetary travel is possible, and I have experienced it first hand. I arrived at El Club, our starship for the evening, just as the journey was beginning. The room was packed with fellow travelers and the stage equally as full with our pilots, the Sun Ra Arkestra. To say I was stoked to experience this band live is an understatement. My excited, beating heart synched with the percussion and I was locked in. For the the next two hours I was in a free jazz meditation. This meditation was broken a few times by a procession of saxophones blasting the crowd. They did this a couple of times, with one brave soul vibing out so hard he joined them. I think everyone there was on their own planet.
We were all united by the music and the pure joy of being in the presence of the spirit of Sun Ra himself. It is incredible that these people have been playing together longer than I have been alive. Their on stage communication with each other was inspiring. I closed my eyes at one point to let the lights have a weird dream machine-like effect only to open them and find myself dancing with strangers. It was nice to feel completely free.
I wondered a few times during the performance if my grandparents ever got to experience this. I kept thinking about how my dad would absolutely love this. I wondered what they listen to feel like I do listening to them. Then I thought about how cool it was for a band who has members are in their seventies and nineties could make a room full of kids party.
My request to be the resident seamstress for the band was politely declined. There was not enough space for a sewing machine and a stowaway (on this tour at least). However, I was told that in the future it can be considered. I left the show with an intense desire to practice my flute and assemble my own Arkestra.