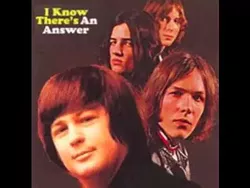 Remember
mashups
? They're not just for the Oughts; people still do them. And occasionally these often-anonymous people do them really well, so that two seemingly opposed tunes sewn together delightfully fuck with your head, and make you whistle while you work.
Case in point: "I Know There's No Fun Answer," which naturally combines
the Stooges' stoned-genius 1969 release "No Fun"
with
the Beach Boys' 1966 Pet Sounds classic "I Know There's an Answer."
We found the track via a post from a year ago by
Deadnest
, which is an Internet something-or-other.
There is a bit of that weird, time-stretched stutter to parts of the thing, which is common to mashups, of course. That precise effect eerily reminds us of when we used to abuse inhalants in the eighth grade. Either you know exactly what we are talking about, or you feign disgust at that last remark. But please don't act too surprised; what other job could former abusers of inhalants ever find themselves at, but an alt-weekly in the Midwest?
Don't forget to play this super loud; that's all Ron Asheton would ask of you.