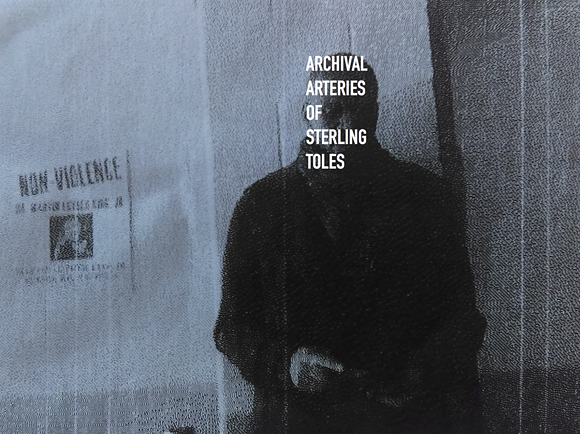 The debut vinyl release
of local underground mainstay Sterling Toles is cause for total joy for fans of Detroit music. The EP,
Archival Arteries of Sterling Toles
, features tracks produced between 1998 and 2006, all recently unearthed by
Sector 7-G Recordings
.
Local musician and label guy
Ben Christensen
, who is helping to release Toles' music, spoke with us briefly about it in advance of a
release party this Friday, Sept. 16 at 8 p.m.
The West Village's beloved community/ performance space and pop-up style record shop, Paramita Sound. The show will feature performances by Sterling Toles, Video7 , BLAXKNEW.WAVVE, Detroit Youth Volume, and Ben Christensen. Admission is free.
Metro Times
: So, who is Sterling Toles?
Ben Christensen
: Sterling Toles is a producer/artist and mentor to a lot of musicians in the area. He does music for label mate Oren Goldenberg's films. We work with him in different capacities with the Allied Media Projects.
I first encountered Sterling's music around 2008, I think. Kyle Hall and I went over to his house late one night. Kyle definitely built him up, but nothing could have prepared me for what we were about to hear. Sterling played us track after track for hours.
Sterling's relationship with music is more spiritual than any other producer or electronic musician you will meet. That might explain why he hasn't released anything for so many years.
MT
: Why is this release so crucial?
Christensen
: This release excites me because I truly think that it's important and I think that it could open the doors to more releases by Sterling. He has a close knit community of people who love his music and have been waiting for something like this for years.
MT
: Tell us about this release party, please.
Christensen
: The release party is going to be great. I've seen Sterling play at Paramita before at a Beat Profile event, and there were all these people who came out of the woodworks to celebrate Sterling's music. Something that his community rarely gets to do. I can't wait to do that again.
MT
: Walk us through the release, then, please. Got a favorite track? Care to elaborate on a tune?
Christensen
: I don't really have a favorite track. They are all so good... I love all the different places that the record goes to. There is nothing like his music to me.
"Current Child Undisclosed"
: This track uses those unwanted (scratchy) sounds that 1/4 inch cords make, which usually people try to throw away and/or eliminate. And Sterling makes something very beautiful with them.