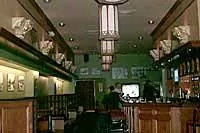 There is a quiet tension between different groups working to rebuild downtown Detroit. The big guys are building casinos, a stadium and corporate headquarters -- populating the city with professionals. Meanwhile, twenty-something entrepreneurs are transforming abandoned buildings into independent galleries and nightclubs for cool kids. The young and the older are revitalizing the area, but the two groups seldom interact. This is where the new State Bar steps in. Attached to the ever-popular State Theatre on Woodward Avenue downtown, the magic of this place is its unknowing ability to erase all cynical notions of divided communities.
The aesthetics of the place have a lot to do with its universal appeal. The two-week-new bar is decorated with dark wood and good leather. Cabaret-style booths extend down one wall, working to be functional and fashionable. Large televisions are neatly tucked into the walls, high corners and behind the bar. Soft gray-green hues backdrop the walls, and gold-painted fixtures lend a romantic feel to the décor. Black and white historic photos of a once-magnificent Detroit—impressions of a beloved city—hang on every wall. DJ Quig pounds the room softly with mood-melodies a la 96.3-FM's "Big Sonic Heaven." Perfectly soothing.
The State Bar offers a wide variety of beer and liquor options, and will soon supplement the beverage selection with an appetizer menu. It is immediately accessible to theatre patrons (21+ of course) before and after concerts. And it is also the perfect place for Tiger fans to congregate post night games— just a street crossing away. The waitstaff is young, urban, attractive and friendly; somewhat similar to State Theatre patrons. I'm not worried that the place hasn't caught on yet. It's so young. And its welcoming spirit—the way it seems to open its doors for all of us—who couldn't appreciate that?