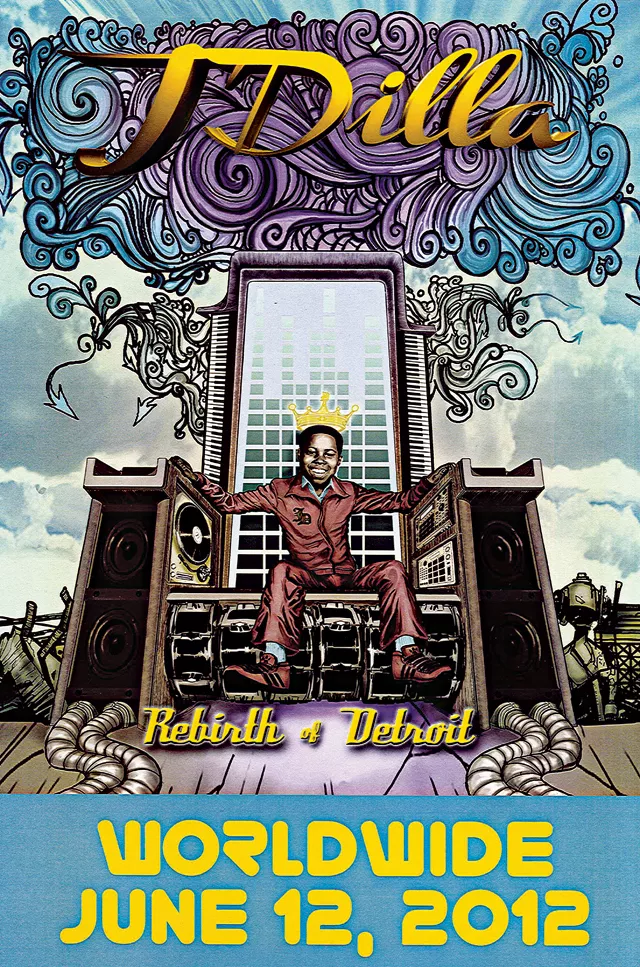 The name J Dilla is one that is likely to make most fans of hip hop grin from ear to ear, while people not familiar with that world will perhaps look puzzled. J Dilla, born James Dewitt Yancey and sometimes known as Jay Dee, is in fact one of the most influential figures to have come out of Detroit. He worked with international artists as respected and commercially successful as A Tribe Called Quest, De La Soul and Janet Jackson, and the work he did with his own group, Slum Village, is still hailed as some of the grittiest, gnarliest and tightest rap to have come from Detroit's streets. 
The records that have J Dilla's (or Jay Dee's) name on the front didn't exactly set the charts on fire, for all they are adored by the underground. Yet, among followers of hip hop — and a growing number of cutting-edge music lovers — Dilla is revered, the object of ongoing memorial concerts from California to London and, of course, Detroit, the most recent being last December's, featuring Phat Kat, Guilty Simpson and others.
The Roots' Questlove declared him the best rap producer of all time and confessed to having listened to his productions and "overanalyzed them over a hundred times each."
Dilla's name is even dropped with increasing frequency on the jazz scene, with the pianist Jason Moran recently mentioning him alongside composer-musician Henry Threadgill. High praise, indeed. 
Yet, outside of hip hop, the average, casual music fan has probably heard the guy's work, but may never have heard of him. Trust us, you should know who he is that same way you should know Phil Spector or the Funk Brothers. 
Sadly, any further output will be released posthumously, as Dilla died as a result of cardiac arrest after a long battle with lupus in February 2006 at the age of 32, shortly after the release of his final album, Donuts.
James Yancey's jazz musician father and opera singer mother raised the future Dilla, the oldest of four children, in a house just off Seven Mile Road. The story goes that Dilla started building a vinyl collection at the age of 2 (amazingly), and he started spinning in the local park soon afterward (even more amazingly). 
All of this you can get anywhere on the Internet. You can find out that Dilla met Amp Fiddler, then a member of George Clinton's Parliament-Funkadelic, in 1992, and that Fiddler took Dilla under his wing, impressed by what he had learned at such a young age. You can find out that Slum Village's first album, Fan-tas-tic (Vol.1), earned plaudits from figures as respected as Q-Tip of A Tribe Called Quest, who even said that Slum could be Tribe's natural successors. You could also learn that Dilla wasn't particularly pleased with the comparison, as he felt that there was nothing "Detroit" about Tribe's "backpack rap."
You can find out that, by the mid-'90s, Dilla had worked on remix projects for the likes of Janet Jackson, Pharcyde, Busta Rhymes and, somewhat ironically, A Tribe Called Quest. The year 2000 saw not only Slum Village's major label debut, Fan-tas-tic Vol.2, but Dilla getting a new following as an emcee. His debut solo single, "Fuck the Police," and the accompanying album, Welcome to Detroit, came the following year.
With a bit of digging, you will know that Dilla worked hard and consistently for the next half-decade until his untimely death, earning a reputation as one of the most sought-after producers in hip hop. But who was J Dilla (aka Jay Dee aka James Yancey)? Who was he really? What drove him and what made him tick?
Amp Fiddler can provide a huge chunk of insight, as he knew Dilla from the beginning of his career and followed it to the very end. Fiddler says that Dilla was one of the mid-teen kids in his neighborhood who were adamant about getting him to help them record, to hone their hip hop. But Dilla stuck out from the crowd. 
"That was when they decided they were gonna make a group called Ghost Town," Fiddler says. "I told them to bring their samples, and I'd let them use my MPC [Music Production Center — an electronic instrument]. I showed Jay how to put it in the MPC and loop it, and it was amazing that he was already doing that from cassette to cassette. It was amazing to me that anybody could do that with a cassette. He was a genius about it."
The former Parliament-Funkadelic man says that, at that point in his life, Dilla was the most well-balanced young man he had ever met, while his friends and colleagues were outspoken and out to have fun.
"He was more reserved and respectful. He came over a lot once he started using the machine. He was addicted to it. He loved to record. I had a big record collection in the basement of all kinds of stuff — jazz, funk, soul — just a ton of stuff. I could tell his parents raised him well. He was always cool and gave off a good, positive vibe."
The attribute that seems to radiate from J Dilla is that of hunger. He drove at his career like a champion athlete, refusing to compromise and not accepting defeat. Fiddler confirms that very thing. "He didn't give a fuck about any other shit," he says. "He wanted to know how to use every machine. He'd come up [from the basement] and ask me a ton of questions about how to do stuff, so I'd go show him and he loved that. He would stay down there for hours, until I would tell him he had to leave."
As Dilla achieved more and more commercial success, particularly through his role as a producer as well as with his solo work, he lost touch with Fiddler. But his old mentor kept a keen eye on how his friend was doing. "I always followed his career from early on when he said that he wasn't gonna wait for me to get them signed, but I was determined to get him signed with somebody," Fiddler says.
"That was my mission because I always knew how talented he was. He represented Detroit different to anybody else. When I was out on tour with Lollapalooza, I mentioned him to Q-Tip. After that, he was just playing and I didn't talk to him much anymore. I think they kept him hidden away from me for some reason. I couldn't reach him. I would call him and he would pick up, but he was just doing his thing. I didn't mind though. That's why I helped him at the beginning. I was like, 'Just do your thing and shine.'"
Fans of Dilla know full well that this was a guy who loved to celebrate the city that he came from, loved to tell the world that he was a Detroit man. "Being from Detroit makes you recognize that we work hard to be recognized," says Fiddler. "It was important to let people know that Detroit was on the rise in hip hop, like other cities were. I think that Detroit has always been innovative and we have to let people know that. Jay was a very innovative young man who loved what he did and loved to create."
Some would say that J Dilla didn't achieve anything like the level of success that he should have (and would have with more time), and that may be true. But the respect he will forever command with hip hop's premier league points to the fact that he was very successful indeed. After he passed, the musical tributes came thick and fast. The Roots released a mixtape called Dilla Jawns and, later, a track called "Dillatude: Flight of the Titus." Busta Rhymes, in collaboration with Q-Tip and others, released a mixtape called Dillagence, and there were many more too. 
Meanwhile, Dilla's work continues to live on, under the charge of his mother, Maureen (Ma Dukes) Yancey. The recent Rebirth of Detroit album features unreleased production work by Dilla and features artists like Amp Fiddler, Guilty Simpson and Danny Brown. Boldy James is a name on the album that will be new to many; he didn't know Dilla personally but he worked on the "Detroit Game" and "My Victory" tracks, he says, at the request of Ma Dukes. 
"I felt honored because Dilla has been such an inspiration to so many Detroit emcees," says James. Ma Dukes "told me that she wanted me to record with my cousin Chuck Inglish, and she also wanted a solo effort from myself on the LP. A lot of dudes from the J Dilla Hip Hop Shop era had something to say about me being on the Rebirth of Detroit project because I didn't know Dilla personally, but for his mother to grant me the opportunity to be a part of something so epic ... I had to step up to the plate."
This was a terrifically talented musician who leaves behind a body of work that anybody would be proud of. Amp Fiddler offers a fitting conclusion. "The most important thing about Jay was that he was committed. He loved music and he was always looking to find and try new things. I think that will stay with him."
Brett Callwood writes City Slang for Metro Times. Send comments to [email protected]