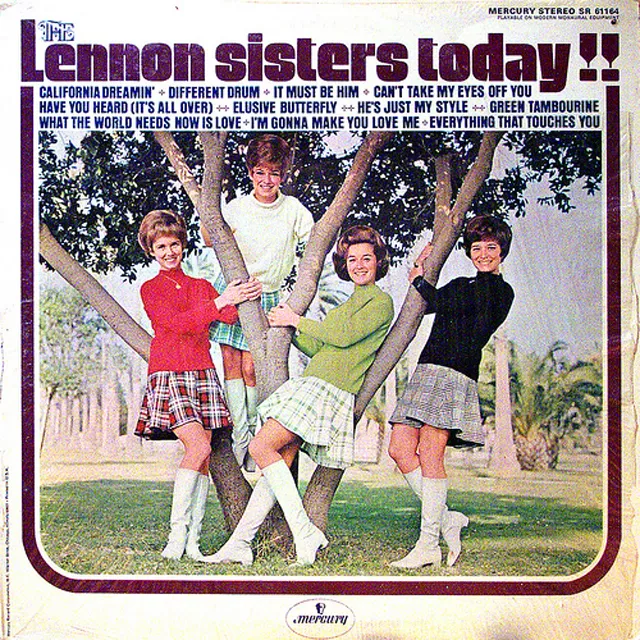 FRIGHT FROM THE BINS
The Lennon Sisters Today! (1968)
While the world busies itself this month with more buried Lennon treasures, here's a long-player where truly "woman is the nigger of the world"! In 1960, sister Dianne quietly "left" the group because she got married and Lawrence Welk thought viewers wouldn't tolerate a Lennon Sister who was no longer a virgin. By 1968, the gals liberated themselves away from Welk and onto Mercury Records, where they could attack bolder "today" material such as "California Dreaming" — just imagine four mamas in a world of no papas! Natch, the line "I pretend to pray" is changed to "I began to pray — in this Lennon universe, no one is more popular than Jesus Christ.
As with their previous shot from the hip, On the Groovy Side, they cover a Gary Lewis hit and enlist Gary Lewis' producer Snuff Garrett — clearly Jerry's kid was their Maharishi! One almost hopes that within this eight-breasted beast was a crazed rendition of "Psychotic Reaction" waiting to claw its way through the schmaltz — to no avail. If only they had covered Iron Butterfly instead of "Elusive Butterfly," the trip from Champagne music to head music may not have required so many extra bubbles. But this is as far out as Dianne, Kathy, Janet and Peggy ever got — their on-the-raga version of the Lemon Pipers' music-for-money anthem. You've never heard "Green Tambourine" sound as sinister as it does when these Stepford Wives sing it with a fervent hope there might be a matching green handbag to go along with it. But give 'em props for soul kissing "I'm Gonna Make You Love Me," even if they're making that assumption on the basis of a kickass tuna casserole. —Serene Dominic
SCHOOLYARD VERSE
When I rap with
Waka Flocka Flame
I feel like a black
whale that is
eating blind sharks.
I want to hear a song
that looks like a skyscraper
that tastes like chicken alfredo
that makes me feel like freshly cooked fish. 
—Pierre Williams, 6th Grade, Golightly Education Center, InsideOut Literary Arts
ON THE DOWNLOAD
Lord Scrummage — "Dead Dogs"
Straight from the hallucinatory throne of his majesty Lord Scrummage, this effervescent piece of halluci-wave synth pop was delivered as a gift for his open-eared minions. The song is weird in the way that our city is — at first confusing, then complex, and ultimately congenial. —Travis R. Wright