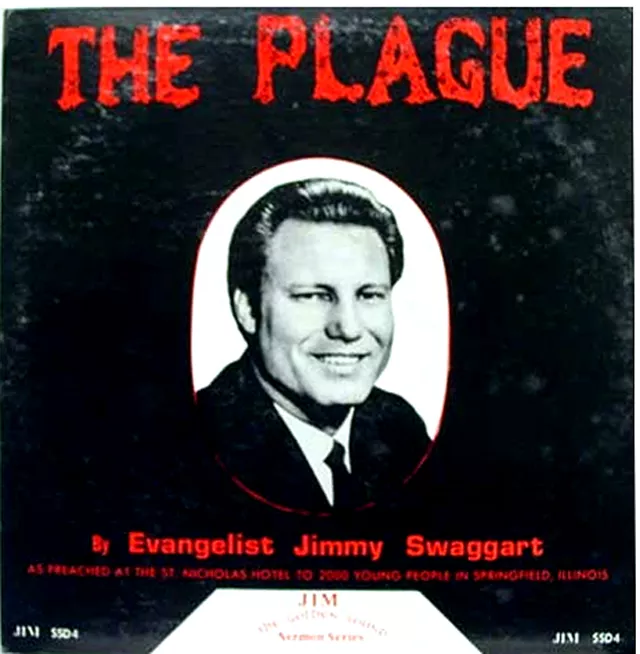 FRIGHT FROM THE BINS
Jimmy Swaggart
The Plague (1967)
The Summer of the Love will not be seen this evening so we can bring you the following tele-castigation. ...
Why do I love Jimmy Swaggart? Well, neighbor, let me count the ways, all of which are in "profundity" and "abundance" on this 33 revelations-per-minute sermonette. First off, I love the way he overheats like a gas-guzzling LeSabre whenever he expounds on all things evil. I love the way he takes far more breath than he needs for the seven or so words he spouts before taking another ill-timed inhalation. I love the way he has mounted a one-man campaign to keep the word "dastardly" in modern usage. I love how the televangelist who most conspicuously choked in his battle with Satan browbeats a youth group in Springfield, Ill., for wanting to get some teenage kicks. And, of course, I love the way he keeps name-dropping his no-good cousin Jerry Lee Lewis into every one of his turntable preach-outs, forever linking Jerry Lee's ying to Swaggart's sanctimonious yang. Ever get the feeling in real life the Killer avoids Jimmy like ... the Plague? —Serene Dominic

SCHOOLYARD VERSE
When I sing along with
Waka Flocka Flame I feel like a black
dragon soaring through the wind
blowing fire on people's
houses and stealing their food.
I want to hear a
song that sounds like raindrops
a song that looks like glittering water
a song that tastes like spring
a song that makes me
feel like an angel with wings.
—Willie Antonio James Jr., 6th Grade, InsideOut Literary Arts, Golightly Education Center