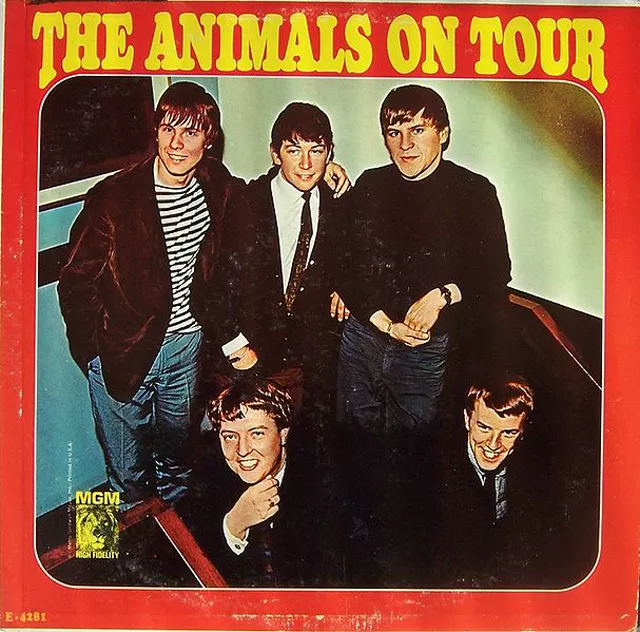 FRIGHT FROM THE BINS
The Animals on Tour
(MGM, 1965)
Hard to believe, but there really was a time before the invention of artistic control when rock albums were as casually tossed out as The Animals on Tour was. The brain-busting that must've rocked the offices of MGM Records to arrive at this dog-eared artifact we hold now to an era so bygone.
"What should we call this? Marketing? Any ideas?"
"Well, the Animals are on tour, let's call it that! Worked for Herman's Hermits."
"Great? What about cover art?"
"Cable the London office and have them stand in the same stairwell Herman's Hermits did."
Like Herman's Hermits on Tour, this isn't even a live album, but at least the touring Animals were spared being depicted floating around in a cartoon balloon like Peter Noone and crew.
And even if the Animals had been shown this antiseptic class photo while in the midst of some godforsaken Dick Clark Caravan of Stars tour, they probably couldn't have given a rat's ass. "We're in America. I'm chatting up the mayor's daughter into my bus bunk! Fook off!" would've been the reasonable response.
I can't bear out the exact verities of this story, but a friend of mine swore in the late '80s he saw Eric Burdon with an umpteenth latter-day Animals at a corporate gig for Wells Fargo when Burdon said something that pissed off half the crowd and they cut off his mic. Something like "Fuck mutual funds." If you had a bootleg of that concert, it would be a way more accurate representation of The Animals on Tour. —Serene Dominic
DOWNLOAD OF THE WEEK
Chris Bathgate
"Poor Eliza"
Quite Scientific
Autumn's sage of sad bastards, Chris Bathgate, recently releases his latest folksploration, Salt Year. It's a diary of worn-heart poetry written from a sunken but sacred place. This week's download, "Poor Eliza" shows Bathgate's brilliant contradiction, offering song tales that are at once spooky and vivid. —Travis R. Wright