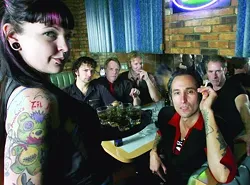 Alt-rock band Sponge formed in '91 from the ashes of local hard rockers Loudhouse, and they wasted no time in grabbing the attention of the MTV-soaked, grunge-loving, post-metal kids of the era. The '94 debut album, Rotting Piñata, went gold in the United States and, sung by charismatic vocalist Vinnie Dombroski, the singles "Plowed" and "Molly (16 Candles)" reached No. 9 and No. 11, respectively, on the Billboard charts.
The albums and singles since may not have hit the same commercial heights, but the tunes have been of the same high quality — and the energy of their live shows has never dipped. Surprisingly, this Blowout will be Sponge's first, though Dombroski has played the festival before with his industrial metal band Crud, and his outlaw country outfit the Orbitsuns. Dombroski is psyched to be bringing Sponge out this time around.
Metro Times: When was the last time you played the Blowout?
Vinnie Dombroski: I can't remember exactly, but I want to say playing [with Crud] at the New Dodge a few years ago. We fell off the radar for a while, so it's been a few years.
MT: Did you ever play with the Orbitsuns, too?
VD: Yeah, believe it or not, it used to represent the country thing. I don't know if they still do, but they used to. We played a number of good shows over the years, but that was going back many years.
MT: Has Sponge ever played Blowout?
VD: Not that I recall. Typically, I think the thing was about bands that weren't quite on the radar. Crud would play, the Orbitsuns would play, but I can't recall them having a major, national headliner. I know the Cobras have played, and a number of nationals more recently, but years ago it was all about the local scene.
MT: Do you still get excited about playing a festival set with Sponge, after all these years?
VD: Absolutely. I couldn't do it if it wasn't [excited]. Certainly, it's a means to an end. It's how I pay the bills, but at the end of the day it's got to be something that I'm interested in doing, that I'll have fun doing, because I could do other things for money.
MT: Tell us about the tour you have coming up with Everclear, Live and Filter …
VD: That thing just kind of materialized. We had planned on finishing the record and — lo and behold — this thing happened and things fell together. A couple of months out there, with these groups, will be great. It doesn't surprise me; I think these package tours have been valuable for a number of groups, like the '80s metal bands — and now there's the '90s nostalgia going on. Everclear used to open up for us. We opened for Live many years ago too.
MT: What else has Sponge been up to lately?
VD: We've just been putting together this new record, finishing that up. It'll be called Stop the Bleeding. It's inevitable that we have to put something new on YouTube. It's like radio — it's everything these days. To go out there without a new video would be crazy. I'm just working on getting a couple of videos started and finished up. That's the goal, and it's what we're missing right now. We did a record release party at the Machine Shop in Flint on April 13; and what we've done is package up an advance CD that we sold at the show. We decided to not put it out on iTunes just yet. We're trying to do an exclusive release with Rolling Stone, kind of a review and release, with them putting it online.
MT: So I guess you'll be airing plenty of new songs during the Blowout set?
VD: We'll certainly have a couple of new ones. The only time we have a chance to rehearse is during sound check. We did a tour playing the entire first record last year, so it's up for grabs. We'll take a lot of audience suggestions. We can field a lot of requests.
MT: How do you feel Sponge will play with a Blowout crowd?
VD: I don't know. I think the Blowout is well promoted and it's a great event. [Because] we don't often play in Detroit … I think we'll have a Sponge crowd. That's what I'm guesstimating.
MT: Got any good stories from past Blowout shows?
VD: Crud playing Blowout was unbelievable. I think it was 11 years ago. I wish I could remember the name of the venue. It was truly about bands and music — not the industry. It was a 500-capacity venue and it was jammed shoulder-to-shoulder. The energy and the passion to come and see a band like Crud was amazing. It was one of those nights where people were hanging off the chandeliers, literally.
MT: Post-Blowout, what's Sponge's game plan?
VD: We've already got dates booked for September and October, mixing it up with club dates and radio festivals. We plan on starting up a radio campaign for the new record. We have a great start with the Everclear tour, and we're only going to be doing more good things as the year goes on.
Sponge plays Saturday, April 27, at the Polish National Alliance Hall.
Brett Callwood is a staff writer for Metro Times. Send comments to [email protected]