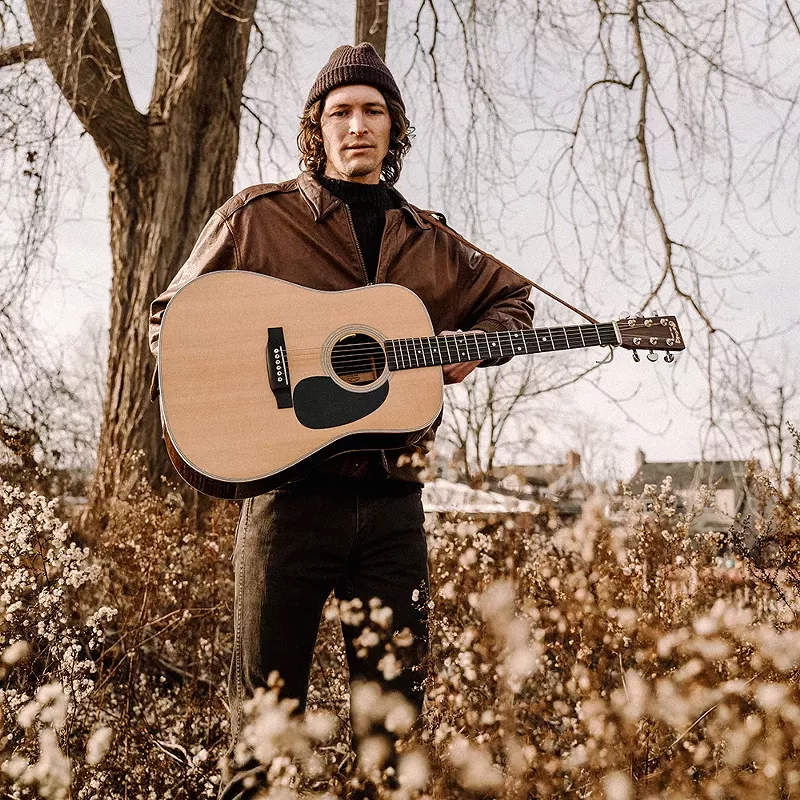 In a way, the Ferdy Mayne never went away. And in a way, it never will…
Nevertheless, this weekend is your last chance to see the Ferdy Mayne. Sort of, at least. Shane Firek is the talented singer-songwriter and guitarist who emerged from the Ypsilanti-Ann Arbor music scene back in 2009 using the actual name of a lesser-known British actor from the 1960s as his musical moniker. The music, particularly on the Ferdy Mayne's debut EP, Chase that Jackrabbit, was an exhilarating and gritty mongrel hybrid of Americana, punk, and indie-folk, featuring Firek's melodic growl delivering a rhythmic croon unraveling raconteurish post-millennium murder ballads.
And the thing is: Firek will still continue in that vein, more or less – Firek will still continue making music assuredly, it's just he's finally changing up monikers. From here on out, he'll be performing and releasing music as Turner Porter. But he'll be saying goodbye to the Ferdy Mayne "era" in style this weekend when he invites equally genre-defiant troubadour heavyweights like Chris Bathgate, Jeremy Waun, and Remnose to join the lineup on Friday night at Ferndale's Loving Touch.
Turner Porter
This week, Firek is unveiling a newly remixed and remastered version of Chase that Jackrabbit's six songs, including frenetic and flat-out piquant ditties that exorcize angst and futility, set to urgent rock tempos and sung in this compelling voice that embodies an uncanny fusion of Bob Dylan, Tom Waits, and Randy Newman. "The old stuff still stands up," Firek says. "So I figured, why not reintroduce it? I decided I would just start releasing some singles and book a 'final' Ferdy show. I'd literally been riding on the seat of my pants the past three months, so I figured: let's just commit and do it."
It's not a comeback, per se, but Firek certainly has been regenerating momentum for his primary songwriting project ever since the late fall of 2022. While tons of bands got back into business-as-usual once COVID-19 vaccines were available, Firek actually "didn't even pick up a guitar" throughout all of 2021. Instead, he got way into competitive bass fishing. "My life has always been like that, though," Firek says. "Every five years I take a year off." But back in August of 2022, "it moved really quick… I'd started working on some new material and said Alright, I'm gonna start doing this again."
Back in November, Firek hopped onto a show at the Lexington, doing a solo set as the Ferdy Mayne, and that felt quietly momentous since it was his first public performance in more than three years, up until that point. "But I'd played with minihorse [in summer 2022] and I definitely got bitten by the bug again from that," he says. minihorse is a shoegaze-rock outfit led by songwriter/producer Ben Collins, with whom Firek shares more than a decade-long friendship. "So, in December, I finally said to Ben, 'Let's remix the old songs and do some overdubs, because it feels like there's just gotta be a farewell-thing for Ferdy…"
Ranks
Even if he had his brief diverted odyssey into bass fishing, Firek had been working his ass off consistently throughout the mid-late 2010s. After getting sober in 2014, he moved from Ypsilanti to New York, and eventually got a modest foothold inside the Big Apple's indie music scene. In 2017, he released a self-titled full-length album, featuring "Define My Name," an alt-country-inclined single that fittingly dipped into some poetic existentialism. From there, he hit the road and toured continuously for a little more than two years, briefly dipping his toes into the L.A. scene, before moving back to Michigan, pretty much just in time for 2020's quarantine.
"At the end of 2019, I'd just gotten married," Firek says. "And I was like, Alright, I'm done playing shows for a little while… because I was already thinking about the name-change. So then, in the beginning of 2020, I started to record stuff on my own — I didn't really know what I wanted to do, but from my perspective it was just my attempt to connect more with people. That self-titled album is really good, but it's also complex and asks a lot of the listener, which is fine — there's plenty of music like that. But I was trying to figure a way around that, while also trying to rediscover my place in a community. I'm just trying to find my place [here in Michigan], it's just that it took two and a half years to figure that out."
It's not a comeback, but in a way, Firek feels like he's back. Back, now, as Turner Porter, but still compelled to give a celebratory send-off to the songs that essentially served as his debut around the southeast Michigan music scene. "I think the scene here, now, is really great — there are some really good musicians around here. And I'm back in their ranks again. I feel alright — it feels good to be back!"
Firek says he noticed that audiences in Michigan the old songs, but people in New York only know songs from the self-titled album. "There's tons of people who have never heard the [older] stuff that I'm releasing now," he says.
Firek says that "the self-titled, from 2017, is more" — he briefly pauses — "indie."
He adds, "That's just the way I was writing then — I was trying to write stuff that nobody had heard before, and while I still think it's great and still stand behind that record, it's not where I'm going to excel."
He says he prefers the acoustic guitar over an electric, and that he wanted the ability to be more explorative when it comes to genre. "And to be honest, the newest stuff I've been working on sounds much closer to the [Catch That Jackrabbit] EP [from 2012]."
Mixed bag of everything
At the show this Friday, Firek will be joined by Collins (from minihorse), Pete Ballard (of Loose Koozies) on pedal steel, Evan Eklund (of New Twenty Saints and Prude Boys) on drums, and Kenny Szymanski on bass. The Ferdy Mayne, since its earliest days back in 2009, had initially started as out as a band, a collaboration, rather than a solo project: Firek's guitar and lyrics were always at the heart of it, but musician Aaron Diehl, who initially played drums and helped record several early songs, is considered by Firek to have been an integral component.
"There have been over 30 people," Firek says, "who've played in this project over the years," including bassist Michiganders like Derrick Mallory and keyboardist Jeremy Freer, but also bassist-producer Harris Karlin, guitarist Galen Gatzke, guitarist Trevor Sohnen, and several others. And the intention, now, moving forward, is to continue having Turner Porter exist as a full band, with Firek front and center, even if he may still occasionally go solo now and then.
Firek says regardless of whether the newest material is backed up by a full band, with dynamic flourishes from signature components such as a pedal steel, more than anything, he wanted to craft the new Turner Porter songs in such a way that they'd still be able to stand on their own, outside of the context of a full band — i.e., just with an acoustic guitar. And that's primarily what links the newest stuff to the oldest stuff.
"And [I'll] will mix some of those new songs into the setlist," Firek says. "Along with some songs from the [2017] self-titled, too. Once the name changes though, I probably won't ever play anything off of [Ferdy Mayne self-titled], and if I do, only every once in a while. But at the Loving Touch, it'll be a mixed bag of everything!"
Coming soon: Metro Times Daily newsletter. We'll send you a handful of interesting Detroit stories every morning. Subscribe now to not miss a thing.

Follow us: Google News | NewsBreak | Reddit | Instagram | Facebook | Twitter