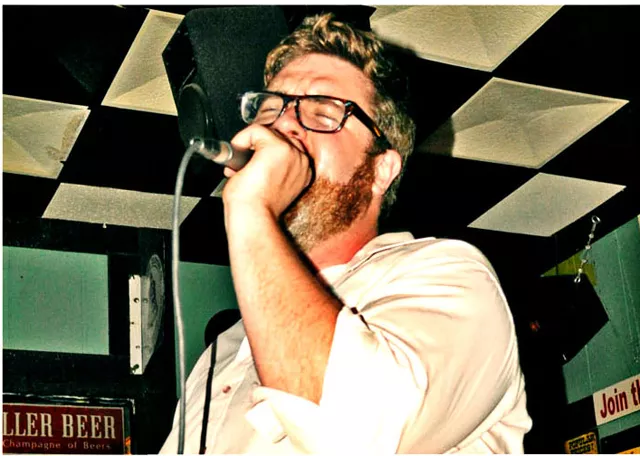 It's 9 p.m. on a Monday, and it's damn cold outside the Garden Bowl in midtown Detroit. Inside, a few tables see punk rock types nurse beers and chew pizza slices. A larger group of adults and children wraps up a family dinner on pushed together tables, which are strewn with kids' toys. Sports on TVs behind the bar draw attention.
This is before anyone notices Adam Pressley, a skinny, white, twentysomething shuffling back and forth in front of the side exit. Backed by a modest PA system and laptop playlist, he launches into "Lollipop," Lil Wayne's signature sex-jam about a shorty who, well, "lick me like a lollipop." In thick rims and a hoodie, Pressley casually spits, "Lil' mama had a swag like mine."
As the mastermind behind Auto Tune Karaoke warms up his weekly gig, every raunchy syllable robotically flutters to the key center, just like on The Carter III. That's because he's using the same software tricks as Weezy's producers.
The family notices Pressley and it's over — heads snap back, laughing; camera phones come out. And, most important, people start signing up to sing (Bieber for the kiddies, Prince and Elton for the grown-ups).
The 25-year-old Pressley got the Auto Tune Karaoke idea from a musician pal in his Bloomington, Ill., hometown, who, in December 2009, posted on Facebook: "My mom's singing into my Auto-Tune. She wants it for Christmas. She keeps calling it karaoke."
"I immediately sent him a text saying we had to start doing Auto Tune Karaoke," Pressley says.
For the unfamiliar, Auto-Tune is a digital effect used correct a singer's pitch. Pressley estimates it's on about 90 percent of mainstream radio recordings. He's not alone; in a 2009 Time magazine article, ace producer, Columbia Records honcho and known audiophile Rick Rubin said, "Right now, if you listen to pop, everything is in perfect pitch, perfect time and perfect tune. That's how ubiquitous Auto-Tune is."
But it can also be used to create a spacey, vocoder-type effect on a singer's voice, first made famous by Cher's 1998 hit "Believe" and recently lodged into pop culture aural consciousness through a constant stream of hits by Kanye West, T-Pain, Lil Wayne and the Black Eyed Peas.
A few months after the epiphanal status update, Pressley left Bloomington for Detroit to join local eccentric-pop band Prussia, as a guitarist and backup singer, but his dream of helping regular folk sing in public like pop stars didn't die. With the help of local roustabout Phreddy Wishusen, he kick-started ATK events at Pontiac's Crofoot Ballroom and then Gator Jake's in Sterling Heights, a Hooters-style sports bar, where the clientele wasn't always receptive.
"People would come up to me and ask me to turn off the 'digital reverb' or 'distortion,' he says. "I obliged them, but it defeats the novelty and fun of the idea."
(By the way, the only Prussia recordings to get Pressley's Auto-Tune treatment appear on the novel and fun Prussia Goes to the Disco mixtape, released last summer. But he says he'd only ever use it for effect, not pitch correction.)
Today the Garden Bowl is Pressley's sole weekly gig, but he also trucks it down I-94 West to Chicago monthly to play Lincoln Hall where people go "batshit" for ATK.
Locally, Pressley, who delivers Jimmy John's by day, is looking to fill the rest of his weeknights with ATK events. He's entertained a cast party for the ABC TV cop drama Detroit 1-8-7, as well as a Detroit Derby Girls afterparty. Birthday parties and bar mitzvahs are in the works.
With 30 pages of songs to choose from, the list runs the obscure to obvious gamut. Regular requests include Cher's "Believe," Wayne's "Lollipop" and other Auto-Tune classics (although, surprisingly, not Kid Rock's Auto-Tune drenched "Only God Knows Why," which Pressley says he's never had requested. ATK draws a mix of pop devotees wanting to ape Kanye exactly and irony junkies looking to skewer "Enter Sandman."

By 10:45 p.m., the bar is filling up fast with a fun-loving crowd of hip-hoppers, hipsters and a few regular karaoke rats sidling up to shout their names and songs over the music to Pressley (no paper slips or golf pencils at Auto Tune Karaoke).
"Lollipop" gets two more plays in 90 minutes, but there's plenty of WTF? fare, as well: A female duo does Jewel's "Who Will Save Your Soul;" another woman barks through Pantera's "Walk" (Phil Anselmo should sound so menacing); Eric Dean, a 22-year-old Wayne State student, takes a charismatic pass at Aerosmith's "Jaded."
Pressley's aware of a few other Auto-Tune karaoke nights around the country, but he has doubts about whether they are executed as well as his. "It's a more difficult process than it sounds like," he says. "I have to find the key signature of every song by ear, on the fly, and set the Auto-Tune to that key. And, if there's a key change in the song, I have to do it again. [Once] my friend sang 'Good Vibrations' and I about had a panic attack there were so many key changes."
Auto Tune Karaoke at the Garden Bowl will be on hold while Prussia tours the country. It will resume on Monday, April 18. See majesticdetroit.com for more info.