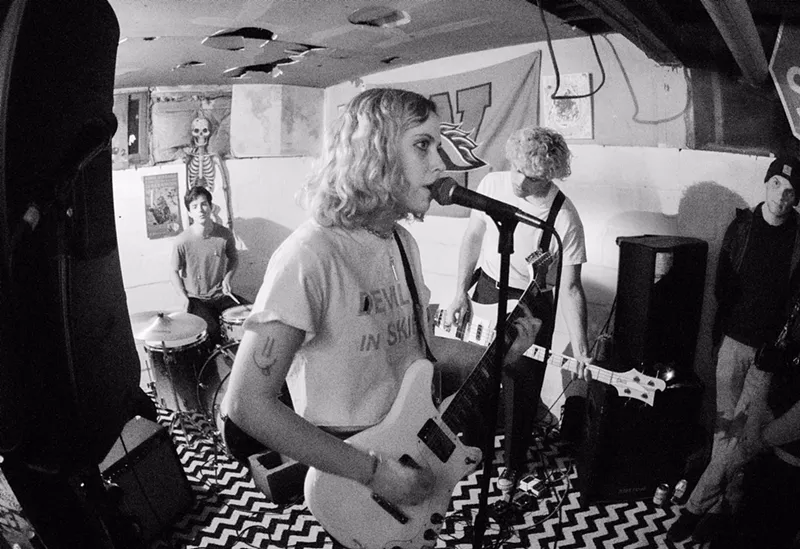 Local shoegaze/noise-pop trio Zilched unveiled a new single today: a cover of a classic Velvet Underground tune.
Led by singer, songwriter, and guitarist Chloe Drallos, Zilched galvanizes the full tranquil-trance energies that "Sunday Morning" always had threaded into its original 1967 recording. Zilched douses theirs in a measured amount of dreamy dissonance, converting it into a quintessential, dazed/glazed pop ballad — a singsongy melody lilting over a traipsing beat, and guitar strums that wash over you in a slow swooning tide that carries you away.
Drallos, with Nick Russo on drums and Elliot Thomas on bass, released the first batch of Zilched tunes last November, with an EP that blended surf-goth and shoegaze called
Pulling Teeth
. Drallos directed a video for a single they released last year called "From the Grave," and she recorded and mixed this mesmeric VU cover.
In a recent interview, when we chatted about influences, Drallos named a mix of Cat Power, PJ Harvey, the Shins, and Bob Dylan; throw those in with VU, and you can appreciate the darkly poetic, murky, and musing narrative style to her lyrics. But when it comes to that signature curtain of reverb and distortion that she applies to Zilched's sleek, guitar-centric "apocalyptic love songs," she credits those first experiences with Sonic Youth and Jesus & Mary Chain records as a formative moment early in her songwriting life.
The next Zilched show is up in Bay City at a Hell's Half Mile concert hosted at Bemo's Bar, with Lightnin' Licks and Kentucky-based GRLwood. After that, they'll be at Detroit's Trumbullplex on Friday, June 21.
Get our top picks for the best events in Detroit every Thursday morning. Sign up for our events newsletter.