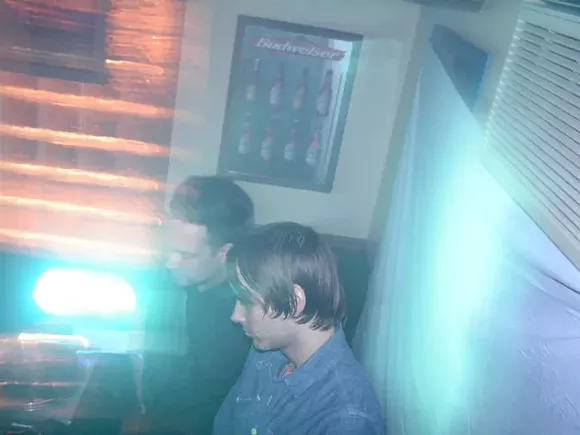 Justin Carver started his DJ night
Something Cold
in June of 2009 out of equal parts "frustration with the lack of diversity and interesting Detroit nightlife, an ever-growing record collection, and desire to bring a group of like-minded friends and music lovers to together to celebrate the niche market of analog electronics, minimal-synth, coldwave and industrial music," he says.
The post-industrial backdrop of Detroit, Carver adds, is appropriate and inspirational for Something Cold. "The cold, bleak, fragile, yet vaguely hopeful sound of minimal electronic and traditional music is very much a reflection of the state of Detroit, and much of the Rust Belt nowadays," he says. Carver and Daniel Stolarski co-DJ the event. Something Cold occurs the second Sunday of every month at Nancy Whiskey in Corktown.
We asked Carver to share some of his favorite tracks:
Ceramic Hello — "Climatic Nouvoux": "Along with Rational Youth, Psyche and Iko, Ceramic Hello were one of the most intriguing Canadian minimal electronic/wave outfits, somewhere between the foggy cabaret waltz of Tuxedomoon and the dark electronic pop of Soft Cell. Highly eccentric, intimate and perfectly cold."
Iron Curtain — "The Condos": "Pulled from their 1984
Tarantula Scream
EP, 'The Condos' uses a repetitive drum machine, synths, and sparse guitars to explore the concept of how we perceive life after death."
Snowy Red — "Lies In Your Eyes": "Snowy Red was a one-man minimal wave/synth band out of Belgium, fronted by Mickey Mike, who released four records before fading away into the '90s. 'Lies In Your Eyes' begins with swells of synths, building for a minute before a white noise crash leads you into a perfectly addicting dance hit. Tinny drum machines and whirling synths, not unlike John Foxx or Fad Gadget, make this an essential dancefloor burner."
Die Form — "Love With Animal": "This is a seminal track off of the French industrial legends 1982 debut LP,
Die Puppe
. The track leads with singer Philippe Fichot's almost orgasmic wails (which is always amusing to fade into for an unsuspecting crowd during sets) over subtle minimalistic steps, while he flamboyantly chants his lustiest desires."
Front 242 — "Operating Tracks": "Off of the legendary Belgian EBM pioneers debut LP,
Geography
. This track, much like the rest of the album, is perfectly nihilistic, featuring De Meyer's disembodied, passionless voice over analog synth stabs and echoes."
Victrola — "Maritime Tatami": "Arguably my favorite 12" single of all-time, and the only ever release (besides compilation tracks) from this Italian duo. They spent most of their time in Florence, sharing the scene with Italian greats like Alexander Robotnick and Neon. 'Maritime Tatami' engulfs the listener with trance-inducing synth lines and melancholic vocals over its epic eight minutes. The song is hypnotically sombre, yet mesmerizingly upbeat at the same time. In short, a masterpiece."
Borghesia — "ZMR": "Borghesia were a pioneering Slovenian EBM band, whose performances and music touched on repressed themes and taboo subjects, combining this content with a dark synthetic backdrop. 'ZMR' ebbs and flows, creating a stark, insatiably gloomy atmosphere. This song has been a lead track in countless DJ sets — and will continue to for years to come."
Crash Course in Science — "Cardboard Lamb": "CCIS were a minimal electronic/proto-techno trio from Philadelphia who formed in 1979 — and still remain active. They met at an art school and began to experiment with crude electronics and off-beat writing. CCIS avoids conventional instrumentation by using toy instruments and kitchen appliances to augment the distorted guitar, drums and synthesized beats. 'Cardboard Lamb' is a percussive heavy track that has seen countless play from myself and electro DJs worldwide. Massive track."
Something Cold occurs the second Sunday of every month at Nancy Whiskey, 2644 Harrison St, Detroit; 313-962-4247; no cover, 21 and up.