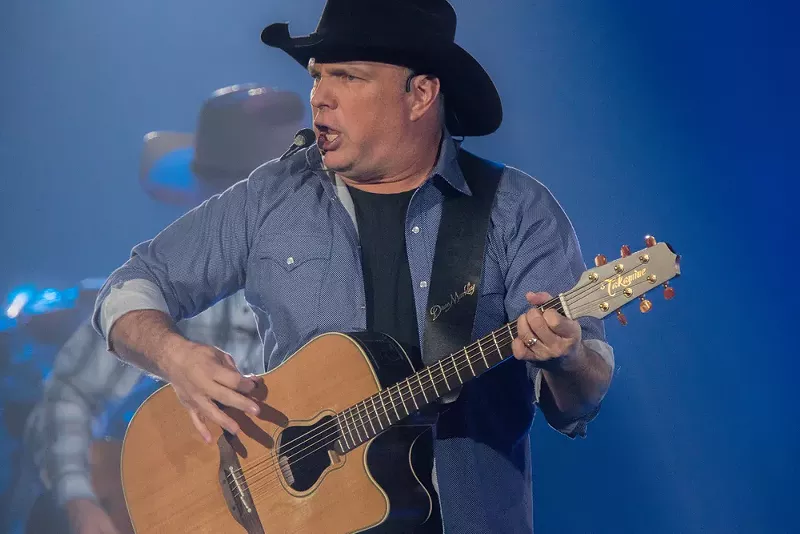 Country music fans are angry after mistakingly thinking Garth Brooks is feeling the Bern.
Fans are in an uproar after the country superstar wore a "Sanders 20" jersey at his Michigan show at Ford Field on Saturday, thinking it was in support of Democratic 2020 frontrunner Bernie Sanders.
Of course, Michiganders know that Ford Field is the home of the Lions, and that the former Detroit Lions running back Barry Sanders wore a No. 20 jersey.
Brooks posted the photo after his show, but the story became news when careful observers noticed that fans were still mad more than five days later.
"Love you, hate the shirt," wrote @tina_crosiermcafee. "Trump2020."
"Weird. That a millionaire would like a socialist," @lemans455 wrote. "Hey Garth are you going to distribute your millions?"
"If that's Bernie shirt I just lost a lot of respect for you!" wrote user @johnnystanhope.
"Sanders??" wrote @thejeffromano. "Don't care about your politics. Love your music. Let's keep politics and your entertainment separate," wrote @thejeffromano, not keeping politics and entertainment separate.
Facebook forgot who Barry Sanders is and is freaking out at Garth Brooks for wearing a jersey and I'm dying. pic.twitter.com/wVfAKU7Cn1

— Jason Vincent (@jasoncvincent) February 27, 2020
No word on who Brooks is supporting in 2020, but he has been known to go against the grain of his conservative base, speaking out in support of gay rights as early as 1999. In 2000 he appeared at the Equality Rocks benefit concert for gay rights, singing a duet with openly gay singer George Michael. (It's worth noting that Brooks actually had
a brief and unremarkable career
as a minor-league baseball player.)
For the record (
and Barry holds a lot of 'em
), Barry never wore a gray jersey, and he never played a down at Ford Field. And, no,
he never played at Tiger Stadium either
. The poor guy played his entire Lions career at the Pontiac Silverdome. (
RIP.
)
Since it is 2020, a safer choice for Brooks might've been
a Billy Sims jersey
. But next time he shows up at Ford Field, we suggest Garth wear
a No. 20 Lem Barney jersey
.
Dave Mesrey contributed to this report.
Stay on top of Detroit news and views. Sign up for our weekly issue newsletter delivered each Wednesday.