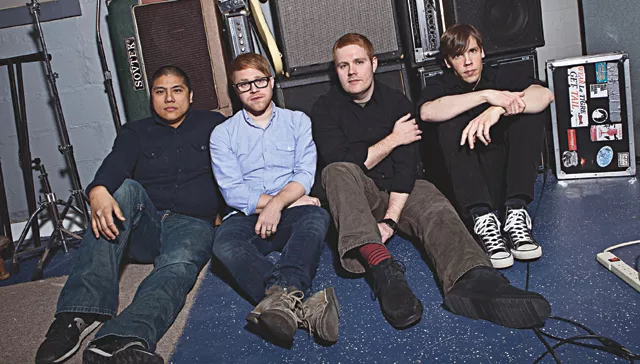 What do you get if you take two people from two well-loved-but-recently defunct Detroit indie rock trios and stick 'em together? A quartet of unapologetic noisy triumph called Destroy This Place perhaps?
The newest "project" of John Nelson, Monday Busque (both from New Grenada), Ryan Allen and Sean Sommer (both from Friendly Foes) take the power-pop hyperactivity of the Foes and the no-bullshit-realism of New Grenada and combine to create loud, hook-heavy songs that actually build on the best of both bands.
So, why Destroy This Place?
"It came out of the old Sebadoh song 'Brand New Love'," Nelson says, "I've always thought it was a cool line. I can see how people might take it literally, but I also think it can work on different levels. ..." To which Allen adds, "We almost went with 'Rulers.' That might have been even more literal, eh?" But leave it to drummer Sommer to not mince words: "We're called Destroy This Place because we wanted to sound dangerous as fuck, because that's what we are." This is a somewhat dubious claim considering the band's but four thirtysomething dudes who have kids and love cereal, but there's no harm in dreaming, right?
The songwriting duties are pretty evenly split between co-frontmen Nelson and Allen. Though both guys brought complete songs to the table, it's becoming more of a full-band collaboration. Says Nelson, "But, it was important for us to work them out at practice so they didn't sound like New Grenada or Friendly Foes songs." Allen added, "Sure, John and I both have identifiable characteristics in our songwriting, but I feel like it's all four of us who make these songs distinctly ours." Sommer says, "As we got more relaxed with each other, we became more comfortable shaping the outcome of the songs. They're all awesome, but, there's something exciting about the ones that were true collaborations. Those feel the most like Destroy This Place songs."
Though far from Detroit scenester old-timers, they're just seasoned enough to not care what you think. They're into their scene and will have fun whether or not you care to join them, especially since they've named their debut album Resurrecting the Mammoth. If they're successful, it might behoove you to be on their side when giant woolly dino-elephants are back to stay.
The quartet unleashes the album this weekend with a local celebration.
So what can you expect at the show? Say, stage props rivaling Iron Maiden's walking Eddie? Yup, Nelson says. And "Monday and Sean are planning some extended solos so our set actually hits the 30-minute mark!" In case you've a low tolerance for ambiguity, Sommer helpfully adds, "We're going to pay homage to our favorite band by playing 'Resurrect the Mammoth' by Destroy This Place in its entirety." Go see them. Be destroyed.

PJ's Lager House Friday, June 3, 1254 Michigan Ave., Detroit; 313-961-4668 with End Trails and Pewter Cub. $8 cover includes a CD or LP of Resurrecting the Mammoth.