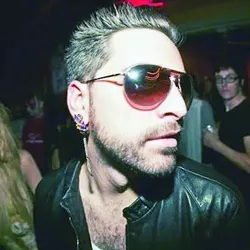 Drew Podgorski of the brand-spanking new punk rock titans-in-waiting, Size Queen, is explaining where he and his group got the band name. "I guess it's a term used in the gay community, a compliment," he says. "It's a dude into guys with a big dick. Like, 'I don't care what your face looks like — if you have a big dick, I'm fucking or sucking it because I'm a size queen.' There are chubby chasers, and there are guys who will only fuck guys who have beards and back hair, and then there are size queens. You can have a little dick and be a size queen — it's all about what you like. It's up to you. As a band, we don't have big dicks but we like to hang out with people that do."
As opening introductions go, you have to admit that's a bit of a doozy. But then, that's Size Queen in a nutshell — brash, obnoxious, offensive — and funny as all hell.
Almost exactly a year ago, we ran a feature on reformed pop-punkers Running With Panthers, Podgorski's previous band. The Panthers were about to open up for hair metal parody band Steel Panther at the Royal Oak Music Theatre, a pairing that seems entirely appropriate when looking at the two band names, but worlds apart when actually listening to the music. Predictably, the Steel Panther crowd gave Running With Panthers no end of abuse, and Podgorski effectively responded with a middle finger and a big "fuck you too."
The venue, and indeed his own bandmates, failed to see the funny side, and that was just about the end of RWP. Everyone missed the point though. Rebounding the abuse right back at a crowd that was in no mood to be won over was the very definition of punk rock.
It was still a shame though. That Royal Oak show was a huge event for Podgorski because, only 18 months earlier, he had suffered a crippling stroke that left him effectively paralyzed on one side of his body. But, Podgorski being a stubborn motherfucker refused to lie down and call it quits, fighting his way back, and relearning how to play guitar along the way.
Last year, Podgorski told us, "Having a stroke is intense. Everything's different. My hand is all fucked up. It feels like it's crushed in a door and it hurts all day, but I'm OK with it because what's the alternative? That's the other shitty thing — people like to point out the alternative — 'You should realize how lucky you are.' Fuck you! I'm not lucky! People say, 'Think about what could have happened.' Put that in your story: things not to say to sick people. Anyway, I got on my feet again, and I looked terrible. I looked like Rick Rubin [co-founder of Def Jam Records] after he got crushed by a bus."
The Running With Panthers reunion seemed like it was his moment to rise like a glorious, sweaty punk phoenix. It didn't really work out that way, but, fuck it, Podgorski chose to get up and keep moving forward with a new band. Enter Size Queen (completed by singer Jason Abraham Smith, bassist Mike Ross and drummer Nicholas Fonzi).
"We got together two years before my stroke," Podgorski says. "I had my stroke on the day of a practice. We had different dudes in the band, and the band now is the final lineup. I have to play guitar with a hand that can't do certain things. I can just strum fast with a banjo pick. It's been sonically cool because I'm getting geeky with pedals and different chord progressions. It has a more ambient sound along with the dirty punk rock. I want to say it's pretty but Jason thinks it's ugly. That's fine because we disagree all the time."
Smith chimes in, adding that it sounds like a lot of aggression and, "it's dirty-sounding punk rock music."
At Blowout 2011, with Size Queen little more than a germ of an idea, Podgorski laid up in a hospital bed, and a year before the Panthers reunion, Smith jumped up on stage with punk 'n' rollers the Grande Nationals at Small's and barked out a tune, yelling the name "Size Queen," as well as "I love you, Drew," at every opportunity; turns out he was hammered.
"He recorded a song on their album so that's what he did," Podgorski says. "Grande Nationals are on our bill so we'll do that again at Blowout this year, probably. This'll be our first show ever. It'll be the best and the worst. We'll give 100 percent, but our 100 percent might be 10 percent to some other bands. We're excited about it. We're overpreparing, so I think we'll rip some faces off."
That's the fascinating, exciting thing about this Size Queen set at Blowout — this band might consist of seasoned musicians (as well as RWP, the various band members have been in cult local bands like Hello Commander and Wolf Pussy), but this is the very first show by this particular band — ever. Considering the implosive track records of those involved, literally anything could happen.
Podgorski, though, has a Blowout pedigree: "I played the Blowout once with Running With Panthers, I think in 2009," he says. "That was at Small's. I always like playing Small's at the Blowout because I know all those dudes. It's almost like a house show. You don't want to shit at Small's. We wrote a song about it. There are always hot girls hanging out at Small's. This is a big deal for us."
He's right — nobody should ever take a shit at Small's. (That little corridor, where the bathrooms are, is just too tight and doesn't allow airflow.)
So what do the Size Queens have planned for their debut set? "We want to play the songs right," says Podgorski. "We also have a cover song planned. It's a Wire song, 'Mr. Suit.' That song obviously represents us, lyrically; it's easy and loud. It's the attitude of the band. We rip off old pissed-off dudes because that's what we turn into. Meanwhile, Bars of Gold is playing the Ferndale weekend, and those guys are one of my favorite Detroit bands. We'll check out anyone that is playing anywhere, because we have four dudes who can go to multiple venues."
At the time of the interview, Size Queen is working on its first recording. "We're doing that right now," says Podgorski. "We just did vocals on a song. We'll probably put stuff online and hope that people download it. It'll come with a virus that erases all your Katy Perry songs. Before the Blowout, we'll have all our three songs online for free. We don't care — we just want people to listen to it."
And when Blowout's over, what are the plans for the rest of 2013? "We want to play awesome little places," says Podgorski. "The songs have been so much fun to write. It's therapy. I don't care about playing a bar every weekend — that's not the kind of band we are. We want to play skating shops and whoever will let us play in their house, art gallery or roof."
So if you want a rowdy punk band to play at your house, or you have a big dick — or both — give Size Queen a call.
Brett Callwood writes City Slang. Send comments to him at [email protected]