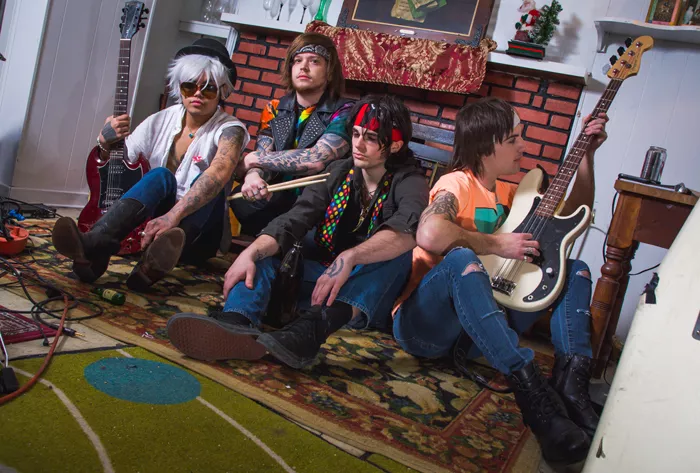 You have to be a special kind of cocky to name your band Sïck. You have to be completely confident in your ability to rope in fans, despite the fact that your name conjures images of vomit. These four men, all in their early 20s, came up with the moniker due to their overuse of the word in a positive context. "Dude, that band is totally sick." "Did you hear that riff? Sick."
The band puts an umlaut on the "i," and we don't know if they're aware that "ï" is a letter in the Ukrainian Cyrillic alphabet. In fact, by adding the two dots, their name should now be pronounced "Syeeck." They probably don't care; like Mötley Crüe, they did it because it looks cool.
We invited the band into the MT office for an interview for two reasons: 1) Sïck's take on rock 'n' roll is really, really interesting, and 2) this is the "Body Art" issue, and the boys are heavily tattooed. As one would hope, they stroll into the building like the rock stars that they hope to become though already believe they are, slightly scaring the very nice office receptionist. They really are a breath of fresh air though, a sea of leather jackets, bandanas, torn jeans and those tattoos.
We know, we know. It sounds like an '80s hair metal nightmare. It sounds like Harpo's threw up the ghosts of sleaze-sters past, or the Trash Brats gave their wardrobe to a local college. It actually is a little bit like that too. The glory of Sïck is that these guys are determined to bring old fashioned sleazy rock 'n' roll kicking and screaming into this decade. Alice Cooper is getting old, and local boys Seduce are apparently done. The aforementioned Trash Brats barely play anymore, and we're still grieving over the loss of Bootsey X. Detroit needs a riotous, raucous rock 'n' roll band like Sïck.
The band is made up of guitarist John Ragamat, singer Matt Fish, bassist Nick Swisher, and drummer Skylar Hendrix. Swisher is the quiet one — the self-proclaimed George Harrison of Sïck. The other three throw stories around with a gleeful, refreshing naïveté. They're not seasoned pros by any means — the band only formed a year ago — but there's a fun, glorious don't-give-a-shit snottiness about them that makes any stutters and pauses perfectly OK.
Ragamat describes the band in very simplistic terms. "We're just a rock 'n' roll band," he says. "The Beatles, Led Zeppelin, CCR, Mötley Crüe, Guns N' Roses, Green Day, Nirvana — we really love all rock. We love the new music that's coming out these days too. We're really up to par with what's happening now with the music scene. We don't want to try to re-create the '80s or the '70s. We're going to sound like right now."
That's important; while the band sports a look that is very '80s, the music has a contemporary edge, a hard-hitting element of modern hard rock and, dare we say it, emo. When these guys say that they've soaked up rock 'n' roll across the last five or six decades, they really mean it.
The band has played just five shows so far because, Fish says, they wanted to concentrate on writing great material first. "We spent more time on writing incredible music because we wanted to come out with an amazing product that was very intense," he says. "We didn't want to play 200 shows with average music. We wanted to spend time on it, make a record and then come out."
"We recorded an album together, spent a few months last year at Pearl Sound studios with Chuck Alkazian, getting everything down and making sure it's how we want it, and we're hoping to release it in a few months," adds Hendrix (a name wasted on a drummer). "We have a few songs on our website right now that people can go and check out."
The boys of Sïck say that the few shows they've played have been great so far, but there was an early, amusing hiccup at the Ritz in Warren. "The stage isn't too secure, it felt like you were going to fall through," says Fish. "I offered to help them fix it. They got really upset, and we didn't get paid that night. Everyone that was there, we brought. I feel like from the '90s back, more crazy things were allowed because they were brand new. These days, if some kids try to do something crazy on stage, or make a scene, people get really upset. It's not cool anymore."
Maybe Fish is right, or maybe those old bands did the crazy stuff and didn't care if people got upset or not. That's what made the behavior so spectacularly debauched. Still Ragamat is learning. "I've burned my guitar many times, recently once at the Berkley Front and once at a Christian church," he says. "I was in different bands before I got into this band. Those bands were not fun and I had a lot of anger that I needed to let out."
This is not an angry group of young men. The attitude's there, a healthy helping of snark, but they don't seem pissed. You might think that a band called Sïck would be a crust-punk band, maybe a hardcore troupe. They're a little cuter than that, but that's OK. "There are bands like the Killers that sound like they could be a metal band but they aren't," says Hendrix. "You're creating what the name sounds like. The Red Hot Chili Peppers could mean anything, but they made it mean something."
Sïck want to make that word mean something, nonsensical accent and all. The tattoos help with the aesthetic. "I look at tattoos as a different way to express yourself, a different form of art," says Hendrix. "Your body's a blank canvas — might as well decorate."
Hendrix has a Native American on his arm, while Ragamat has an eagle on his chest holding a crown. "It represents true freedom, a world without a leader," says the guitarist. "The eagle is holding a crown — therefore he has dethroned whoever the leader was."
Any regrets? "When I was 13 or 14 I got my first tattoo in my friend's basement," says Hendrix. "He made a tattoo machine out of an electric toothbrush. He did a music note on my side so that I could hide it from my parents. A couple of years ago, I got it covered up with a sparrow."
So that's Sïck: young, fun and snotty. Fish, typically cocky, says that the band is basically here to improve things for music fans in Detroit — the boldest of statements. "The scene right now is not as high level as it used to be," he says. "We're going to bring it up and pull a lot of bands together, and create this new scene that will be prominent and big now. I think in the late '90s and back, there was a lot more going on. It slowly chilled out after bands like the White Stripes and became all of these indie rock bands."
He finishes with, "It's going to be intense, hard rock 'n' roll, and people are going to wake up again."
You've just gotta love that enthusiasm.
Sïck plays with the Vonneguts and Grand Piano on Saturday, Feb. 22, at the New Dodge Lounge, 8850 Joseph Campau Ave., Hamtramck; 313-874-5963; $5.