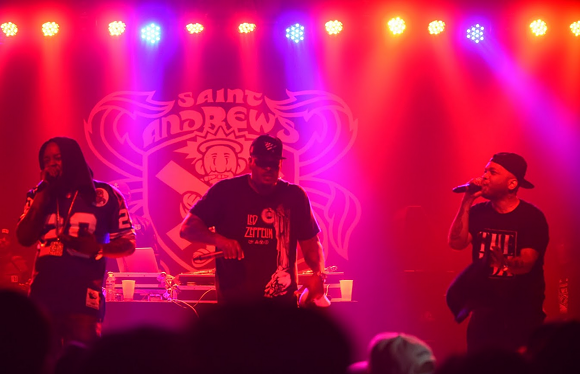 The show opened with a performance by a local emcee named Hatch Wiseguy, accompanied by Aaron Taylor, who played the part of hook crooner and hype man. Hatch had a well put-tougher set as he showed impressive rhyme skills and showmanship. He threw out t-shirts, played on the "another white rapper" sarcasm, and rapped material from his mixtape
Say It Aint So.. VOL. 2
.
Next up was New Orleans native and Roc Nation managed rapper Don Flamingo, who brought his own brand of lyrical street music. He performed cuts off #
Nevasaydie Vol. 3
and was received well from the crowd. In fact, he was so relatable that many people in the crowd thought he was from Detroit.
Good ole' Uncle Murda took the stage next and brought his unabashed trap, sometimes comical East Coast gangsta's rhymes. He spit several cuts off his mixtape
Welcome to G-Unit
and appeased the crowd by giving them the, "Rap Up 2016," a cut where he breaks down all the hip-hop beef, news stories, and drama from 2016.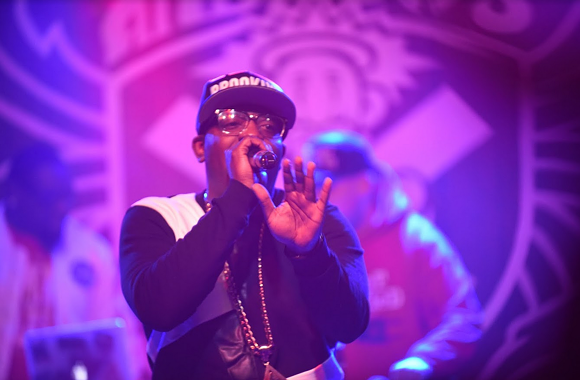 The Lox came out to the darkened stage and the St. Andrews crowd erupted into a tsunami of noise. Styles-P had on a black Lox snapback and matching t-shirt, Sheek had on a zip-up jacket with a Led Lepplin tee underneath, and Jadakiss donned a Honolulu blue Detroit Lions snap-back and jacket with an old-school Lions logo on it. To top it all off, he had on the throwback Barry Sanders jersey underneath (big ups to whoever ran out and copped the gear for Jada).
The three-man crew did a mixture of songs from their three group albums
Money, Power & Respect
(1998),
We Are the Streets
(2000) and
Filthy America…It's Beautiful
(2016) along with several verses and songs from their solo albums and guest appearances. They smashed "Wild Out," "Last Day (off Biggie's Life After Death), and "Ryde Or Die, Chick." It was refreshing to hear Styles-P verses from "My Life" (off
Soundbombing 3
), "Locked Up" (his cut with Akon), and of course "I Get High."
One of the highlights of the night was Styles-P doing his verse off Sheek's "Kiss Your Ass Goodbye" off the stage, from the vantage point of the crowd. Going into the crowd must be Styles-P's thing, as this was the third time I've seen him do this. Of course they rocked "It's All about the Benjamins" and even pulled out "24 Hours" off of Mase's
Harlem World
album. However, the trio performed just a super short snippet of "Money, Power, Respect" and didn't quite complete Jadakiss's "We Gonna Make it." Their set lasted about an hour. And although Jada and Styles admitted they were extremely drunk and high, the Lox gave hip-hop heads in the Big Axle another night to remember.