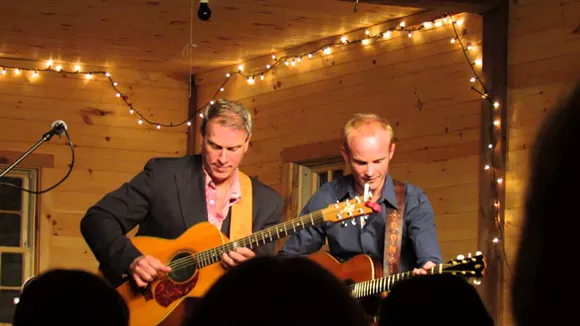 WHO
: Loren and Mark
WHERE
: Ford Community and Performing Arts Center
WHEN
: September 18
When it comes to musical duos, chemistry is key. Without chemistry, the whole act sounds like a garbled up mess. Loren and Mark have energy and syncopation to spare, and they proved it last Friday.
For such a great combination of musicians, it is hard to believe that not both of them were born with acoustic guitars in their hands.
"When I was 4 years old my Dad started taking guitar lessons, and while he was off working I would mess around and try to imitate what he did. So for me it was being exposed at an early age to the instrument by having him playing and me being able to touch and handle a guitar. It didn't hurt that my parents had Chet Atkins records as well as Ray Charles records spinning on the old Victrola!," said Loren Barrigar, one half of Loren and Mark.
"I grew up in a family that was not musical at all. It wasn't till the age of 8 that my best friend got a guitar, and so I also had to have one. From that day on, I took it to school with me every day, and couldn't help myself playing it and learning new things," said Mark Mazengarb.
When I walked into Studio A at the Ford Community and Performing Arts Center, I was quite shocked by the minimalistic set. All that appeared before me was two mics, an audio mixer, and a guitar resting on the stage. That was just a taste of the powerhouse that was to come. For such a small amount of gear, the sheer talent that came from the speakers was inexplicable.
The opener, a good friend of Loren and Mark, Alanna-Marie Boudreau, met the duo in New York a few years ago but now she lives in Ann Arbor. The singer-songwriter had the most angelic voice I have ever heard, singing softly but also being able to hit notes way beyond what you thought she could hit. As her songs ended without a lot of fanfare on her part, the small but lively crowd responded with thunderous applause. By smacking her Taylor to simulate a kick drum, she added a great backbone to her songs influenced by C. S. Lewis and T. S. Eliot.
As Boudreau left the stage and Loren and Mark approached their microphones, the mood changed. From the first note, you could tell the genre was about to shift rapidly. Loren and Mark's hands moved so quickly that they seemed like blurs but the melodies came through loud and clear. After a fast-paced tribute to Tommy Emmanuel and a cover of "Don't Think Twice, It's Alright", the audience was immersed in a wave of acoustic Americana. In order to lighten the mood after longer pieces, bits of comedy were added in between songs that left the audience in stitches. The cohesiveness of the two on the slower songs was understandable because with a slower melody, you have time to get in sync, but the fast numbers boggled your mind. The influences of country, Americana, jazz, and Chet Atkins rang throughout the concert. As they ended their first set with a Mozart cover, jaws hit the floor.
"Right from the start, people assumed we had been playing together for years or were even related to each other. It's the special chemistry that is our strong point I think – we really bounce off each other live on stage, and the audience can perceive it. Plus we have a great time playing guitar with each other, and that joy and fun is infectious and transmits to the audience. This is our full time job, so the fact that we get on as people is also very important. It is a tough business sometimes, and we have to spend a lot of time together on the road," said Mark.
As the lights dimmed after a quick meet-and-greet, the rest of the night was more intimate and exhilarating. The setlist varied in terms of genre so much that French, classical, and Texas swing songs were performed back to back. After bringing up Boudreau for some more songs, it was hard to believe the three of them weren't childhood friends.
"Loren and Mark are so much fun to work with in the studio. Not only are they extremely talented and hardworking, but they are also funny, charismatic and overall great guys to be around. I've also worked with them both as hired session musicians. It's truly amazing to see them in that capacity. No matter what style of music, they are able to breath life and energy into a song and bring it to the 'next level'," said Jeremy Johnston, a recording engineer for SubCat Studios that has worked with Loren and Mark in the past.
"We are always looking for ways to increase our exposure to a bigger audience. Touring with Tommy [Emmanuel] last year was fantastic and really opened up a lot of new fans and venues for us. We are currently talking about producing a PBS special of our live show, and next month we are going to be recording our next album in Nashville with a bunch of the best session players in town. So lots of fun things on the horizon. There is always more music to write, learn and enjoy sharing with people!," said Mark.